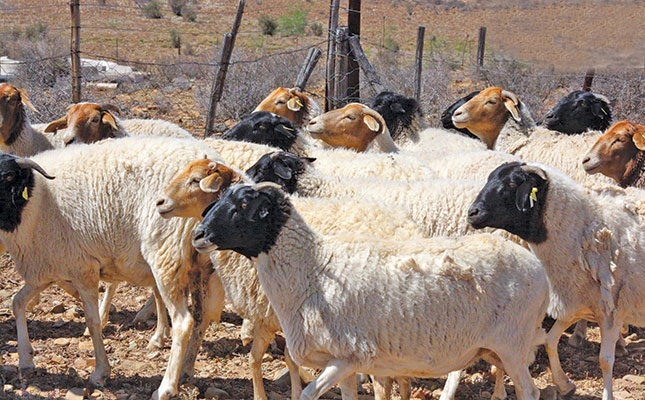 The Namaqua Afrikaner is one of South Africa's oldest sheep breeds, its forebears having entered the country between 200CE and 400CE.
The Namaqua is a lanky, high-standing sheep with a relatively narrow body, long, lean legs and a fat tail, which stores up to 38% of its body fat. Its long legs enable it to walk vast distances in search of food and water. The sheep are either black- or red-headed with dark hooves and horns and a white body.
The tail is long and thick, sometimes reaching the heels, and has a distinctive twist at the end. The hairy coat is smooth and shiny and the sheep moult each spring.
Production norms
Namaqua Afrikaner ewes can be mated throughout the year and are suited for accelerated lambing systems (see table).
Age at first breeding: 9,5 months
Lambing percentage: 140%
Weaning percentage: 125%
By using their fat reserves, ewes are able to wean heavy lambs under severe drought conditions. Ewes also have excellent mothering instincts and will fiercely protect their lambs against intruders.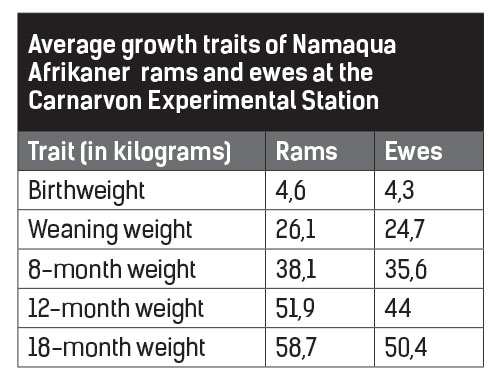 Products
The Namaqua Afrikaner sheep produces the following:
Meat: the carcass is regarded as a fat-tailed type and cannot compete with the highest grades.
Fat tail: the tail can weigh as much as 12kg. During winter, the fat tail is quite in demand to be used with beef. The cubes of fat are firm and used for sausage making.
Skins: Namaqua Afrikaner skins are classified as glover skins and suitable for making top-class leather articles.
Source: Snyman, MA, 'South African sheep breeds: Namaqua Afrikaner'. (Info-pack ref. 2014/023, Grootfontein Agricultural Development Institute.)