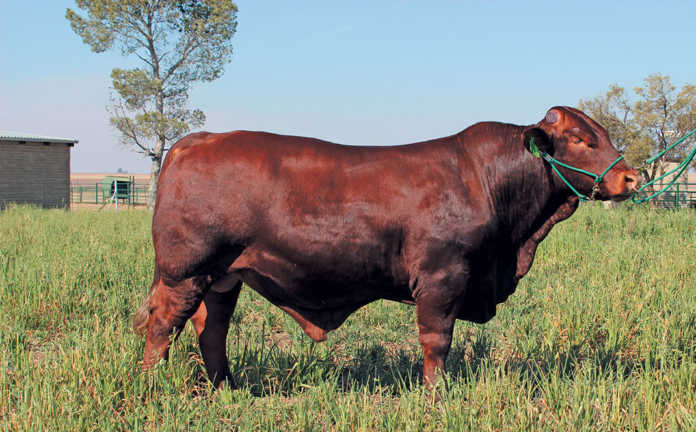 At the 10th Santa Gertrudis World Congress held in Bloemfontein recently, Dr Egon Neufeld, president of Paraguay's Santa Gertrudis Breeders' Society, said that South Africa was home to the best Santas in the world (FW, 9 May).
Over the years, explained Neufeld, Santas have been selected for functional and production capabilities in South Africa, resulting in an intermediate type of animal with heavy muscling and a good top line. With this in mind, here is a brief profile of the breed, starting with its history.
Background
In the early 1900s, Robert Kleberg Jr of the King Ranch in the US, was looking to raise superior heavy beef cattle that could thrive in the extreme climatic conditions of south Texas, including high temperatures, meagre pastures plagued by recurrent drought, and an abundance of insect pests and diseases.
In 1910, rancher Thomas O'Connor, donated a Brahman cross Shorthorn bull to the King Ranch. This bull jumped the fence into a pasture with 3 000 Shorthorn cattle heifers.
One of the offspring from this foray, a bull called Chemmera, later proved to be successful in siring hardy offspring suited to the harsh environment. In 1919, Kleberg mated a Brahman bull to a blood-red Shorthorn cow, a descendant of the original O'Connor bull, to yield a dark-red bull of superior quality.
He was named Monkey, because of his playful nature.
Establishing the breed
The uniform and superior animals Monkey eventually sired became the Santa Gertrudis breed. The name was derived from the old Spanish name, Los Cerros de Santa Gertrudis (the hills of Santa Gertrudis), after the area now occupied by the King Ranch.
The US Department of Agriculture recognised the Santa Gertrudis as an authentic and distinct breed of cattle in 1940.
Breed characteristics
The breed is considered an exceptionally good non-selective forager, able to cover a lot of ground in search of food and water. With a dark red, smooth coat, well hooded eyes and excellent legs and feet, the breed is deemed well-suited to South Africa's future livestock development.
On average, mature bulls weigh 900kg or more, while mature cows weigh 530kg. Santa weaners, whether pure or crossbred, consistently excel in feedlot growth tests.
Bull and heifer calves wean at around 230kg, and a daily weight gain of up to 2kg is common.
Santas are sought after for their excellent feedlot performance and high slaughter percentages of up to 65%.
Outstanding qualities
South African Santa Gertrudis breeders are world leaders in breeding for superior feed conversion, with some bulls in growth tests consuming less than 6kg of feed for every 1kg of weight gained.
Between the ages of 13 and 15 years, cows still yield quality calves, and are above-average producers of excellent milk with a high butterfat content.
They also demonstrate good maternal instinct, and one or two cows will watch a group of calves while the others graze to protect their young.
Santa calves are renowned for their low birthweights and rapid weight gain thereafter, and utilise their mothers' milk well, which is an often overlooked factor in achieving a high weaning weight.
While they demonstrate excellent feedlot performance, Santas can also be marketed from the veld as grassfed beef.
Source: santagertrudis.co.za.