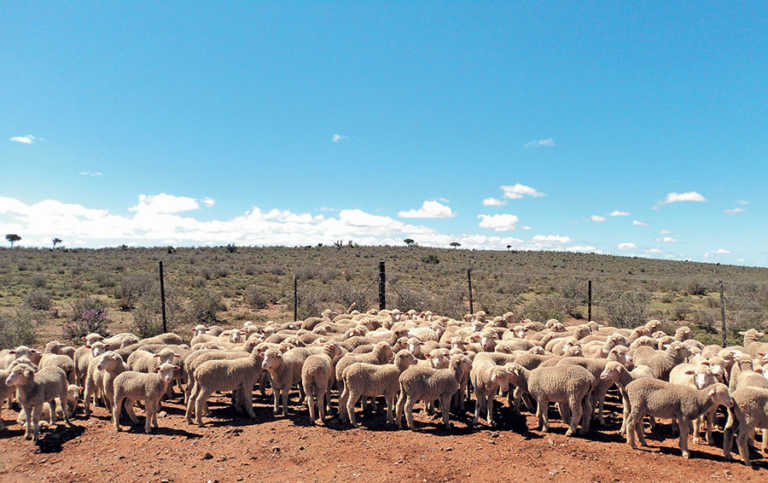 A study by Jan Hoon, a small-stock specialist at Grootfontein Agricultural Development Institute at Middelburg in the Karoo, shows that supplementing the diet of replacement ewe lambs on veld from weaning to first mating can boost their production and reproduction.
"It seems that, compared with lambs weaned at a higher body weight, supplementing lambs weaned at a lower body weight will boost their lifetime production and reproduction," he says.
Wool sheep on farms at Trompsburg (semi-arid grassland) and at Graaff-Reinet (grassy, dwarf Karoo shrubland) were used in the study, and lambs were kept on the veld throughout the year.
Ewe lambs were divided into two equal (control and treatment) groups after weaning. The animals grazed separate camps of the same size and forage quantity and quality.
The lambs in the control group received supplementary feed according to the farm's management programme.
The treatment group received a commercial pellet supplement – 250g/kg crude protein (52% protein from NPN); 42g/kg urea; 8,1 MJ ME/kg; 10g/kg calcium (max); 4g/kg phosphorus (min) – on a continual basis from weaning until first mating.
Higher growth rates and body weights
Supplementary feeding from weaning to first mating resulted in higher growth rates and body weights of autumn- and spring-born lambs in the treatment groups, compared to those in the control groups.
Supplementary feeding also increased the greasy fleece weight, staple length and fibre diameter.
It decreased the coefficient of variation in fibre diameter of the autumn-born lambs, but the spring-born animals showed no differences in these wool characteristics.
The treatment ewes generally had higher conception, lambing and weaning rates than the control ewes at the first and second lambing opportunities.
The effect of supplementation on growth rate, wool growth and wool characteristics was greater in the autumn-born replacement ewe lambs than
in the spring-born lambs. This can mainly be ascribed to differences in weaning weight between the autumn- and spring-born lambs.
The pre-weaning period of the autumn-born ewe lambs at both Trompsburg and Graaff-Reinet had low rainfall and subsequent poor grazing conditions, leading to the low weaning weights of the lambs at both localities.
The higher weaning weights of the spring-born ewe lambs at both localities were mainly due to high rainfall and good grazing conditions in the months before weaning.
The value of good nutrition
It was unfortunately impossible to carry out an accurate economic analysis of the impact of extra feed on lifetime performance of the ewes, mainly due to incomplete reproduction data.
Nonetheless, getting animals to grow out and develop optimally is seen as an excellent investment. The best way of doing this is through their mouths, as nutrition is one of the few factors the producer can properly control.
Other findings, including the fact that the lambing percentage increases by up to 2% for every 1kg increase in body weight at mating, support the results of the study. On the other hand, even moderate undernourishment before 12 months of age permanently and irreversibly decreases the lifetime reproduction potential of young ewes.
Various research findings
Other findings from various research projects are:
Nutrition of the ewe, from the foetal stage until maturity, may influence its reproductive performance by affecting the time, age, fertility and fecundity at the first oestrus.
To ensure a high lifetime reproduction, a ewe lamb must maintain a high growth rate until weaning, and at least a moderate growth rate from weaning until 12 months old. After 12 months, it still has to increase its body weight.
A weaned ewe lamb under poor nutritional conditions
from six to 12 months of age with the same body weight at 18 months of age as a ewe lamb under good nutritional conditions from six to 12 months, has a lower lambing percentage at the age of two years.
A young ewe under good nutritional conditions for the first 12 months of life has a higher ovulation rate at first mating, as well as higher lifetime reproduction potential.
Good nutrition during the mature stage of the ewe's life does not compensate for poor nutrition before 12 months of age.
Poor nutrition six months before mating can often lead to poor conception and a lower fecundity rate (fertility), despite the animal being in excellent condition at mating.
Phone Jan Hoon on 049 842 1113, or email him at [email protected].