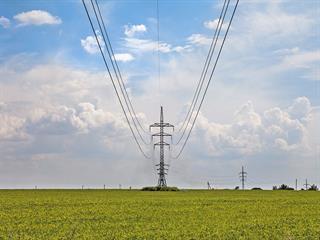 Eskom is a public utility – an organisation tasked with maintaining the infrastructure of a public service, in this case electricity.
Consequently, it has the right to enter your farm at any time to construct, erect, operate, maintain, repair, alter or inspect the structures, works, appliances, conductors or cables on the land, or to gain access to an adjacent property. This access (easement) to your land can be through a wayleave or a servitude.
This type of easement allows workers to enter your land to erect 11kV and 22kV power lines. No compensation is paid for wayleaves as these power lines are built to supply electricity to the landowner on whose property the new lines are erected. Eskom can also extend these lines to neighbouring farms.
In this case, the right to do so will be acquired by new wayleaves on the properties the line will be built on. The rights acquired by a wayleave are not registered at the Deeds Office.
The wayleave is resigned each time ownership of the land changes. When the new owner signs an electricity supply agreement for the land, a new wayleave to access the existing 11kV or 22kV line on the farm will be one of the annexures.
This is acquired for power lines with a voltage of 33kV and above. As these do not benefit the landowner directly, a once-off payment is made for the servitude.
As a form of permanent access route, servitudes are registered at the relevant Deeds Offices and give Eskom permanent rights to the power lines, regardless of who the future landowner will be. Registered servitudes are noted on the title deed of the property.
Farmers who wish to buy a new farm can get the servitude deed registration number from the title deed and then request a copy from the Deeds Office to ascertain the conditions of the servitude before deciding to purchase the farm.

Buildings, trees and mining prohibited
No structure may be erected above or below the surface of the ground within a specified distance (depending on the voltage) of the centre line of any power line or within 10m of any tower.
No tree that will grow higher than the horizontal distance of that tree from the nearest conductor of any power line may be planted within the vicinity of the power line. Neither may any tree be planted within the servitude area.
No mining activities or blasting operations may be carried out within 500m of the centre line of any power line, without the prior written permission of Eskom. Farmers are not required to do any maintenance in the servitude. This will be done by Eskom.
Identification
All Eskom staff must carry identity cards, containing their photographs, indicating that they are Eskom employees, and their vehicles must be clearly marked. Eskom contractors must also carry appropriate identification and their vehicles must have a magnetic strip on the side with the words 'Eskom contractor'.