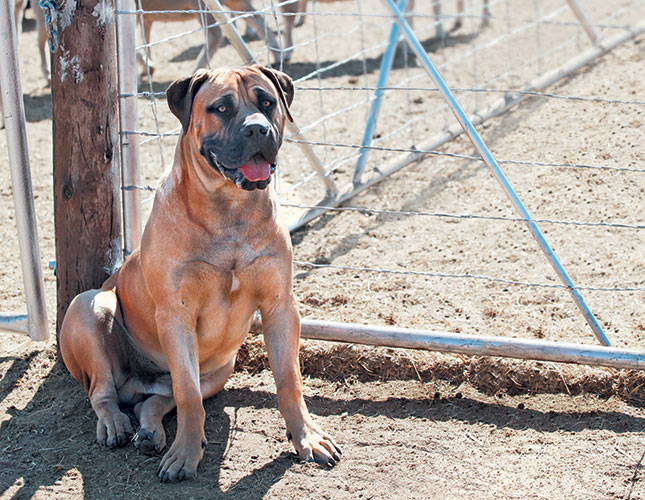 In South Africa, being a farmer is more than twice as dangerous as being a police officer, and a farmer or farmworker is almost four times more likely to be murdered than the average South African.
READ New cellphone app a boost for farm safety
Henk Boshoff, who lives on a farm near Standerton, Mpumalanga, and his partner Mark Wilson, who works from the Strand in the Western Cape, are partners in a security company, Community Assets Tactical Security (CATS).
They advise farmers on how to approach farm and community security, and put them in contact with those who can implement security infrastructure at the best prices.
The area in which Henk lives was known for high crime rates, but after the community organised itself, this rate dropped drastically.
"Farmers and farming communities are soft targets. They must become hard targets. To achieve this, the entire community must be involved," he stresses.
READ DIY security: the only way to ensure your safety
A criminal's primary advantage is the element of surprise, and this needs to be taken away. To achieve this, Henk suggests creating circles of defence that extend from the farmhouse to the community.
The house, yard, farm, neighbours, community and communication structures such as radios and WhatsApp groups all have to be considered and systematically addressed.
"But the first thing that needs to change is one's mindset," says Henk.
Four mental states of preparedness
He explains that there are four mental phases to being prepared: green, yellow, orange and red.  In the 'green' mindset, you are relaxed and calm, as nothing is likely to go wrong. Yellow is being aware of what's happening in the immediate environment.
Orange is expecting something to happen. And red is when an incident is occurring. As a farmer, you should always be in the orange state, and keep your eyes open.
Orange is expecting something to happen. And red is when an incident is occurring. As a farmer, you should always be in the orange state, and keep your eyes open.
"Be aware of your surroundings when you enter or exit a premises," says Henk. Unfortunately, this is the new reality that rural dwellers have to accept. "Farmers often think that an attack may happen to their neighbour's farm, but not on their own."
The stereotypical roles of men and women should also be done away with, he adds. Women on farms should not see security as solely men's responsibility.
Make the home your first priority, stresses Henk; 70% of farm attacks take place here. If you cannot secure the entire house, at least secure the sleeping quarters.
Kobus Visser of the Agri SA policy committee on rural safety agrees. A sturdy security gate that separates the living area from bedrooms is a must, he says. Criminals often break in at a point far away from the bedroom area, and a security gate will give you time to protect yourself or activate a panic button.
READ The safety of our farming communities
Keep a small dog inside the house to act as an alarm, suggests Henk, and keep your larger dogs indoors at night or if you go out. Dogs that are kept outside can easily be poisoned. If this happens, a farm attack is likely to be imminent.
The next 'circle' is perimeter security. Install movement-activated lights that shine outwards from the house. "If you hear something outside, keep lights inside switched off, as you can then see movement outside, but someone outside can't see inside," explains Henk.
Sound the alarm and stay inside
A Bonnox fence is just as strong as the cheapest wire cutter, he adds. Equally, an electric fence is only effective if it's connected to an alarm system.
An alarm that makes a noise "gives home dwellers a chance to react and means that criminals are unsure of what's waiting for them. No criminal wants to be caught," says Kobus.
He also emphasises that all security gates should be kept locked. "We often arrive on farms to find all doors and windows open."
Never go outside if you suspect there are intruders on your property. "Contact your neighbours and the police, and ask those who are trained to come and determine if there's reason for concern," says Henk.
It's also important that those who respond to such calls should not become impatient or ill-tempered if the 'emergency' turns out to be a false alarm, he adds.
The next 'circle' involves the community. Develop a good relationship with your neighbours, Henk urges, and schedule training days with them.
READ 5 simple tips for tractor safety
"Decide beforehand what you would do in an emergency. Start with your immediate neighbours and make the circle bigger from there," he suggests.
Every member of the team should have a set responsibility. "Someone who blocks roads, a first-aider, a small group trained to enter the farm premises, and so on."
If neighbours see strangers in the area, especially those who ask questions, they should report it.
A good relationship with farmworkers is integral to good security. "Tell workers and community members there's a reward for those who help stop theft or attacks," says Henk. Reassure them that an informant's identity will stay secret, and keep your word: pay a reward when it's due.
Technology is playing an increasing role in preventing crime, and WhatsApp groups should form an integral part of security as communication is key in an emergency. "You can reach an entire community in one message," Henk points out.
He adds that every farm security team should have a drone with on-board camera. This would enable members to enter an area after or during an attack without necessarily endangering themselves or others.
Building up a good rapport with the police
Another must is a relationship of trust with the SAPS. If police officers know you, they will be more likely to come to your assistance faster, says Henk.
Invite officers to farmer's days and gatherings, but do not confront police about issues at such gatherings. Rather ask their advice on crime-related matters.
Projects such as the White/Blue Light initiatives in the Free State, where police and the public work together, are very effective, he adds.
Firearms: be sensible
Turning to the issue of guns, Henk says that although people sometimes get uneasy broaching this subject, firearms play an important role in self-defence for those living in remote rural areas.
"The modern criminal has changed and is often a proficient shot," says Henk. "In many cases, the police have lost gunfights with criminals.
"And one has to remember that a violent criminal does not have the same moral code as the average person on the street. They take their 'work' seriously."
READ Cattle theft made brutal by Africa's illicit arms trade
His advice? Wear your handgun out of sight; no one should be aware that you own one. And if you are ever unfortunate enough to be in a situation where you have no other choice but to shoot an attacker in self-defence, you will face criminal charges.
"Let your lawyer handle any affidavit that you need to write. You will also appear in court and the state prosecutor will decide whether the case will be prosecuted or not.
"Know that you need to ask yourself what a reasonable person would have done in such a situation. That's what the law looks at," says Henk.
Phone Henk Boshoff on 071 659 9811 or Mark Wilson on 084 449 0093.
Share your advice and tips in the comments section below.