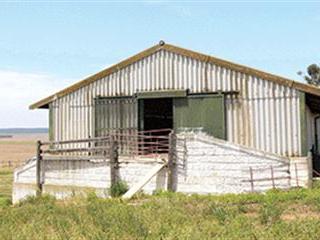 There's so much work to do on a farm – and usually too little money to cover expenses – that farmers tend to neglect their buildings. Many farms have houses and sheds that badly need a coat of paint – or even roofs that have lost some corrugated iron sheeting. When a farmyard has reached that stage it becomes a major job to fix and also costs a lot of money. The solution is to look after your buildings.
Start by inspecting your roofs regularly for leaks and loose nails – and check the gutters while you're up there. Clean gutters catch precious rainwater and feed it into tanks or drums. Painting doesn't have to be an expensive job either. Instead of buying expensive paint, simply whitewash your buildings once a year. You can also treat exterior woodwork with limewash.
Builder's lime only costs about R80 for a 25kg bag and goes a long way. The following recipe supplied by Nama Karoo Foundation is a good treatment for raw plaster walls, or walls that have lost their paint:
Mix 10 wheelbarrows of sand with one 25kg bag builder's lime. Mix together well about three days before application.
Then add water, one more 25kg bag of builder's lime and one spade of cement. Apply with a builder's brush.
The thinner the mix and the rougher the wall surface, the stronger it will be with time. Over the years, add more layers of wash, which will strengthen the wall further.
It also makes sense to knock down buildings that can't be restored and to salvage some of the material to use on the structures that can be saved. Old timber, hinges, screws and nails always come in handy. You could even scrape together enough material to add extra storage space to an existing building. Fences are another expensive structure that don't get enough attention. These days it costs nearly R1 000 per 100m to erect a simple fence. Stop people climbing over or through your fence instead of using a gate or stile, otherwise your fence will soon become slack and useless.