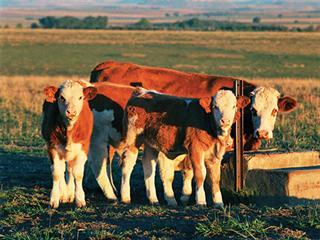 The Simmentaler breed comes from the Simme valley in Switzerland, where it gained a reputation as an excellent cross-breeder due to increased hybrid vigour. Between 1900 and 1929, about 150 000 Simmentalers were sold to other European countries. This huge demand was due to the fact that the breed could be used for milk and beef as well as for pulling heavy carts.
The first Simmentalers arrived in South Africa in 1905, but it was only in the early 1960s that the breed's excellent performance was revealed through interbreed tests. The World Simmental-Fleckvieh Federation is the second-largest international stud cattle federation. It was established in 1974 with South Africa and Namibia as two of the founder members.
The Simmentaler and Simbra Cattle Breeders' Society of SA provides advice to members and manages its own registration system. It also operates Breedplan, the world's most advanced beef cattle genetic evaluation system. This calculates breeding values for weight, milk, reproduction and carcass traits – all available free of charge on the society's website.
What makes the Simmentaler so popular?
It is ideal for cross-breeding, resulting in high milk-producing cows and heavy weaners/oxen. There are many to choose from. According to the society, here in South Africa there are more performance-tested Simmentaler bulls than bulls in the second-, third- and fourth-largest British/European beef breeds combined!
The breed offers excellent traits: a good frame, length, width, depth, balance and symmetry. The animals are also "placid, yet alert", notes the society. Bulls show good general muscle development, with no excessive fat. Testes are well-developed and the same size, and the sheath is not pendulous.
Cows have a wedge-shaped profile, especially when in milk, and have well-developed reproductive organs. Animals that do not pass inspection by breed experts are eliminated from the herd book, assuring farmers of top quality at all times.
For more information, contact the Simmentaler and Simbra Cattle Breeders' Society of SA on 051 446 0580/0582, email [email protected], or visit www.simmentaler.org.
Sources: Beef Cattle Management (ARC-Animal Production Institute, Irene); Simmentaler Cattle Breeders' Society of SA.