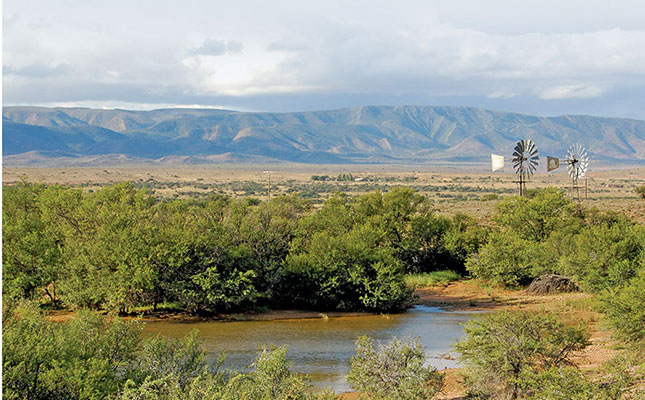 Poor water quality and unreliable supply pose obvious risk to crop and livestock production.
But infrastructure backlogs and failure to perform proper maintenance on bulk water supply systems also affect farmers and their ability to mitigate related risks.
There are many examples. Inadequate water supply has a direct impact on the ability to fight a veldfire that may threaten assets.
Poor water quality exposes crop farmers to possible liabilities, should the cause of loss, damage or illness suffered by the consumer be traced to the produce. This is legislated for by the Consumer Protection Act.
Poor quality water can also damage infrastructure such as centre pivots. Centre pivots that use water from the Vaal River, for example, are known to have a shorter lifespan than those drawing water from the Orange River because of the corrosive effect of the pollutants in the Vaal River.
Have a Plan B ready
It is government's designated task, via municipal structures, to maintain water infrastructure and ensure reliable supply.
Potentially, therefore, farmers could sue the supplying authority for damage or loss if negligence can be proved. In particular scenarios, a class action could even be considered, but to achieve success may be difficult.
Bearing all this in mind, you would do well as a farmer to have Plan B ready. This would entail becoming self-sufficient and not depending on service provision from the authorities.
Importantly, you also need to have a sound understanding of your water supply infrastructure.
How much is available at any time? If water needs to be pumped, how is power supplied to the pumps, and how much is gravity-fed?
Household water supply, for example, should not be dependent on power or pumps, and a tank is the most obvious solution. There are also various water filtration and treatment options available to ensure clean potable water, especially for household and staff use.
Protracted losses due to polluted water
Fortunately, most insurance policies make provision for an extension where your dependency on the supply can be quantified. You could therefore be covered for any loss of income and production.
The impact does not usually lie in material damage, but in protracted losses arising from the inability to get the produce to the market and ensure that you can reliably meet your contracts.
It is always very difficult to regain lost customers, and losing a large one can be financiallly catastrophic for a farming business.
Should you want to be prepared for the risk of having export crops denied entry to the importing country because of unsafe residue from polluted water, you can take out insurance against product recall and non-acceptance by the receiving party.
However, you will need to discuss with your insurer how to structure the policy to make provision for this. Farmers in the local wine industry are well acquainted with this type of cover.
Bear in mind, too, that the requirements differ from country to country.
As a farmer, you should not only be well informed about the water on your own property, but be aware of the water situation in your area.
Would you be at risk if a farm dam wall upstream broke and the water damaged your infrastructure, crops and livestock?
Similarly, if one of your dams had to burst and damage property downstream, you could be held liable for such damages or loss of life. It is important to have the right liability cover in place for such an event.
Andries Wiese is head of the Agri Division at Hollard Insurance.