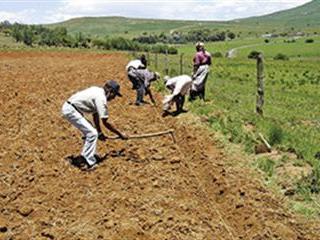 My travels through rural KwaZulu-Natal have shown me that food security involves two levels – the commercial level and the household & village level. To reach optimum performance at village level, your management style must be very creative!
The three most difficult problems to overcome in rural areas are poor communication networks, distance from markets and inaccessible inputs.
Many rural families, for example, don't have a vehicle or a tractor – without which farming is difficult. This makes knowing how to use what you have more important. A community near Mbazwana, KZN, did a poultry course. With no poultry infrastructure, the group's management committee had to decide on the best way for them to rear the chicks and sell them as broilers.
The only building available to them was a round hut with a thatch roof. The thatch provided very good insulation against the heat. The chickens were kept there and were able to "free-range" outside the hut during the day. They were sold for a good profit, but if the management committee hadn't been creative, the project would've failed. Then there's another group of new farmers at Middelrus in KZN who underwent crop production training. They learnt a lot, but local conditions meant planting had to be done differently.
Hand-hoes were used to open the planting furrows, string was used to keep the lines straight, and fertiliser was applied using the old "jam-tin" method. With enough people available to get the job done this way, a good crop was harvested.
Meanwhile, Mbhekiseni Ntombela heads a small family farming operation north of Hlabisa, KZN. They have cattle, goats and produce vegetables.
When I visited his homestead, one of Mbhekiseni's grandchildren was holding down a very young calf, while the other was performing a "cleansing" operation. The umbilical cord had become infected with maggots, causing a deep wound. The youngsters had taken a piece of wire and bent it into a long U-shape. This was used to probe deeply into the wound to hook out the maggots. An aerosol can of disinfectant stood nearby and was constantly being used. The calf was saved. It wasn't a "sterile" operation, but it was a creative solution to a problem.
In farming, there are many twists and turns. Management must be able to make decisions that could be different to textbook methods to save the business, or keep it profitable. Remember, I'm not saying throw out the textbook. I'm saying add to that knowledge. In addition, I've suggested to the relevant authorities, including parliament's Agricultural Portfolio Committee, that agricultural drop-in centres should be constructed in rural areas where locals can get the inputs needed for their projects, such as seed, fertiliser, feed, tools and equipment.
If the health department can get this right for rural communities, why not the agriculture department?
Contact Susan Pletts on 082 572 3724.