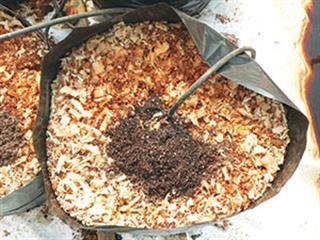 Hydroponics is the growing of plants in a nutrient solution rather than in soil. In South Africa, hydroponic vegetable production is almost always done under a protective covering. But, when you're working with soil, you need topsoil that allows for good drainage and compost that's disease-free. Plants need to be irrigated to minimise water stress and nutrients must be added to the soil. You must also watch out for soil-borne diseases. It's also possible to produce organic vegetables in soil because you can use organic fertilisers such as compost and manure.
In hydroponics:
no soil is required,

plants are irrigated automatically,

nutrients are available at all times,

only soluble fertilisers are used and these contain a balanced nutrient content,

soil-borne diseases can be eliminated,

because artificial nutrients are always used and the plants aren't grown in soil, hydroponic production is not organic.
Advantages:
You don't need good soil and there's no question of unused nutrients polluting the soil.

Hydroponic vegetables can be of high quality and need little washing.

It eliminates soil preparation and weeding.

It's possible to produce very high yields from a small area because an environment optimal for plant growth is created.

All the nutrients and water that the plants need are available at all times.

Water is used efficiently.
Disadvantages:
Production is management-, capital- and labour-intensive.

A high level of expertise is required.

Daily attention is necessary.

Specially formulated, soluble nutrients must always be used.

Pests and diseases remain a risk.

Finding a market can be a problem.

Source: Guide to Hydroponic Vegetable Production, edited by JG Niederwieser and published by the Agricultural Research Council, Roodeplaat Vegetable and Ornamental Plant Institute (ARC-VOPI). Contact the ARC-VOPI on 012 841 9611.