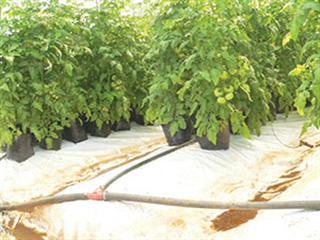 If you've ever been into a greenhouse you would have noticed it's very warm inside. That's what greenhouses do – they keep plants warm. That means you can grow vegetables out of season, because you can decide on the season in the greenhouse. Or at the very least you can lessen the temperature extremes inside the greenhouse. Greenhouses also protect plants from UV radiation – a fancy term for the rays of the sun that burn our skin and cause skin cancer, no matter what your skin colour is. These rays also harm plants. Most greenhouses in South Africa are covered with a form of plastic called polyethylene sheeting or shade netting.
Different structures
Greenhouses come in many different shapes, from the simple and relatively cheap to the very expensive.
In South Africa the following greenhouses are popular:
Shade-net structures: flat roof, pitch roof and tunnel type.
Plastic: tunnels and multi-spans.
Greenhouse choice depends on the crop, market and financing available.
Creating the right climate
Shade netting cuts out a certain amount of sunlight and allows natural ventilation and air flow. This kind of structure also protects plants against wind, rain, hail, birds and large insects. Plastic greenhouses – those covered by polyethylene – also offer protection against rain, wind, hail and UV rays. But they can be damaged by heavy storms. However, the humidity is higher inside plastic greenhouses. That is, it's warmer as the plastic sheeting traps heat inside the greenhouse during the day. You have to be careful as a plastic greenhouse can become very hot in summer. If the greenhouse can't be heated, the minimum temperature can be as low as outside the greenhouse.
Source: Guide to Hydroponic Vegetable Production, edited by JG Niederwieser and published by the Agricultural Research Council, Roodeplaat Vegetable and Ornamental Plant Institute (ARC-VOPI). Contact the ARC-VOPI on 012 841 9611.