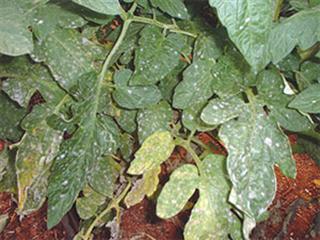 To keep plants in your greenhouse disease-free you must make sure there are no insects or disease-causing agents present, your plants are healthy, the temperature and humidity aren't too high, and ventilation is good. Hydroponic producers are faced with the challenge of maintaining the best conditions for plant growth. This is difficult and requires careful management.

Keep invaders out
No matter how well-built your greenhouse, it'll only keep out large insects. Pathogen spores (tiny "germs" that cause disease) and smaller insects can't be kept out. It's important to know what pests or diseases are likely to become a problem. You can take steps to lessen the possibility of the pest or disease entering the greenhouse and making plants sick.
Good sanitation is also very important. Wash your hands regularly, dip your feet in a disinfectant solution before entering the greenhouse and wear protective clothes. These will all prevent you from carrying diseases into the greenhouse. If your crop is already infected, you need to use the pesticide designed to combat the specific insect or disease. You can buy pesticides in small packages at nurseries and certain retail stores, and larger quantities at your local co-op.
Source: Guide to Hydroponic Vegetable Production, edited by JG Niederwieser and published by the Agricultural Research Council, Roodeplaat Vegetable and Ornamental Plant Institute (ARC-VOPI). Contact the ARC-VOPI on 012 841 9611