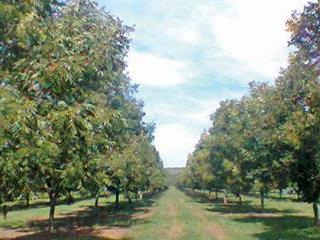 Parts of South Africa have the world's best climate for growing pecan nuts (Carya illinoinensis). In an interview with Farmer's Weekly in January 2011, Philip Antrobus, pecan nut farmer and then chairperson of the SA Pecan Nut Producers' Association (SAPPA), said that pecan nut production was a lucrative industry.
"Income harvested from two pecan nut trees is equivalent to that from 1t of maize," he was quoted as saying.
The pecan nut industry continues to expand, as indicated by SAPPA's statistics, with 327 900 trees planted in 2013, 341 000 trees planted in 2014 and 340 000 trees planted in 2015 (source: www.sappa.za.org).

Similarly, according to Pecans SA, consumption has more than doubled since 2007, with 90% of the country's pecans exported to China.
While pecans may seem like a viable business venture on which to embark, one should consider that, as with all crops, there are various factors that determine the value of the plantation. The following excerpt from Lyndon Storer's presentation, 'The story of an African pecan nut farm' presented on 23 October, 2015 in Bloemfontein at the SAIV (SA Institute of Valuers) Central Branch agri seminar, discusses some of these factors.
Pecan nut cultivar values
With the expansion of the industry, SA growers are now choosing to grow the right cultivars for the right reasons. Crop type influences the value of an orchard, as some crops are worth more than others (vineyards, for example, are worth more than pecan nut orchards in certain areas, such as Paarl, Franschhoek and Stellenbosch) and cannot be compared with the specific areas in which pecans will be produced.
Similarly, some crop cultivars are more valuable than others, and this should be considered when planting an orchard. The table alongside lists the different pecan nut cultivars.
The standard cultivar, Choctaw, has an index of 100. Anything above this cultivar index is considered better and more valuable, while any cultivar with an index below 100 is considered less desirable, and is deemed less valuable, than the Choctaw cultivar.
Planting spacing
Generally, pecan nut trees are planted according to the following space indices:
10m x 5 m, which equals 200 trees/ha;
8m x 5 m, which equals 250 trees/ha;
6m x 6 m, which equals 277 trees/ ha.
The number of plants missing in an orchard influences the value of the orchard. An orchard with a poor plant population cannot have the same value as an orchard with an almost complete tree population.

Area Suitability
Climate: This is probably the single most important factor that determines whether pecan nut trees can produce well.
Soil: Pecan nut trees do well in a well-drained, deep soil with a medium texture. The alluvial soils along rivers are excellent for pecan nut trees, provided the permanent water level is at least 5m or more below the soil surface to ensure good drainage. Clay content should preferably not exceed 35%, but a content of more than 10% is preferred. Very clayish or sandy soils have limitations with respect to water supply. No restricting layers should be present in the top 3m of soil.
Pests and diseases: Scab (Cladosporium cayigenium) is the main disease affecting pecan nuts. It is a fungal disease, curbed by planting resistant cultivars and avoiding areas with a humidity above 50% for long periods. The disease can also be kept under control with a fungicide spray programme.
Two other pests that influence the value of a pecan orchard are the pecan stem borer and the bark borer. Both can be controlled by chemical spraying directly in the infested area and, in the case of partly bored stems, by a parasitic wasp
(Source: Joubert, PH, 2008, The Cultivation of Pecan Nuts).