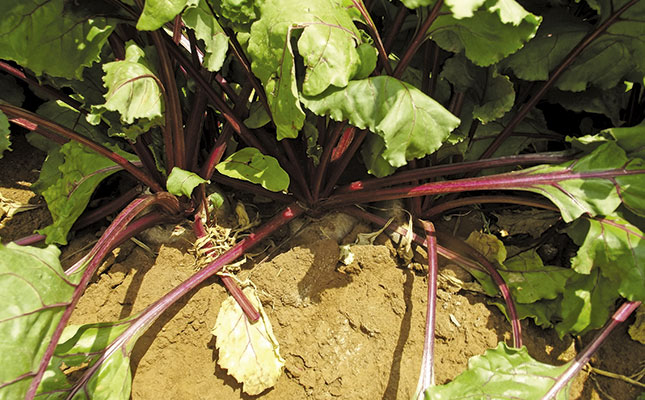 Raised beds are your best bet when growing beetroot. They increase the effective depth of soil, allowing it to drain better; they concentrate topsoil around the root zone; and they provide more oxygen for healthy root development.
Correct spacing will help to ensure optimal yield. If you have 1,2m-wide beds, dig six rows or furrows 2cm deep. Start the furrows 10cm from the side of the seedbed and allow 20cm between rows.
Direct sowing
It is the temperature of the soil, not of the air, that controls seed germination, so wait for soil temperature to rise before sowing. Buy quality seed with a good germination percentage. Irrigate lightly a day before sowing, then sow the seed 2cm to 3cm apart and cover with the soil from the furrows.
The importance of mulch
Mulching can protect emerging seed from sunburn and keep the top soil layer moist and cool. A good layer of mulch can reduce evaporation from the soil surface by as much as 70%. Thin plants to 5cm to 9cm apart in the rows, depending on the size of beetroots needed for your market.
Fertilising
Apply top or side dressings of nitrogen at about 100kg/ha (or 10g/m²) at the three-leaf stage, about three weeks after emergence, and 100kg/ ha three weeks later. Potassium levels should be kept fairly high. Use 1:0:1 or potassium nitrate for the second top-dressing if the potassium level is low.
Beetroot prefers well-drained soil with plenty of lime and potash. A lack of phosphorus or nitrogen will stunt growth and produce a deep red colour. Beetroot is also sensitive to a low boron level, which will result in blackened areas and cracked roots.
Irrigation: crucial early on
Irrigate carefully and early in the season, taking care not to overdo it. Waterlogging can turn leaves red and slow down plant growth. As a general guide, apply 300mm to 350mm water throughout the growing season, starting off with 20mm in the first week and switching to 40mm every week thereafter.
Irrigation is especially important in the early stages of plant development and during root development. When sowing beetroot, keep the soil damp, and irrigate lightly and often to keep the surface cool, especially in warm weather. The growth tips of emerging seedlings are highly sensitive to hot soil, so give 8mm water per day during long spells of hot, sunny weather. On cold winter days, apply about 2mm of water.
Irrigation is particularly important in the last half of the growing season. A water shortage at this time could severely reduce yield. During this period, irrigate early in the day so that leaves can dry off properly; this helps to prevent disease from developing.
When and how to harvest your crop
Soil should be slightly moist before pulling beetroot. If the soil is too dry, the rate of top breakage will be high and the roots will be difficult to clean. For best flavour and tenderness, begin harvesting when roots are 3cm to 4cm in diameter.
Handle the beetroots carefully after harvesting to avoid damaging them.
Damage reduces shelf-life and increases the chances of decay and disease. Fresh beetroot can be stored for between 10 and 14 days at 0°C and 98% to 100% relative humidity.