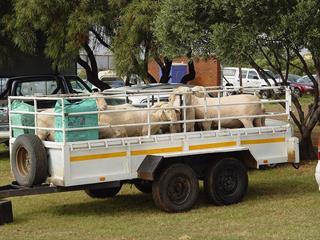 Biosecurity involves preventive measures designed to reduce the risk of transmission of infectious diseases in crops and livestock. In the case of livestock, bringing in cattle is just one way that disease can be introduced to your herd. According to the Red Meat Producers' Organisation, you should ask the following before bringing in new animals:
How long have the animals resided at the place of purchase or previous location?

Have there been any recent disease outbreaks at that location?

Do brand markings clearly confirm ownership?

Was a vaccination programme followed? You will need proof here.

What were the prevalent external parasites at the site and what was the routinely implemented control programme?

Was a vet-supported control programme against transmittable diseases followed?
In addition, ensure that a sufficient number of tests for reproductive diseases in both males and females have been conducted and the animals have been tested for zoonotic diseases.
Then have your own vet conduct these tests. If buying at a sale, or from a speculator, purchase only in areas that are not near scheduled areas. Before buying, check the animals for brand marks and signs of parasite infestation.
Visitors & employees
Do not allow strangers or their vehicles among the livestock. Ensure that fences are well-maintained and preferably jackal- and warthog-proof. Do not allow your employees to eat in feed stores and supply sufficient ablution facilities. Arrange for employees to be treated for tapeworm during regular health check-ups.
Keep a record of all employee livestock on the farm and treat them with separate health programmes. Finally, ensure that employees understand the reason behind biosecurity measures. This will help to ensure compliance.
Buying Feed
Ensure that bales of hay are from areas not adjacent to scheduled areas.

Buy only from reputable dealers.

Avoid buying feed in used bags.

Ensure that feed trucks are disinfected and cleaned, especially if they are also used to transport animals to abattoirs.
Transport & arrival
Use only a reputable transporter and ensure that the truck has been cleaned and disinfected and will take the shortest route to the handling facilities. Do not allow the truck personnel to come into contact with the farm herd. At the farm, offload the livestock immediately to limit stress and enable the animals to be visually checked for any unnatural conditions.
Quarantine the new arrivals. Isolate them from the farm herd and shared facilities for at least 21 days. Test for diseases of concern if necessary before allowing the animals to mix with the rest of the herd. Inspect them regularly.
Process new arrivals within 24 hours after arrival (unique ID tag, brand, dip, dose, vaccinate).
General biosecurity measures
The following are also important for biosecurity:
Record-keeping:

All animals must be individually identified and recorded. To prove ownership, mark all animals with the registered brand mark according to the Animal Identification Act, No. 6 of 2002.

Breeding management:

A defined breeding season is the basis of effective management. It coincides with the rainy season when the nutritional value of the pasture is at its highest.

Perform condition scoring of bulls and cows regularly, particularly at the start of the season. Sufficient energy reserves in the herd as measured by condition scoring are vital, especially for effective breeding. When these are inadequate, supplement the herd in consultation with a nutritionist.

Bull:cow ratio:

Maintain a bull:cow ratio of 1:25 in every

breeding herd.

Fertility of breeding bulls:

Test all breeding bulls for mating ability and semen quality before the breeding season.

Sexually transmitted diseases:

Perform sheath washes or scrapes on bulls annually.

Vaccinate:

Vaccinate cows against diseases that can cause poor conception, abortion or weak calves. Consult your vet.

Breeding success:

This should be monitored by a vet who carries out rectal pregnancy or scan diagnoses eight weeks after the breeding season. If 20% or more cows are not pregnant, arrange for further tests to determine the cause of the low pregnancy rate.
Source: the RPO code of conduct, as cited by the Ruminant Veterinary Association of South Africa, a group of the SA Veterinary Association. See www.rpo.co.za/em>.