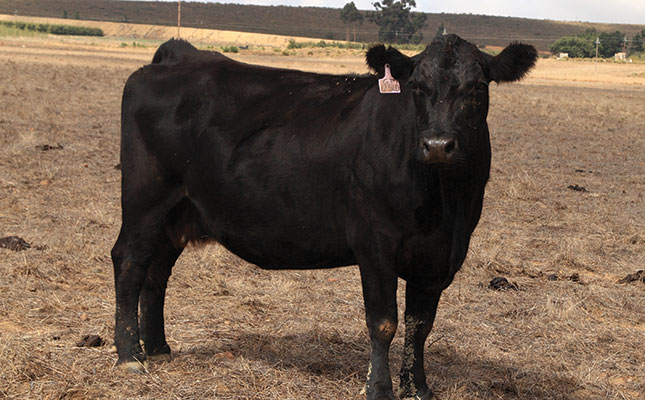 The Aberdeen-Angus was developed from the polled and mostly black cattle of North East Scotland in the early 19th century. The UK breed society was founded in 1879.
Internationally known as Angus, these cattle are naturally polled, and can be black or red in colour. White may occasionally appear on the udders of female animals. The animal is considered medium to large in size, with mature bulls and cows reaching an average weight of 850kg and 545kg respectively, according to the website AgDaily.
In the US, red and black Angus are considered separate breeds; however, there are no genetic differences between them, and they aren't regarded as different breeds in South Africa.
AgDaily states that the black Angus is one of the most prominent beef cattle breeds in the US, with 304 577 registered cattle in 2019.
Characteristics
According to the Angus Society of South Africa (Angus SA), the following traits are associated with Angus cattle:
Calving ease. Angus cows require little, if any, intervention during calving.
Strong maternal ability.
Superior milking ability. Angus cows can wean calves of around 45% of their own weight.
Early maturity and great fertility.
Good stayability.
Naturally polled. Angus SA says that 90% of the progeny of crossbreeding systems in which Angus bulls are used are polled.
Protection against sunburn, thanks to its dark skin. Eye cancer is also uncommon.
Adaptability. Angus cattle need little maintenance and can thrive under all weather conditions.
Superior feed conversion.
Natural marbling.
Preferred carcass size and quality.
Good temperament, thus easier handling.
High dressing percentage.
Wide gene pool. As the biggest breed in the world in terms of numbers, the gene pool is unlimited, according to Angus SA.
Angus in South Africa
The Aberdeen-Angus Cattle Breeders' Society of South Africa was founded in 1917 with just 12 members. It was affiliated to SA Stud Book in 1918 and received its certificate of incorporation in 1921.
According to Angus SA, there are currently 140 registered stud breeders, 50 registered commercial members, and 14 non-active members. There are also 2 300 beef farmers in South Africa on the Angus SA database who use Angus in their commercial farming operations.
"Angus has made tremendous progress as a breed by maintaining birth mass [at or] below the national average, while other growth figures have improved dramatically above national averages. The breed's unsurpassed fertility has also improved," says Angus SA.
Angus are bred across South Africa, especially in the Free State, Western Cape and KwaZulu-Natal.
Phone the Angus Society of South Africa on 051 447 9849, or email [email protected].