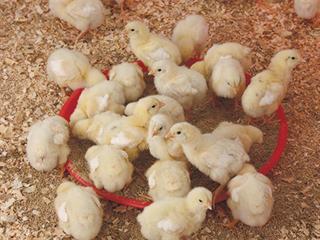 Successful broiler production is all about performance and cost, says Matthew Wilson, broiler specialist at Cobb Vantress. Better performance means lower costs, and is expressed in terms of average daily gain, mortality and feed conversion rate.
In turn, four key environmental factors affect these numbers – temperature, brooding, oxygen levels and lighting.
These must be managed carefully to ensure successful broiler production, and it is worthwhile spending money to get them just right. This is an investment that will ensure better profit.
Need for extra heating
"When chicks hatch, they can't control their own body temperature until they're 14 days old," says Wilson. Even then, because broilers are not fully feathered until after they are 25 days old, they are highly sensitive to air movement. "Chicks always require extra heating for brooding," he explains. The house must be pre-heated for at least 48 hours for every new batch of chicks. The recommended temperature is 32°C for furnace heaters and 40,5°C for brooders.
Heat control sensors and thermometers should be hung above bird height in the centre of the room. Because the sensors become less accurate over time, they should be checked and recalibrated if necessary before every new flock is introduced, says Wilson. If the sensor reading is out by 1°C, heating cost will increase by 8%.
Feeding and watering
A chick must consume about 25% of its body weight in feed and 50% of its body weight in water 24 hours after placement. It's important that farmers get this right, says Wilson. Failure to do so results in lower weight gain, higher mortality (due to increased culling for small, non-starter chicks) and poor flock uniformity. "Ensure the correct number of nipples for the number of chicks, with a maximum of 12 birds per nipple for high flow-rate systems and 10 birds per nipple for low flow-rate systems. The nipples must be a maximum of 3m apart," explains Wilson.

An efficient ventilation system
A plentiful supply of fresh air is essential to a chicken's performance. High levels of carbon dioxide will reduce activity and feed and water consumption, increase dehydration, lower weight gain and increase the chance of heart failure later in life. It is therefore vital to install a good ventilation system that can provide a continuous supply of fresh air and remove the carbon dioxide.
Lighting
Birds do not show a preference for any particular type of lighting, and light colour also does not seem to affect them, says Wilson. However, in the case of fluorescent lighting, he recommends that farmers use 'warm light' rather than 'cool light', because 'warm light' is more intense. The lightbulb packaging will indicate whether the bulb gives off cool or warm light. "Fluorescent lights should be installed at 1W/m² of floor area and incandescent lights at 3,75W/ m²," he explains. "You can turn down the light intensity when the chicks weigh between 100g and 160g. The birds will cut their feed consumption by 18% for two days after this, but then return to normal."
Email Matthew Wilson at [email protected].