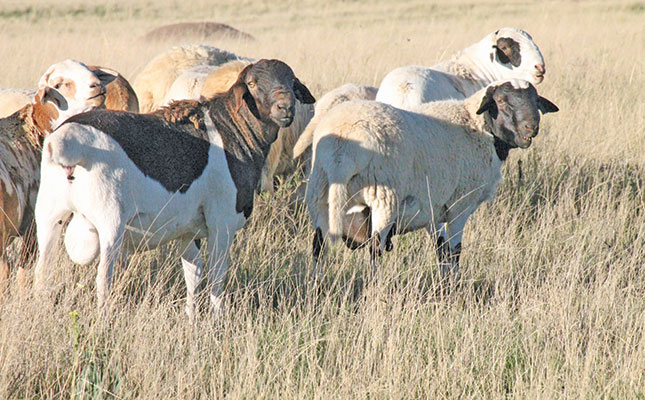 In the late 1980s, a number of sheep farmers in different parts of South Africa began to see the need, both nationally and globally, for an adaptable, economically viable mutton breed that could produce on the veld with minimum care and low input costs.
After much discussion, it was decided to focus on combining the Damara's hardiness and fertility with the sought-after conformation of the Ile de France and Dorper types.
In the early 1990s, Freddie Peters in the Vereeniging district bred a number of sheep by using five different Ile de France ewe bloodlines and three unrelated Damara ram bloodlines.
At the same time, Clynton Collett in the Venterstad district of the Eastern Cape bred a fairly large number of white Dorper x Damaras, as well as a number of other Damara crossbreeds. Subsequent selection led to a Meatmaster-type sheep.
In May 2000, Collett convened a meeting of breeders to discuss the formation of a breeders' society for these crossbred sheep, and the name 'Meatmaster' was decided upon. The Meatmaster breed was finally registered in 2007 and the breed society was established in 2008.
Characteristics
The breed is of average size, and has functional conformation with well-placed legs for excellent walking ability. Rams and ewes must show definite male and female characteristics respectively, and should ideally be polled.
The Meatmaster breed can have any colour or combination of colours with good skin pigmentation. The covering must consist of short, shiny hair with an underlying blanket of fluffy fine wool. The breed must never be shorn; thus natural shedding ability of the coat is essential.
The tail should be well attached and preferably not longer than the hock. It should be neat, wedge-shaped or uniformly thin, with only a moderate covering of fat. The carcass is not regarded as a fat-tailed type and is acceptable on the market.
Production norms include the following:
Age at first lambing: 14 months;
Number of lambs born per 100 ewes lambing: 115;
Number of lambs weaned per 100 ewes lambing: 110;
Lambs slaughtered at five months at 38kg will yield an acceptable carcass of 17,5kg;
Average birthweight: 3,4kg;
100-day weaning weight: 27kg;
270-day weight: 47kg;
Mature ewe and ram weights: 52kg and 65kg respectively.
Visit gadi.agric.za for more information.