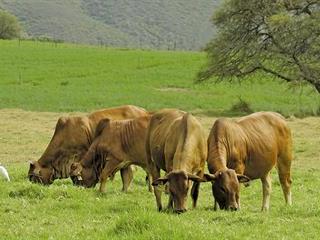 The old question of how intensively and frequently grass veld should be grazed has yet to be settled. And no wonder, because it's not only the interaction between these two actions that comes into play, but veld type and rainfall.
Most of South Africa's veld receives less than 500mm rain a year, making drought the rule rather than the exception. A stock farmer therefore has to ensure that rain is used effectively, by the grazing plants with the most potential rather than wasting scarce moisture on unpalatable grasses. For this reason, it is essential to have grazing systems in place that improve veld.
The importance of the root system
Traditionally, farmers judge veld mostly on what they see above the ground. But that's not enough. Focusing on what happens below the soil surface is equally important as the state of a camp's root systems is a good indicator of veld condition.
This is supported by research on the impact of grazing and water stress (drought) on rooigras (Themeda triandra). This species makes a major contribution to animal production, especially in the central grassveld regions.
The trial was carried out on potted tufts to measure interaction between the normal phenomenon of drought and the impact of grazing on the productivity of veld, particularly the root mass. A well-developed root system is important for sustainable production of palatable species, as it enables them to compete more effectively with less valuable species for moisture and nutrients in the soil.
Hard grazing and drought: a deadly combination
Over a period of two months, rooigras tufts were cut to a height of 25mm (the shortest that sheep normally utilise) and 50mm (the shortest that cattle will graze) every second week. The tufts were subjected to water stress to imitate periods of no rainfall in the central grassveld region.
The results showed that the longer the period over which the plants were cut (defoliated or grazed) and the longer the period of water stress, the greater the impact on root dieback. In other words, the more intensively and frequently the veld is used, the smaller the roots will become. Severe grazing and drought are a deadly combination for sustainable veld production.
Short grazing periods aimed at curbing root loss are a safe way to counteract root decline, but enough camps must be available per herd or flock. This obviously has financial implications as fencing is expensive. But having too few camps per herd makes veld improvement very difficult as some camps will be over- utilised and others under-utilised. There simply is too little room to move.
Rest: a crucial factor
Studying the practical implications of the research, a four-camp system (four camps per herd) with a grazing period of one month and rest periods of three months, will place more stress on the plants than a system with grazing periods of two to three months and rests of six to nine months.
A positive aspect of longer grazing periods is that animals eventually start using parts of a camp they would otherwise avoid (without necessarily overgrazing the veld). A negative effect of short-duration grazing is that the stocking rate must be very high to graze a camp down quickly and effectively enough.
To do this, herds must be large and the camps quite small. Enough rest after grazing is undoubtedly the most important factor for sustainable veld production and root recovery and development. This is why a long grazing period should always be followed by a long rest.
Whatever your grazing strategy, keep in mind that a poorly-spread root system makes plants more sensitive to drought and results in an unsustainable veld ecosystem. Grasses need a good rest to get their roots back in shape so that the veld can regain vigour, particularly just after a drought is broken. Roots will only grow if surplus growth reserves are available.
Email Prof Hennie Snyman at [email protected]