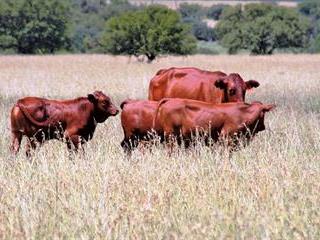 The main challenge for extensive livestock owners and game farmers is to farm sustainably with rainfall that varies greatly from season to season.
This is according to Dr Mias van der Westhuizen of the Free State provincial department of agriculture and Prof Hennie Snyman of the Department of Animal, Wildlife and Pasture Science at the University of the Free State.
Obviously, it makes more sense to go into a drought with veld in good condition than with veld that has already taken a knock from injudicious use.
The first challenge, which is relatively easy, is to implement a sensible veld management system.
The second (a nerve-racking one) is to manage veld during a drought.
The third, and almost as daunting, is to manage the farm immediately after the drought when enough rain has fallen
to give you breathing space and hope for the future.
Even while you struggle with these tasks, try to plan for the next drought that must inevitably come, suggest Snyman and Van der Westhuizen. Above all, adopt a scientific grazing system, they urge. This option, often underrated on the semi-arid grassveld, can dramatically improve veld condition and grazing capacity and reduce the impact of drought.
But what happens after good rains have fallen?

Swift recovery not guaranteed
During a drought, growth reserves and plant vigour disappear. Grass tufts become smaller and dieback is evident. General plant cover suffers, bare patches grow larger and humus decreases, increasing the danger of soil erosion when it does rain. The sparser vegetation changes the microclimate and increases evaporation and soil temperature, so the veld becomes increasingly sensitive to drought.
Clearly, the negative effects of drought on veld production must be overcome before the grazing ecosystem can again function properly.
Approximately 80% of the roots of climax grasses grow in the top 200mm of soil. These roots are responsible for most of the plant's production, but can die during an intense drought. The deeper roots help the plants to survive drought, but even they may die.
Substantial rain is needed to reach them, so recovery is usually slow after a drought.
Root dieback is normal, and helps to maintain the soil's humus status, but a severe drought can throw the ecosystem out of balance. The soil might be more fertile after a drought, but at the cost of the above-ground biomass, which is important for animal production.
Timing of rainfall a crucial factor
Veld management and veld condition before the onset of drought, and rainfall after the drought, are important factors in the recovery of the grazing.
It is not only the volume of rain that matters, but when it falls. If little growth occurs after the early spring rain, even follow-up rain in January will not be enough to kick-start grass growth. However, if the rest of the growing season – February/March – gets rainfall of about 30% above average, veld in good condition can regain enough vigour to recover before autumn.
In this case, soil fertility, which may have improved as a result of root dieback, will aid faster growth.
Farms or individual camps in poor, or even reasonable condition, will take longer to recover. With average rain for the rest of the season and the next, this type of veld can be expected to regain full vigour only in February the following year – 2017, in this case.
Below-average rain in February and March will mean that drought conditions will remain intact well into 2017.
Biodiversity key to veld quality
South Africa's veld is a dynamic system that has developed over many centuries under periodic droughts. But plant species differ in their ability to cope with drought, and veld in good condition with high biodiversity will be more resistant than poorer veld.
For example, in arid savannahs, kweek (Schmidtia pappophoroides) and blinkaarboesmangras (Stipagrostis uniplumis) complement each other in the fight against drought. During average and wet seasons, the more palatable kweek will
provide good animal production, while the boesmangras is poorly grazed.
When rainfall drops to below 175mm, the kweek loses its ability to sustain livestock, while boesmangras takes over
this role. Even the well-known rooigras (Themeda triandra) in the central grassveld struggles to provide energy when rainfall drops below 350mm.
However, the impact of drought on poor veld is always greater, irrespective of location.
Email Dr Mias van der Westhuizen at [email protected], or Prof Hennie Snyman at [email protected].