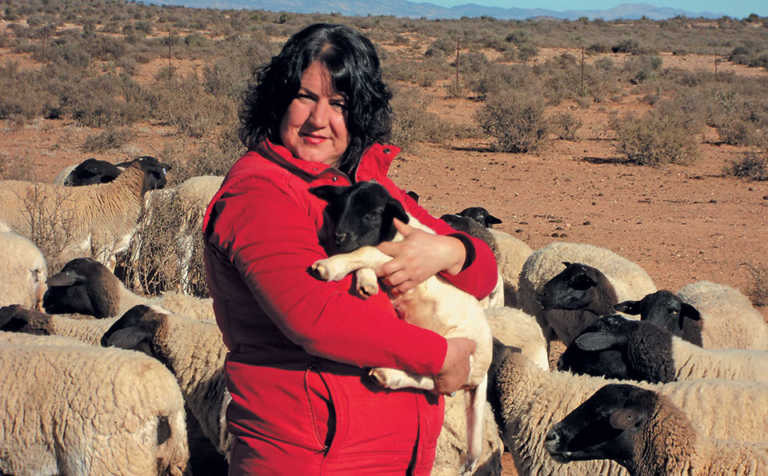 Emilize Vögel, farm manager of Wagondrift Farming, believes in managing animals so that losses are minimised, and her initiation into breeding sable antelope certainly attests to this philosophy.
While transporting Wagondrift's first group of sable antelope to the farm, Langveld, in the Steytlerville district in the south-eastern Karoo, she was forced to spend the night in a small town waiting out a heavy storm.
The situation was tricky. Although she dared not risk losing the valuable cargo on the muddy 16km road out to the farm, she also did not want to leave the animals unguarded.
Undaunted, she simply parked the truck in a quiet side street, grabbed a blanket and pillow, and curled up on the front seat until sunrise.
She remembers reasoning: "This is crazy, but is spending the night with a group of Sable any different to swimming with dolphins? It depends on where your passion lies."
Since this incident two years ago, Wagondrift Farming's sable herd at Langveld has grown to 30 without suffering a single mortality or other mishap. This, say neighbours, attests to Emilize's almost uncanny knack with animals, wild or otherwise.
She bonds with them and cares for them, and is usually amply rewarded for her efforts.
A lesson well-learnt
"Look after your animals and they'll look after you," Emilize stresses. "I learnt that from my late mother, Julie, on our family farm, Doornkroon [in the same district], where I grew up. It was a relatively small farm, and her recipe for survival was to give every sheep individual attention. It paid off in terms of lambing and weaning percentages."
However, despite her obvious aptitude for animal rearing, Emilize waited for many years before she put her passion into practice.
"I started out in banking, moved to hospital administration, and later became a real estate agent. I then returned home and I helped my mother on the farm, until she passed away and Doornkroon was sold.
"This was followed by a stint on a hunting ranch. Then, in 2015, Pieter and Pietie Ferreira of Wagondrift Farming in Hankey, Gamtoos River Valley, asked me to join them."
Although the Ferreiras were primarily fruit and vegetable farmers, they had, for many years, dreamed of establishing a game and livestock farm in the Karoo, recalls Emilize.
"So I supervised the building of game-proof fencing on Langveld, before establishing the sables, nyalas, springbok and more recently, Kudu and black impala on one section of the farm. We run Dorper sheep on the other part."
Keep your eyes open
Emilize shares another lesson learnt from her mother: never start the day without plans in place, both for the short and long term. Having a Plan B is also a must, as things often go awry on a farm. It is no less important to anticipate both good and adverse market conditions. Farming, after all, is about making a profit.
"The saying that the difference between a good farmer and a bad one is only a few days is so true," she says.
Emilize points to a few examples to illustrate her point:
Failing to regularly check the status of stock watering reservoirs or drinking troughs can lead to untold trouble, should a camp run out of water.
During a typical Karoo drought, the greatest challenge is probably managing the veld properly. It is vital that there is enough grazing available.
Putting off inoculations against maladies such as pulpy kidney disease, until it's too late, can lead to heavy losses.
Neglecting to patrol fences, or checking for holes in fences, could allow predators to enter the farm or game to escape. In a nutshell, it is crucial to keep one's eyes open at all times.
"I'm never without my binoculars. They're indispensable for spotting trouble at a distance or doing quick game counts," she says.
Small-stock vs game
Emilize explains that there are both similarities and differences between managing game and sheep. Both require good nutrition and clean water, and neither take weekends off; constant care is a must.
Sable, she admits, are obviously more visually appealing, especially galloping across the plains, than a flock of sheep quietly grazing. But sheep, being domestic, allow for a hands-on approach. "You get into much closer contact with sheep, and can handle them without darting," she explains.
She also finds antelope behaviour fascinating, and highly varied. Sable cows, for example, hide their newborn calves in bushes until they have gained strength. The cows then call their calves with eerie, barely audible whistles.
Nyalas are shy, staying in the thorn thickets most of the time, and bristle their coats when disturbed. Springbok and other gazelles are famed for their dramatic pronking behaviour.
Breeding
In selecting a Sable breeding bull, Emilize looks for a strong body, and horns that curve slightly outwards from a broad base. Sable horns grow at about 1" (2,5cm) per month for the first three years, after which growth slows considerably.
The horns take a long time to reach the target of around 50" (1,28m).
"In Dorper rams, I look, among others, for good length and depth of body, and a strong head and muzzle. Ewes that have poor udders or abnormalities in the udder or teats get culled, as milk is what makes lambs grow."
While Emilize enjoys working outdoors and experiencing nature first-hand, she admits that the job has its difficulties.
"It can get tough, especially when things suddenly go wrong, and you have to go full throttle to limit or prevent losses, and then catch up again with scheduled tasks.
A farmer is so many professions rolled into one, from personnel manager and bookkeeper to marketer and engineer, that you have to know something about just about everything."
She says that although many women feel intimidated by the prospect of entering the predominantly male-orientated profession of farming, there is no reason they should not succeed, especially if encouraged by family and employers.
The ready availability of information today also makes the job more manageable.
"I try to read up as much as I can, talk to other farmers to stay abreast of developments, visit other farms to compare notes, and attend stock and game auctions whenever I can," she says.
Emilize's management tips
The Steytlerville Karoo receives an average rainfall of only 230mm to 250mm, but the veld is known for its wide variety of nutritious dwarf Karoo shrubs and succulents that maintain their grazing value even during normal dry conditions.
But according to Emilize Vögel, below-average rainfall over the past two years has made supplementary feeding essential for maintaining the condition and health of both sheep and game.
"The worst thing you can do is allow your animals to lose too much weight before giving them extra feed," she says. "Feed is expensive, so you have to do your sums, but at current prices for lamb of more than R70/kg, a well-planned feeding programme focused on reproduction and weaning weights should pay dividends."
However, while it is always safe to feed lucerne hay or teff, supplementing diet formulations on a large scale has to be carried out carefully, as animals can quickly develop digestive problems. Emilize emphasises the need for sound advice before starting a feeding programme.
Generally, game is far easier to manage than sheep, which require much stricter disease and parasite control. However, in extensive farming areas, predators such as caracal and jackal can be a danger to both game and small-stock, and can often catch farmers unawares.
"I try to do all I can to keep predators away from vulnerable animals by regularly checking fences for holes or loose strands of wire," says Emilize.
Phone Emilize Vögel on 076 607 0937 or email her at [email protected].