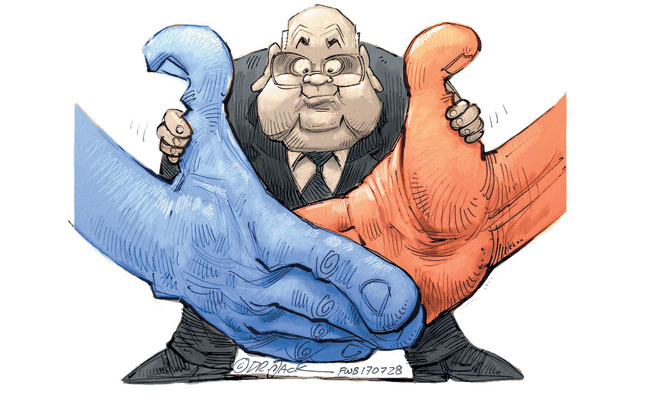 The South African agriculture sector offers great potential in building a new type of 21st century partnership, which will offer opportunities for the previously disadvantaged majority excluded from the economy after 1994, while also contributing to economic growth.
To realise this potential, players in the agriculture sector need to demonstrate actively, and on a large scale, that they want to make a difference in the lives of those previously excluded from participating meaningfully in the economy.
VIEW List of presentations from Agribusiness Africa 2017
As a country, we need people who have been in the farming sector for a long time to continue running their enterprises well, but at the same time they must use their experiences in the sector, which are huge assets for South Africa, and apply them to help solve the challenges faced by the sector, such as transformation.
Take the initiative
I admit the farming and agribusiness sectors are often a neglected part of our economy, despite featuring prominently in government's Nine-Point Plan and the Industrial Policy Action Plan.
Progress has been made, but there are still huge opportunities available to us to create jobs, ensure food security and increase exports.
Addressing this will require government and leaders from these sectors to come together in a spirit of goodwill with a single objective: to stimulate growth and development in agriculture.
Regardless of their differences, when it comes to national interest, everyone has to work together, and business needs to show it's a social partner in the SA economy and society by taking the initiative, and spending its own money and its own time.
Examples to follow
To move towards a radical transformation, the farming sector should consider copying the successes of other sectors; for example, the projects that were the result of the CEO Initiative, which was established to pre-empt the possibility of the downgrade after the debacle that played itself out in December 2015.
[In a surprise cabinet reshuffle, President Zuma replaced finance minister Nhlanhla Nene with Des van Rooyen; after an outcry from the business sector, Van Rooyen was replaced almost immediately by Gordhan.]
READ Three decades later: progress or regress?
Through this, business leaders in the sector can come together to generate new ideas, and to say to government, "These are our initiatives and our contribution to ensuring we keep the economy growing."
An embarrassment
Globally, inequality and the trust gap between politicians, business leaders, CEOs and citizens are becoming toxic issues. South Africa is probably in the top three in terms of levels of inequality.
This only emphasises the critical need for inclusive growth, and inclusivity is something the agriculture sector needs to think about.
What does inclusivity mean in your sector? How will you encourage inclusivity? What will you be doing to decrease inequality in our society? What are the instruments available to us in policy terms and resource terms?
What kind of policy choices will the sector be making to ensure that it will contribute to inclusivity in the next five to 10 years, reducing inequality in the market in South Africa and creating more jobs in the agriculture sector?
Jobs are a priority for many global leaders. South Africa's employment numbers are shocking and, quite frankly, an embarrassment.
The conversation that needs to be held with greater urgency and intensity is on how to break this economic gridlock in terms of job creation in South Africa.
And what those in the farming and agribusiness sectors must ask themselves is what their sectors can contribute in this regard.
I know there are a lot of doubts circulating in our minds, but if we don't invest in our own economy, who else are we going to ask to invest in it?
Urgent action
The normal reaction in difficult times, whether it be political or economic, is to become risk-averse. But that sends the wrong signals.
What South Africa needs now is urgency and action, and the agriculture sector should get the ball rolling on land reform and transformation.
My key recommendation is to make the first move as the agriculture sector. Once you get that momentum going, others will begin to see opportunities.
If the sector becomes more dynamic, this will be reflected in its contribution to the GDP. In turn, this will give the sector more bargaining power when asking government to prioritise issues affecting farmers and agribusiness.
The views expressed in our weekly opinion piece do not necessarily reflect those of Farmer's Weekly.
This article is an edited version of Pravin Gordhan's address at the 11th Agribusiness Africa Conference, hosted by Farmer's Weekly at Emperors Palace in Johannesburg. For more information email [email protected]. Subject line: Agribusiness Africa Conference.