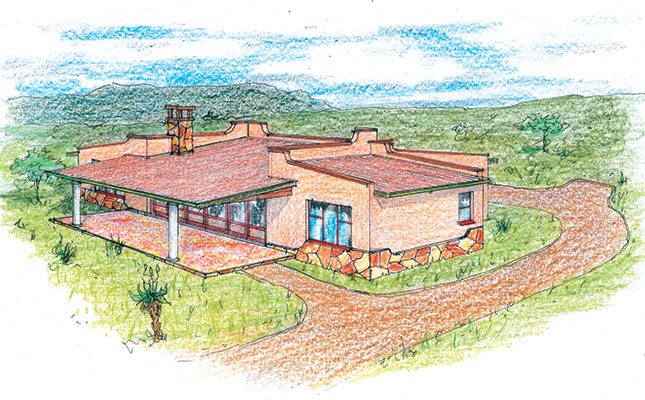 Dear Jonno
I would like to assist a staff member with plans for his home in the nearby township, as it will require formal approval from our local authority.
I've attached a rough layout of what we have in mind for him, and leave it up to you to create something more stylish, while still keeping costs in mind. The site is 25m wide and 30m long.
Regards
Kenneth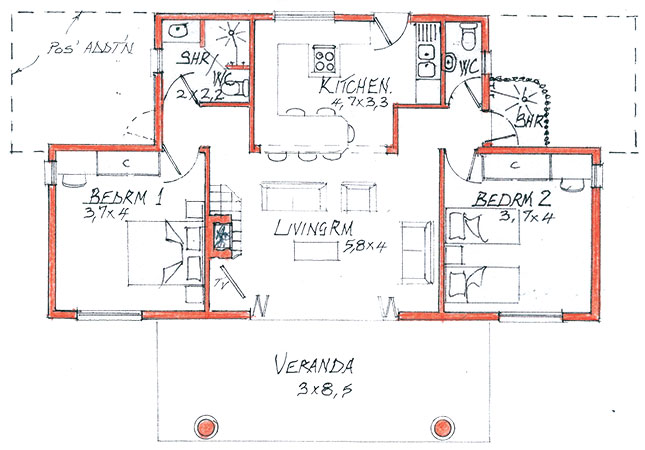 Dear Kenneth
It always helps so much when a client provides a rough layout of what he or she has in mind. The sketch layout that I've shown here can be built as finances permit.
I always advise, however, that the complete floor level be cast in one go. It then becomes easier to build the additional walls for the extensions.
The open-plan living/kitchen area and the second bedroom with separate toilet and outside shower could be finished off first. Then the main bedroom with its en-suite bathroom should be completed. Additional bedrooms (indicated with dotted lines) could be built later.
The roof design with heightened parapet walls also lends itself to further easy lean-to roof additions.
The plinth shown is mock-plaster stonework. A garage, if required, can be located at the rear of the building.
Regards
Jonno
Jonno Smith is a registered architect. He can be contacted at Hillbilly Homes:
tel 036 352 3178, fax 088 036 352 3178, cell 082 412 4459 or email [email protected]. Please provide details of the proposed development. Visit hillbillyhomes.co.za.