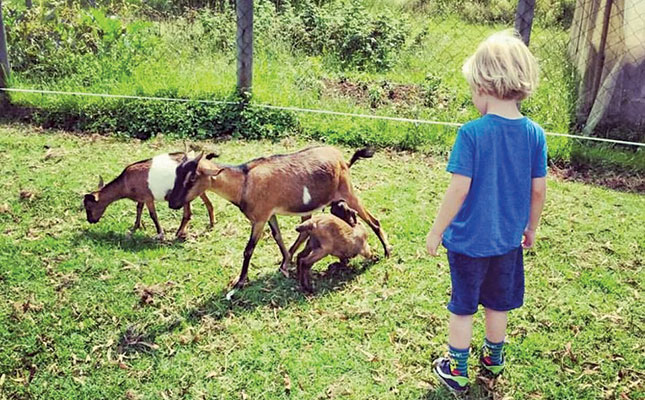 When starting an agritourism business, you must decide whether you want to be a sole proprietor, enter into a partnership, register a private company or establish a business trust.
Whatever structure you choose, you have to register the new business entity for income tax, value added tax (VAT), Unemployment Insurance Fund (UIF), Compensation for Occupational Injuries and Diseases (COID), and pay-as-you-earn (PAYE).
In A Practical Guide to Guest House Management, Deseré Kokt outlines some of the questions you need to answer to determine which business structure is most suitable for your needs:
Are you planning to be the sole owner of the agritourism venture?
Do you want to retain all profits for yourself?
Will you finance your own agritourism enterprise without securing a loan?
Do you have enough capital to pay for all the legal fees involved, for example a liquor license?
Are there assets that need to be kept separate from the agritourism enterprise, such as another property?
Would you like to offset the tax losses of the business against your income from your farming enterprise?
Which matrimonial system is applicable to you, if any?
It is recommended that you consult a lawyer or bookkeeper/accountant for assistance with a business structure that requires official registration.
"It is always advisable to enter into a business structure that offers maximum protection against the loss of your private estate," Kokt says.
Land-use zoning
Once you have decided on a business structure, you need to approach your local municipality to find out whether there are any by-laws or regulations that will prohibit you from establishing self-catering units or a guesthouse on your property.
The title deed of your property should also be inspected to see if there are any restrictive conditions.
Licensing and registration
Television licences
You will need a television licence for every television set in your establishment, and proof of payment for these licences must be kept on the premises at all times. If you want to install DSTV in your self-catering units or guesthouse, there are specialised packages available from the service provider.
Certificate of compliance for food preparation
A certificate of compliance from the local department of health in your municipal area is necessary if you intend serving any form of meal as part of your business.
In the article, 'Everything you need to know to open a restaurant in South Africa' on the SME South Africa website, Lebohang Thulo stresses the importance of this, because any guest who contracts food poisoning after enjoying a meal at your establishment would be able to claim compensation from you.
In addition, you will need to comply with any laws or regulations that govern food safety and hygiene standards. This will be discussed in greater detail in the following article.
Liquor licence
If you intend serving any kind of liquor on the premises, you need to apply for a liquor licence, which can be a long and arduous process.
It would be best to consult an attorney with experience in this regard, especially since liquor licence application procedures may differ from one municipality to another. It is also important to apply for one that best suits your needs.
Radio/music broadcasting licence
You will need to apply for a licence from the SA Music Rights Organisation (SAMRO) if you intend playing any background music or radio broadcasts in your establishment. This licence is inexpensive.
Signage
You would need to get permission from the national or provincial departments of transport if you want to erect any signs to advertise your agritourism enterprise on any national or provincial roads, as well as signage to direct clients to your establishment.
The local municipal engineer in your municipal area also needs to be consulted before you can erect signage on any local roads.
Disclaimer board
A comprehensive disclaimer board to inform clients that you will not take responsibility for issues such as injury, theft or damage while on your property is of the utmost importance and should contain the words 'enter at own risk'. This will go some way to protecting your agritourism operation against liability in the event of:
An accident or incident of bodily injury or harm suffered by a guest;
Damage to, or theft of, a guest's property left unattended;
Damage or theft of guests' motor vehicles;
An allergic reaction or bodily harm suffered as a result of food or drink consumed on your premises.
Charging value added tax (VAT)
If your agritourism enterprise is not registered for value added tax (VAT), you cannot add VAT to prices. Once your agritourism business earns more than R1 million a year, it is compulsory by law to register for VAT and charge clients VAT on all products and services.
The VAT must then be paid over to the South African Revenue Service (SARS) on a regular basis.
Therefore, it is advisable to register as a VAT vendor with SARS.
All prices quoted to guests must then include VAT and the VAT number allocated to you must appear on all your business' official documentation. Careful records must be kept of all VAT charged. Full information is available on the SARS website.
Other tax matters
You will have to submit annual financial statements and pay the applicable tax on any income earned from your agritourism enterprise.
Your tax liability will depend on the business structure you have chosen for your business. You will also be responsible for collecting and paying tax on behalf of your employees.
Insurance
It is imperative to have adequate liability cover to mitigate risk. According to the article, 'How much liability cover is enough?' by Dorine Reinstein on the Daily Southern African Tourism Update, being adequately insured and being fully aware of the procedures that need to be followed in the event of an accident or a claim, can safeguard your agritourism venture.
No one likes paying insurance premiums for something that may or may not occur. Even if you, as the agritourism operator, have 'done nothing wrong', or if it has been alleged you have been negligent, the cover will protect you against the cost of an investigation and legal procedures.
Determining the amount of cover you will need will depend on a thorough understanding of your target market to enable you to critically assess your exposure. To quantify your risk exposure, you will need to compile a detailed list of all potential hazards guests are likely to encounter during their stay on your farm.
General Public Liability (GPL) insurance is designed to specifically protect your business against any possible financial compensation claims by clients, guests or the general public where negligence could be construed to have been the cause of an injury or loss.
It is advisable to contact an experienced insurance broker to assist you in this regard.
In the fourth and final instalment of this agritourism series, health and safety aspects, as well as other minimum requirements of an accommodation and food-related operation, will be discussed.
Setting up a marketing and promotion strategy, and incorporating social media, will also be examined.