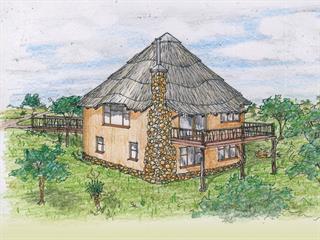 Side view and live game sales, is going well, and another manager's cottage is required on his 17 000ha farm.
As the site chosen for the cottage is well-forested with acacias, the cottage would ideally have to be double-storied, with the living area on the second floor overlooking the trees. A one-on-one always produces the best results, so we sat down together to compare ideas on the new cottage's layout.
First floor plan
55m2 + balcony
Ground floor plan
55m2


Side view

As seen, the living area is on the second floor, with ramped access to that level. The position of the inner floor levels is shown with dashes on the side-view elevation. Sleeping quarters are at ground level, and do not require open views. Two nooks are necessary: one in which to keep muddy boots, and another for the dogs, which like to be close to their owner.
Mark, please feel free to make any further adjustments to suit your requirements.
Regards
Jonno