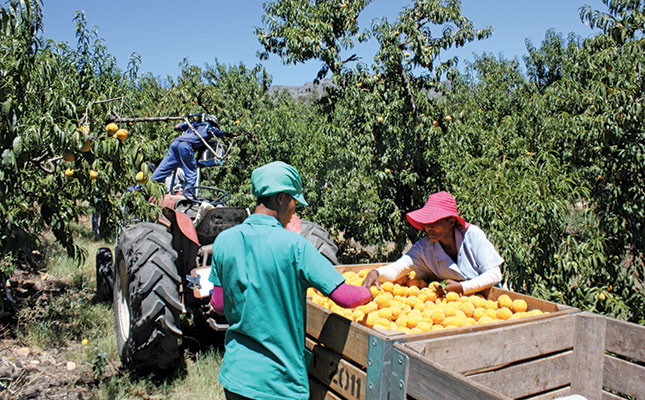 According to the latest Quarterly Labour Force Survey, released by Statistics South Africa (Stats SA), 2,2 million jobs were lost in South Africa in the second quarter (Q2) of 2020.
About 66 000 jobs were lost in the agriculture sector during this quarter.
Looking at employment statistics from Stats SA from 2008, Q2 employment numbers in the agriculture sector dropped from about 790 000 in 2008 to a low of about 600 000 in 2011.
It then gradually increased again to a high of just under 870 000 in 2015, after which it remained roughly in the 830 000 to 840 000 bracket until this year when it dropped to 799 000.
There is a seasonal element to employment in the sector and the number of people employed tends to increase towards the end of the year when, for example, grapes and deciduous fruit are harvested.
Since 2008, the highest recorded employment figure for agriculture was in the fourth quarter of 2016 when Stats SA reported that 919 000 people were employed in the sector. The lowest figure was in Q2 of 2011 at just under 600 000.
The most recent employment figure (Q2 of 2020) is the lowest in the sector since 2015. And broadly speaking, agriculture is now back to where it was in 2008 in terms of the number of people it employs.
There is no doubt that the hard lockdown during April and May, when there were many disruptions in the farming sector even though it was declared an essential service (livestock auctions were not allowed for a period, for example), would have had some impact on job numbers.
More importantly, the multiple warnings given to government by the wine and tobacco industries that the prolonged ban on the sale of alcoholic beverages and tobacco products would cost South Africa jobs proved accurate.
But the effect of the COVID-19 pandemic, on the farming sector at least, will probably lessen towards the end of 2020, and we are likely to see employment in agriculture jump back to around 840 000 jobs by the end of the year.
Wandile Sihlobo, chief economist at Agbiz, is more optimistic than me. He thinks that given the improvement in agricultural GDP in the first two quarters of 2020, as a result of record grain harvests and a much-improved rainfall season, had it not been for COVID-19, the sector's employment could have sprinted to around 900 000 this year.
However, what this means is that over more than a decade, the agriculture sector has created at most 100 000 jobs, and this is only if it manages to recoup the job losses suffered during levels 4 and 5 of the COVID-19 lockdown.
This is only 14% more jobs in 2020 than in 2008, and trails behind the population growth rate over this period of about 16%.
At least this is better than South Africa's overall achievement in creating jobs; between 2008 and 2020, total employment in South Africa increased by only 3%, from 13,7 million to 14,1 million.