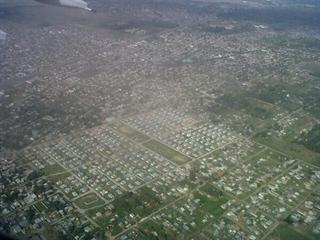 Day 1 (26/04/14)
After meeting up at OR Tambo International Airport and introducing ourselves, the eight of us boarded our SAA flight to Sao Paulo in Brazil. The participants on the 2014 Farmer's Weekly tour of Argentinian agriculture are Lloyd Phillips, senior journalist, Farmer's Weekly; Ian and Tsitsi Nyahwai, directors of Plantech, (Zimbabwe) and Typrops (South Africa); Gavin Walker, farmer and trustee of Walker Farming Trust (Highflats); Phillip Mukhithi, director of the Mukhithi farming project (Klerksdorp); Zolani and Pat Ngcingwana, directors of Fusion Farming Trust (Cedarville); Lucas Msiza, director of Mlekis Investment Holdings/Sizalo Bonsmara (Edenvale).
@FarmersWeeklySA Step 1 of my FWSA trip to Argentina – flying from Pietermaritzburg to OR Tambo. A short hop. pic.twitter.com/mmSnW8jRHu

— Lloyd Phillips (@PhillipsLM) April 26, 2014

Minor glitch when we landed in Sao Paolo at midnight (Brazil time) – Ian and Tsitsi needed a visa they didn't have in order to get to the airport's Marriott Hotel, so they had to remain in the transit lounge, while the lucky South Africans got a few hours rest at the hotel.
At 8.45pm we all met up again to fly from Sao Paolo to Buenos Aires. At Buenos Airport we were met by tour guide, SA-born Hendrik Jordaan, director/senior consultant for Laurik International. After checking in at Bisonte Libertad hotel in BA we went for a light lunch nearby and headed back to the hotel.
While some of the party then chose to sleep off their jetlag at the hotel, others took the opportunity to enjoy the balmy autumn weather and do some leg stretching on a late afternoon walking tour of central BA. We saw the impressive government buildings, an enormous Moreton Bay fig (Ficus macrophylla) growing in a city park, the beautiful office and mansion of Argentina's president known as the Pink House, and the BA waterfront, on the Rio de la Plata, better known to English speakers as the River Plate.
Hendrik has a phenomenal general knowledge of Argentina's history and current affairs and is an excellent guide. Footsore but happy after our stroll, we took a taxi back to our hotel.
That night we sampled Argentina's world-famous beef steak at a cosy restaurant where the meat is prepared over a bed of red-hot charcoal. Dinner was at 10 pm which is apparently common practice in Argentina. And by observing our neighhouring tables it became clear that Argentina's ladies relish their red meat just as much as their male counterparts do.
Tired but satisfied we were happy to hit the sack at about midnight in anticipation of the next day's trip to our first Argentinian farming business at Gualeguay, about 230km north-east of BA.
The journey continues…
Day 2 
Starting bright and early with a 7.30am breakfast of pastries and other tasty treats at the Bisonte Libertad Hotel in Buenos Aires, the group set off on a 230km drive to Gualeguay, north-east of the capital in the province of Entre Rios (Between Rivers).
We drove over some impressive bridges that cross the Rio Paraná. The increasingly rural landscape on either side of the single- and double-lane national roads was, true to form, very flat. However, it was often covered into the far distance with pampas grass (Yerba de las Pampas) and the land was swampy due to heavy late summer/early autumn rains.
Gradually we entered areas of croplands and beef cattle production. According to our guide, Hendrik Jordaan, European beef breeds are favoured in this region although there is a slowly growing tendency to crossbreed with Bos indicus genetics for added hardiness.
Before too long we arrived in the quaint farming town of Gualeguay where we spent about 30 minutes waiting for our host for the day, local commercial beef farmer, Javier Horacio Meda. We were pleasantly amazed to discover that the town's picturesque central park has excellent and free WIFI connectivity – which we all quickly put to good use until Javier arrived.
A short drive out of Gualeguay led us to one of Javier's farms where he finishes beef cattle on natural grass. The tour group asked Javier numerous questions, all of which he was more than willing to answer, and Hendrik did an excellent job of translating the farmer's Spanish into English.
After about two hours at Javier's La Chimenea (The Chimney) Farm, the group bid him goodbye and headed back to Gualeguay for lunch at an eatery called Parilla La Curoa. This place could have been straight out of an episode of Diners, Drive-Ins and Dives. The interior was spartan and rundown, but the chef was at his place in the open-plan kitchen where he was ready to grill any beef cut that we wanted over wood coals.
@FarmersWeeklySA #FWargentina Beef & pork are braaied on Los Sauces's impressively large indoor wood coal braai. pic.twitter.com/Fzm0zJXTbc

— Lloyd Phillips (@PhillipsLM) May 2, 2014

Soon a steaming pile of ribs and flank steaks, together with delicious chips and salads, arrived for us to chomp on. Local beers and softdrinks washed it all down. With lunch finished we clambered back into the bus and drove the 150 kilometres to the holiday town of Concepción del Uruguay in Entre Rios, situated just across the Rio Uruguay.
We checked into the vintage Grand Hotel and Casino for the night. After a fat steak meal at La Delfina restaurant across the road from the hotel, the group hit the sack at about 10.30pm for a good rest ahead of a busy Day 3 when we would be learning about Argentina's poultry industry… To be cont
Day 3
It was a culture shock for the tour group this morning to discover that there was no eggs and bacon on offer for breakfast. We're going to quickly have to get used to the fact that a typical Argentinian breakfast consists only of pastries, cereals, toasted breads, coffee, tea, yoghurt and dulce de leche-centred (caramel) biscuits.
Possibly this is the way Argentinians counter the heavy beef meals that they – and now us too – typically enjoy once or twice a day.
I must point out that I had my best cup of coffee so far in Argentina this morning – at the Grand Hotel and Casino in Concepcion del Uruguay – although some tour members felt it was strong enough to fuel a combine harvester.
At about 07.50am we left Concepcion del Uruguay for a short 10km drive to the INTA agricultural research institute. Here we were treated to a fascinating, in-depth overview of Argentina's commercial broiler and egg production sectors.
After a delicious lunch of Suprema a la Napolitana (tenderised chicken breast covered with cheese and tomato) at INTA's canteen we visited some sheep, poultry and beef production trials on the property.
During the course of the day I was interviewed by an Argentinian TV channel that focuses on agricultural topics. It will be flighted on Argentina's national TV in about a month's time, and will be posted on YouTube. I'll share the relevant details as soon as I have them.
At about 2.50pm, after presenting our INTA hosts with a 'thank you' bottle of South African red wine, we hopped on our bus again for a 300km drive to Argentina's second largest city, Rosario, situated in Santa Fe Province. During the drive the group discovered that, while the surrounding land remained as flat as we had become accustomed to since arriving in Buenos Aires, we were still captivated by the sights of agricultural production on the go in fields adjacent to the road.
Soya was being harvested, cattle were grazing (some up to their knees in swampy water), and we passed numerous trucks ferrying cattle and harvested grains to near and far destinations. An added visual delight was the beautiful autumn colours of the many trees and shrubs along the route.
The tour group, which originally consisted of people who had mostly never met each other before, was by now also very comfortable with each other. Serous agriculture-related discussions were regularly interspersed with humorous comments resulting in outbursts of laughter that made the otherwise long drive breeze by.
We arrived at the Majestic Hotel in Rosario at about 6.30pm. After we had checked in, Hendrik took some of us on a 60 minute walk to see the nearby attractions. The most awe-inspiring was definitely the monument to Argentina's flag. The pouring rain and multi-coloured floodlights only served to make the huge monument even more dramatic.
Day 4
After another eggs-and bacon-free breakfast, this time at the Majestic Hotel in Rosario, we left at 8am for a brief stop at a grain handling terminal at Rosario on the Rio Paraná. This terminal is one of a number that receive grain from farms in a 600km radius of the port and ship it 220km downstream to Buenos Aires. The river is navigable by surprisingly large ships. The one that we saw was about 220m long.
Next, we drove 110km to Las Parejas, where we spent a very interesting two hours at Aapresid (www.aapresid.org.ar), Argentina's much more institutionalised equivalent of South Africa's No-Till Club. Here we learnt about the history and present and future aims of this widespread cropping practice in Argentina. In fact, conventional tillage is now almost obsolete in this country so aware are local farmers of the need to produce far more food off of existing land resources in a sustainable way.
The members of the 2014 Farmer's Weekly Tour to Argentina involved in cropping back home in South Africa all expressed a determination to begin the process of changing their conventional tillage practices to no-till as soon as possible. Saying goodbye to our host at Aapresid, Maria Magnelli, we had a quick lunch of delicious milanesa (beef schnitzel) with chips and salad at a local sports club in Las Parejas.
Then it was a less than 1km drive to the international headquarters of world-renowned farm implements manufacturer, Apache S.A. (www.apache.com.ar/en), which specialises in designing and manufacturing no-till planters.
Our gracious hosts at Apache took around two hours out of their hectic schedules to proudly explain the implements manufacturing process. We also learnt that Apache celebrates its 60th birthday this year. Hearty congratulations to them!
With that visit over the tour group hopped onto our trusty bus for a 56km drive to the town of Cruz Alta, where we visited another no-till implements manufacturer, Pierobon (www.pierobon.com.ar), which coincidentally celebrates its 55th birthday this year. It was amazing to see how different no-till implements manufacturers make their own personalised refinements to their equipment with the express aim of making the implements more efficient and effective for the benefit of crop farmers worldwide. And both Apache and Pierobon want to see farmers feed the world as sustainably as possible.
After arriving at our hotel in Venado Tuerto just before 9 pm, we quickly checked in before making our way to a restaurant for dinner. Most meals ordered were some form of beef (again) while a few of us tried out pork belly for a change (delicious!).
Day 5
While Argentina also celebrates May Day, they are lucky enough to also have been given the day off work tomorrow. And there's quite a festive atmosphere here at the moment, with families have been picnicking everywhere. Even grass verges alongside rural roads are popular spots to enjoy a home-prepared meal on a lovely autumn afternoon.
Meanwhile, the 2014 Farmer's Weekly Tour to Argentina group was pleased to be given an extra hour to sleep in this morning. While very interesting, the tour schedule and travelling are quite energy-sapping, especially in combination with jetlag and the late dinners (resulting in even later bedtimes).
Our first stop of the day was at a mixed cropping and commercial pork farm just outside Venado Tuerto. This part of Argentina is the country's highest potential crop farming region due to its being situated in the La Pampa Húmeda (Wet Pampas), where soils are excellent. Long-term no-till farming methods here have maintained the natural fertility and health of the soils – a quick dig into the soil immediately reveals two earthworms, Mother Nature's indicators of good soil organic matter content.
Unfortunately, recent heavy late summer/early autumn rains had left pools of standing water in some fields and we were besieged by swarms of ravenous mosquitoes. Nevertheless, we all survived and moved on to lunch at a very interesting local country restaurant.
Called Los Sauces, it really tested the South African/Zimbabwean group's relatively conservative tastes when it comes to eating beef. While more common beef cuts were readily available (and excellently cooked over red-hot wood coals in the kitchen), our hosts also served us crispy braaied beef intestines, and slices of beef kidneys and brains.
Some of us were braver than others and sampled each and every piece of meat and organ put on our plates. It was my first time eating beef brains and I must admit that they weren't all that bad. I had wanted to taste Argentinian delicacies while on tour and Los Sauces most definitely did not disappoint in this regard.
After lunch, we visited another farmer. He specialises in commercial beef and yellow maize, soyabeans and wheat. Due to the high potential of his farm's soils he's able to grow rainfed lucerne/fescue-mix pastures on which he intensively produces his 700 head of Aberdeen Angus beef. Every five years he plants new pastures on a different 15% of the farm and then plants grains crops into the lands where the previous pastures were.
The visits to both farmers in Venado Tuerto were greatly enhanced by the presence of two Argentinian agronomists who were able to give the group more technical details relevant to agricultural production in the La Pampa Húmeda.
A three-hour drive took us the town of Villa Mar?a, where we sampled some ice-cream – about all we could handle after our sumptuous lunch – and headed for bed.
By the way, my favourite cup of coffee in Argentina now comes from the Miro Park Hotel, our starting point today.
Day 6

After a quiet night in Villa Maria, we set off at 8am for central Córdoba Province, an area described as having lower potential soils. But we were pleasantly surprised to learn that these soils were far more fertile and healthy than we had anticipated. According to the farmers we met there, this was largely due to the combination of approximately 20 years of continuous no-till and strategic agronomic management.
The first farm we visited was 1 000ha and focussed on yellow maize, soyabeans, wheat and groundnut production. Owned by a corporation, it has a full-time staff complement of a mere eight people, but still runs like clockwork. Some of the SA farmers in the tour group were greatly impressed with just how orderly and well-maintained everything was.
Admittedly some of its agronomic requirements are carried out by independent contractors, but the staff still have much else to keep them busy. And it seems that they really enjoy their work. The farm's 'newest' employee has been there for 16 years already!
What really grabbed our attention was the remarkable health of the farm's soils. Every field that had recently been harvested was covered by a thick layer of crop residues. Closer examination revealed that these were mostly a combination of maize, soya, wheat and groundnut, each at various stages of decomposition depending on when they were harvested.
The soils underneath the residues were moist, dark, full of organic matter, and finding earthworms was a breeze. According to the farm's managers the yields off these rainfed and supposedly lower potential soils are very satisfying.
Next, we visited a nearby dairy farm with a herd of 400 milking cows. While the cows got to graze on rainfed lucerne/fescue, they also received high rations of concentrates and silage to maintain milk production.
Speaking for myself I wasn't too happy to discover that, unlike the dairy operations I've seen in SA, Argentina's dairy operations typically rear their heifer calves out in the open and not in the custom-built calf pens I'm used to. The dairy farmers explained that the calves are chained to stakes and always have access to feed and liquids. The stakes are regularly moved to allow the calves to be on fresh grass; on very hot days all of the calves are moved to the shade under nearby trees.
Leaving the dairy farm we headed off to a local restaurant, where lunch was as large as yesterday's. Then it was on the bus for three-hour drive to Córdoba.
Day 7
Today was about learning a little of the country's history. There was no rush to leave our hotel in Córdoba (we're spending two nights here), so we met the bus at 9am, allowing us to sleep in a little longer than usual.
Our first stop was Alta Gracia, where world-renowned Argentine Marxist revolutionary and guerrilla leader Ernesto 'Ché' Guevara spent most of his childhood. The house where he grew up has been turned into a museum. Next, we visited the picturesque Dique Los Molinos, a dam situated about 760m above sea level in Córdoba Province. The climbing and twisty drive up to, and around, the dam made for a pleasant break from the flat terrain we've become used to in Argentina. It was remarkable how similar the dam and its surrounds were to SA's Hartebeespoort Dam (without the severe water pollution, though).
@FarmersWeeklySA #FWargentina Yesterday the group visited the childhood home of Che' Guevara in Alta Gracia. pic.twitter.com/KGrp64ybFR

— Lloyd Phillips (@PhillipsLM) May 4, 2014
As it was a long weekend in Argentina there were lots of tourists around and the heavy two-way traffic on the windy road sometimes made for unwanted excitement on our bus. During our drive we also stopped off at a fascinating curio shop – where we all acted like typical tourists, waving cameras and wallets around, and talking at the top of our voices. Poor Hendrik, our guide, had to constantly run from one of the tour group to the next to translate Spanish into English and vice versa as we all tried to score a bargain.
Eventually, with our wallets a little lighter, we jumped back onto the bus and continued on to the nearby town of Villa General Belgrano, named after the creator of the Argentine flag. The town is home to descendants of German migrants who have turned it into a marvellous recreation of a typical mountain village in Germany. Strict town rules require buildings and shop-fronts to reflect typical German designs and culture.
After an interesting walking tour of the town, most of our tour group decided to have an authentic German lunch of sausages, sauerkraut and potato salad, washed down with lip-smackingly good German beer brewed on the restaurant premises. Late in the afternoon we climbed back onto our bus for the drive back to Córdoba, where we spent a second night.
While most of the group opted for an early dinner (by Argentinian standards) I headed off to my hotel room to work on this blog. However, at about 10pm there was a determined knocking at my door. I opened it to find Gavin Walker standing there. He insisted that I join him for dinner at a restaurant about a block away. So, throwing my blogging commitments to the wind, I took him up on his offer.
We were pleasantly surprised (and very grateful) to discover the restaurant had an English copy of its menu. Even more amazing was that steak, eggs and chips were available. Having craved eggs almost all week, I pounced on this menu item (with Gavin following suit). It was absolutely delicious. In fact, it was the best steak I've had since being in Argentina – and I've had quite a number already.
During our meal Gavin and I noticed that, despite the time heading towards 11pm, the restaurant continued to get fuller and fuller. When we left at just after 11pm there were families with young children still deciding on what to have for supper.
Day 8
Not much to write about today, except that we spent close to 10 long hours on the road from Córdoba to Buenos Aires. We left at 7am and arrived at 5pm. Most of our time was spent chatting, watching the Argentinian landscape pass by our windows, and snoozing. We stopped off for a number of loo breaks along the way, as well as for lunch at a petrol station/restaurant where I ate my first homemade Argentinian burger. I enjoyed the fact that it had the likes of fried egg, ham, lettuce and tomato on it, along with the patty of course.
Closer to Buenos Aires the traffic started getting really heavy (and hairy), but our very competent driver, Raul Torres, navigated our bus superbly through the jam of vehicles. There was a big soccer match scheduled for the early evening in Buenos Aires and we saw numerous buses draped with team colours and filled with cheering fans on their way to the stadium.
The group is really starting to feel the rigours of what has been a hectic, but very interesting and informative schedule so far, so tonight everyone is taking it easy, either resting in their hotel rooms or doing some shopping nearby. Tomorrow we leave at 9am for a tour of an Aberdeen Angus stud farm on the outskirts of Buenos Aires.
Day 9
Today was an absolutely excellent way to end off the agricultural aspect of the 2014 Farmer's Weekly Tour to Argentina. We visited Ea la Trinidad Aberdeen Angus Stud about 90km outside of Buenos Aires. The stud and its associated commercial beef production enterprise belong equally to Miguel Pertino (30) and his three sisters. A brief aside. While on our way to Miguel's farm, we were amazed by the rows upon rows of horticulture tunnels we passed, and which produce vegetables and cut flowers for markets in Buenos Aires and elsewhere.
I have never seen so many tunnels grouped together in a single area. They're not all farmed by a few companies or individuals, but by mostly numerous Bolivian migrants who specialise in intensive vegetable production and by migrant Japanese who specialise in growing cut flowers.
Back to the Angus stud. Not only does Miguel produce magnificent Angus cattle that had some of the group wanting to take a few home in their hand luggage, but his farm is picturesque and well laid out. After about two hours or so of touring the farm, we were treated to a great outdoor lunch of bread, salads, Argentinian beer and red wine, and delicious beef steaks braaied by Miguel's farm foreman Martin Labaronnie.
He was ably assisted by Graciela Aizaga, a recently qualified vet working on the Pertino farm to gain some additional practical experience. Graciela spoilt us by creating a pie filled with dulce de leche, Argentina's amazing version of caramel. Too soon it was time to say goodbye because most of the group would be spending their last night in Argentina by going to a tango show and dinner. While I'm looking forward to seeing my lovely wife, kids and hounds again, I know that I'm going to miss this amazing and special country too.
Click on the link to view the Tour gallery.