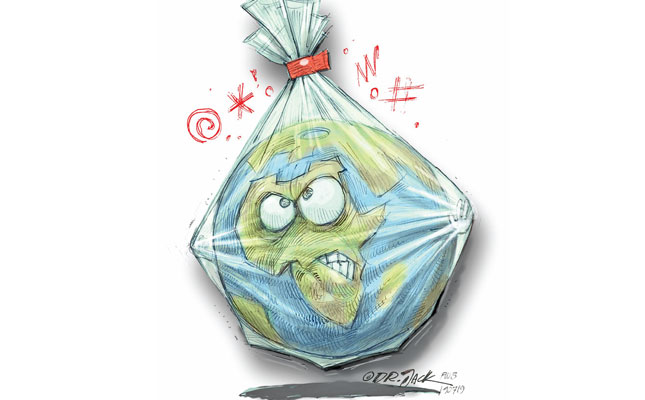 Plastic is cheap compared with other materials such as paper, metal and glass. It has many more applications than these materials, and also prolongs shelf life, an advantage that is relevant to the fresh produce industry.
However, there is a dark side to this: plastic packaging is the number one debris found in the environment, and its impact is devastating. Worldwide, about nine million tons of plastic are released into the environment each year.
In addition to plastic found in the ocean and being indigested by various marine animals, there are also less obvious impacts.
Recent research has found that the chemicals leaching from plastic debris into the oceans disrupt the life cycles of the photosynthetic bacteria that produce oxygen for the planet. If every second breath we take comes from the sea, this is a genuine concern.
However, it is not just the macro-, visible plastics, such as plastic bags, bottles and punnets, that are a problem. Macroplastics break down into tiny pieces called microplastics, which are found in the water we drink and the food we eat, particularly seafood.
Why is there so much plastic in the environment?
The production of plastic has seen an exponential increase since the 1980s, and the prediction is that it will increase by 40% within the next decade. The scary fact, moreover, is that 75% of plastic goes to waste.
The reason for this increase is that plastic is cheap to manufacture and is getting even cheaper, due to a decline in the raw material costs of plastic. Demand has therefore grown exponentially. The most significant volume of plastic produced is for packaging applications, and most of these are single-use applications.
Until recently, most manufacturers have not considered what happens to plastic packaging at the end of its life. They've designed packaging to be pretty and lightweight, but what happens to it after its disposal has not been taken into consideration. Yet 80% of the environmental impact of plastic packaging can be addressed at the design stage.
Shift in plastic economy needed
The flow of plastic is linear. This means that raw materials are used to make a product, and after its use, any waste (such as packaging) is thrown away. This also leads to more 'virgin plastic' (newly created plastic without any recycled materials) being produced.
To keep plastic packaging out of the environment, a shift to a circular plastic economy is needed.
This includes a change in business models to support design for recyclability and reuse rather than design for aesthetics. However, there has to be a balance between food wastage and product freshness and designing packaging that won't go to waste.
There is also an economic opportunity to start thinking differently about plastics in line with circular economic models where companies can design plastics that can be reused, repurposed and recycled.
To make this shift, it is crucial to start referencing the design for recycling guidelines as specified by the Packaging Council of South Africa.
The general principles for plastic packaging include looking at material combination and selection, as well as the separability of materials. For example, multi-layers are currently not recyclable, so they should be avoided where possible.
Clear bags, rather than coloured bags, should be used as box liners for apples and pears. The recycle value of transparent bags is far higher.
They are collected by waste pickers, and can be used in many other products. A single packaging material, for example, low-density polyethene should also be used, instead of composite materials or multi-layers.
Printing on fruit bags should be minimised, as it can reduce the bags' recycling value. Sleeves or labels with water-soluble glue should be considered, rather than printing directly on the packaging.
The necessity of price look-up codes, the stickers on fruit and vegetables, should also be looked at. These generate waste, are not collected by waste pickers, and end up everywhere in the environment. Alternatives to these stickers need to be investigated.
Changing global attitudes to plastic
The EU recently banned 10 single-use plastic items. It is also considering a certification system around extended producer responsibility schemes and packaging designs.
European retailers have begun to respond to concerns over single-use plastics.
Tesco is looking at trials for plastic-free fruit and vegetables in its stores, while Waitrose is already trialling plastic-free aisles. Aldi has announced that it is committed to reducing its plastic packaging and making it fully recyclable by 2025.
Morrison's, the fourth-largest UK chain of supermarkets, has also launched plastic-free aisles for its fruit and vegetables.
In Africa, 43 countries have banned single-use plastic carrier bags or are using other instruments to disincentivise their use. With fruit exports to Africa growing, this is a factor that should be borne in mind by exporters.
Here in South Africa, Woolworths has announced that it wants all of its brand plastic packaging to be reusable or recyclable by 2022. The retail chain plans to phase out all single-use plastic shopping bags by 2020.
A big question that producers should start to think about is how their packaging will need to change to fit in with the new retailer strategies.
It is clear that the packaging landscape is changing, and the sooner the fruit industry gets on board, the better for their products. It seems impossible now, but in a few years, it won't have seemed so impossible.
The views expressed in our weekly opinion piece do not necessarily reflect those of Farmer's Weekly.
This presentation was given by Lorren de Kock, project manager for the Circular Plastics Economy Programme at WWF-South Africa at the 2019 Hortgro Symposium, hosted in Somerset West.