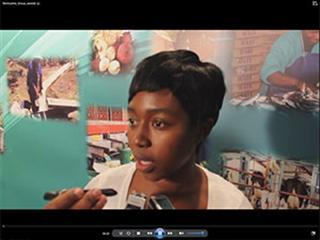 How appropriate that the Department of Agriculture, Forestry and Fisheries (DAFF), with support from Total SA, ended women's month by celebrating the achievements of female farmers in South Africa. The occasion was the 2013 DAFF Female Entrepreneur of the Year competition held at St George's Hotel in Pretoria.
The agricultural sector has many similar competitions, but it's common knowledge that they are always dominated by men. The aim of the Female Entrepreneur of the Year competition, by contrast, specifically rewards women for their achievements in agriculture. If it had not been for this competition, South Africa would not know about Nomzamo Mthethwa-Khoza from KwaZulu-Natal. Many other winners have done well, but Nomzamo stands out because of the success she has already achieved at the age of 27.
There cannot be many farmers of her age – male or female – who are already servicing international markets. Nomzamo farms herbs and her company, People's Bio Oil, has a farm, a nursery and a processing factory that produces herbal body products and food seasonings. She also owns several outlets internationally, including in Argentina, and she is in the process of finalising plans to launch in the USA. She employs a total of 120 people, most of them women and youngsters.
Owning the value chain
For many years, farmers have been urged to become involved in the entire value chain in order to make more money. Nomzamo has truly embraced this approach, and is a fine role model for aspiring young farmers.
A billion more mouths to feed
During his speech at the ceremony, Dr Pieter Mulder said it was estimated that the increase in the world population, from the current seven billion to 8,2 billion by 2030, would require an additional 120 million hectares for crop production. Furthermore, by 2050, the estimated global population of nine billion would require an increase in agricultural production to the extent of an additional one billion tons of cereal and 200 million tons of livestock products per annum. In this scenario, the importance of farmers can hardly be overemphasised. And awards such as Female Entrepreneur of the Year serve to give farmers the recognition they deserve – and encourage them to still greater heights.
A concern about the daff competition
While I applaud the achievements of Nomzamo and her fellow farmers, I have to express my concern about one aspect of the DAFF Female Entrepreneur of the Year competition. There is a growing trend from male farmers to enter their wives, siblings or mothers. These women are not actually involved in the business, but are entered in the competition against genuine female farmers – a practice that is obviously wrong and highly unfair. I urge the department to conduct strict screening processes to ensure that such people are not rewarded for this behaviour