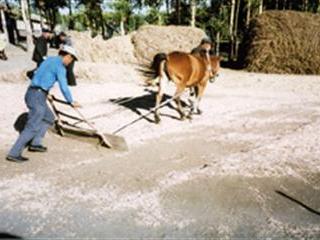 A Chinese farmer uses a horse to gather beans after
harvest in preparation for delivery to a broker.
Photos: Claus Coetzee
China – the giant at the top of the beanstalk
As the world's largest bean producer, China has dominated international markets for a number of years. Surprisingly, Chinese farmers have achieved this with little mechanisation and without owning the title to a single piece of land. Gavin Grobbelaar talks to Beanex broker
Claus Coetzee who visited the country in 2004 and now offers a sneak peak at the Chinese agriculture industry.
When a person thinks of the world's largest producer of any commodity, whether it's agriculture-based or industrial, infrastructure and large corporations come to mind. But after a 10-day tour of the trade giant China, comprising 10 flights, 10 meetings and a translator close at hand to answer numerous questions, Beanex broker Claus Coetzee tells a different story.
He undertook the trip after SA-based Chinese businessman and friend, Sunny Hsieh invited him to see first hand how the Chinese bean industry operates. "I always asked why nobody could give any concrete figures about the quantities of commodities produced in China, but now I realise that China is so vast that it is impossible to keep track of exactly what and how much is being produced," Claus says.
"The agricultural industry is so big that it is impossible to have the equivalent of the Dry Bean Producers Organisation or National Department of Agriculture. So there are no official figures of crop estimates and yields. You can be sure that whatever is being produced, is being produced in large volumes."
He visited the Heilongjiang Province, the main production area in China for light speckled beans, small white beans and a number of other bean types. He also visited the Yunnan Province where large white kidney beans are produced.
Nature of production
One of the first things Claus learned was that all agricultural land is state-owned, but government rents land to farmers at a minimal fee. The average farm is about 4 mu (pronounced "moo") in size and a larger farm reaches about 7 mu (1 mu equals 666m2). Various crops are produced on these lands. Cheap access to land combined with nearly no input costs are the main reasons why Chinese farmers can pummel international markets by undercutting, says Claus.
"They don't really use machinery, and don't buy bean seed, but either retain their own seed or exchange their seed with a neighbour. They don't use fertiliser or chemicals to spray for pests. They basically farm organically and their costs are therefore minimal," he says.
The ­Chinese have capitalised on the country's cool climate, which makes it difficult for pests and diseases to survive. "They are very fortunate because they don't have a problem with pests and diseases."
But despite all these advantages, farming in China is not necessarily a walk in the park. "Farming methods are quite primitive compared to our highly mechanised ones," Claus says. Farmers in the Heilongjiang Province are under pressure to get their harvests in before the heavy annual snowfall at the end of October. Once the harvests are in and beans have been delivered to the brokers, many farmers migrate to the cities to find work and earn an income until the heavy snow subsides. Farms in northern China are non-operational in the winter months.
The bean trail to South Africa
Beans from China make their way from the farm to the broker, then to the harbour and finally to the shores of SA. The Heilongjiang product finds its way to the warehouses of the port of Dalin in northern China, and then shipped to Hong Kong and then here.China's logistics differ significantly to SA's, and Claus relates how groups of farmers from a particular village will help each other by using a small communal truck to transport all the beans that have been produced in the area to the broker's depot. The broker is responsible for machine-cleaning or hand-picking, grading and bagging the beans.
"Farmers simply don't have the means to transport large volumes," Claus explains. "Some brokers have a very small truck and will, in many instances, fetch the beans from farmers who have logistical problems."Once the beans have been graded and cleaned at the broker's depot, they are transported vast distances by road or rail to Dalin. Road transport can take up to two days and rail three to four days. A good network of secondary roads and highways makes road transport in China relatively easy. The beans are then shipped to South Africa via sea freight, which takes about 27 days.Despite the long distance by road, rail and sea, China always maintains high quality of its beans as high standards are required by its major export markets in Japan, Europe and the US. However, the Middle East and Africa, excluding South Africa, receive poor quality beans at significantly lower prices."For the rest of the world and South Africa to compete with this ever-growing trade giant, we will have to take advantage of the rare occasions when China experiences a shortfall, which was the case recently," Claus says.He concludes with the ironic fact that the Chinese, who produce enough beans to cater for the world's demand, do not eat beans themselves, but prefer other legumes such as lentils.
Contact Claus Coetzee on (012) 325 1850. |fw