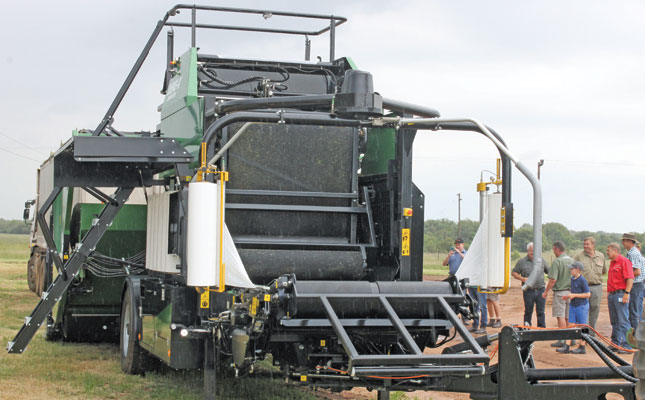 Norwegian company Orkel develops and produces high-quality heavy machinery for agriculture and other sectors. The Dens-X is part of Orkel's X-series compactors. The largest baler in the series is the MP2000-X.
These machines produce easy to-handle, high-density, round bales, and have the capacity to bale more than 30 different materials, including chopped grasses, sugar pulp and cotton.
The company has even used the machines to bale snow in order to measure bale density, says Mariam Karterud, Orkel's marketing consultant.
The volume of most materials can be reduced to one-third of the original volume. Even material with a high dry-matter content can easily be compacted.
Reducing oxygen
A higher-density bale ensures better preservation of the baled material, as the level of oxygen is kept as low as possible.
In addition, high-quality film, specifically manufactured for agricultural application, is used to wrap the bale and seal it. According to Orkel, bales produced by its machines can last for up to two years.
"On top of that, our highdensity bales have lower rates of air infiltration during feed- out, and also offer next to zero nutrition losses," adds Karterud.
User experiences during the past 10 years, as well as several independent reports, confirm that Orkel bales provide increased milk yield/live weight gain, better-quality milk or protein and fat, as well as improved animal health.
"These benefits have a positive impact on the financial return from milk and meat production," notes Karterud.
Worth the investment
Burger Marais, director at Kameeldrift Voere, host of the Orkel launch, said his company produced between 20 000t and 25 000t of feed bales a year, and had been looking for a solution to fulfil its need for a highcapacity, high-performing baler.
"Even though the machine comes at a higher price, the number of bales that can be made are worth the investment," he says.
"In addition, the bales can be made on the farm, which reduces transport costs."
The Orkel Dens-X compactor includes a unique feed hopper design that enables easy access and rapid unloading from trailers, speeding up the baling process even further.
A tipper flip prevents spillage of forage or other bulk material, and the full-width belts provide optimal material flow.
"After transport, it takes just a few minutes to rig the compactor and start baling and wrapping," Orkel states on its website. "Solutions like the […] flexible drawbar make it quick and easy to move from transport position to baling mode."
The MP2000-X can process silage at a rate of 60t/hour, and about 500 000 bales can be made before maintenance is required on the machine.
Visit orkel.com.