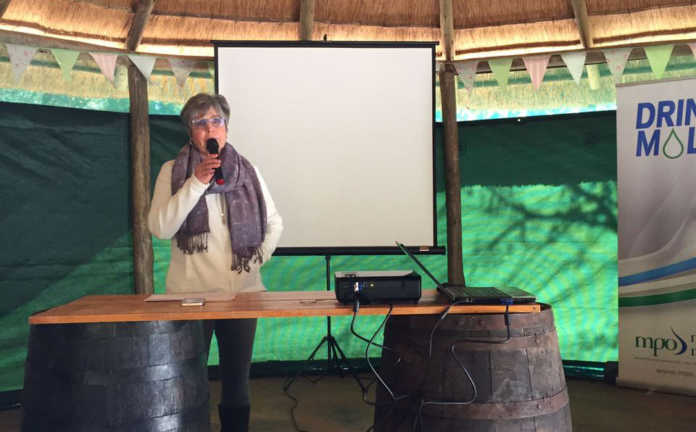 Speaking at the Gauteng Milk Producers' Organisation information day held at the Belnori Boutique Cheesery in Bapsfontein, grain producer, Benita Bekker, who lives on a farm near Bloemfontein, said that she was a young wife to a farmer, and not involved in farming activities, when she suddenly had to decide whether she wanted to farm after her husband passed away from cancer.
"Excellent rapport with our farmworkers paid off. I asked the workers if they would work for me even though I am a woman. They told me they would let me know within a month's time. I was so relieved when they said yes. I cannot farm without them," Benita says.
"You need to have a lot of respect for your workers. It starts with you. If you do not respect them, then how can they respect you, and how can you trust each other? You must also train your workers, and farmers must stop complaining if workers can't perform a task they were not trained for," she says.
Running your business
After her husband's death, Benita suddenly had to learn to calibrate planters, weld implements, and run a business on a large scale.
"One must remember woman and men differ; you must embrace that. Differences in how men and woman approach different situations means they approach the business of farming differently. But some principles remain the same. You have to begin with a proper business plan. If you are working with your husband, ask him to assist you in preparing a business plan, so you can start your own business," Benita says.
After compiling a business plan, you must obtain your own resources to start your business, and not use farm resources that support the already ongoing production.
"You must make your own money, and fund you own business. You need to stay within the boundaries of your available cash flow and remember that the household costs also have to stay in those boundaries," she says.
As Benita farms in a predominately crop-producing region, where most farmers only receive an income once a year after harvesting, it is difficult to make input cost projections.
As such, Benita always assumes the higher average for output, and a higher projected average for input costs. This makes it easier for her business to stay within financial boundaries.
According to Benita, farm schools during apartheid only provided education up to grade 6, and she had to fight the then government to have her farm school provide education up to grade 9.
"This meant mothers had to leave the farms with their young children to take them to Bloemfontein for better education. This broke up families and created many social challenges. The new government closed these schools and now we face even greater challenges as families are broken up," Benita says.
Working together
She says that farmers need to give their workers more responsibility, and that challenges, such as theft, declined on her farm when she handed over the responsibility of the storage facilities, for example, to her farmworkers.
"The moment you give someone responsibility you allow them to grow. It's very important to let your workers grow."
Farmers also need to work with their local police, labourers and neighbours, as crime, including violent crime, is rife in rural areas, and open communication means criminals can be apprehended.
"You have to live in harmony with your neighbour and know that small things like untended fences could cause trouble. If a bull crosses an unkempt fence and impregnates cows that had been bred for a specific genetic purpose, it could cause the farm massive losses."
Farmers also need to be a part of organised agriculture organisations, as these organisations help fight farmers' battles, and should also attend farmers' days to receive training to improve their own production knowledge.
"Remember, you are not a man, and there are some things like carrying heavy seed bags that you have to leave to those stronger than you; but think like a woman and be innovative," Benita says.