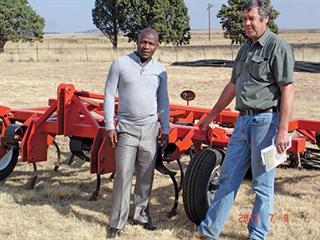 The right attitude, a dedicated mentor, and public-private partnerships have all come together at Roodekrantz, a 380ha farm near Rosendal in the eastern Free State.
"I want to become a world-class farmer and everything we do on the farm is geared towards this," says David Matobako, the young landowner.
David leases the farm Roodekrantz from the government under the Pro-active Land Acquisition Scheme (PLAS). It has been developed through the government's Recapitalisation and Development Programme (RADP), with agricultural company VKB as strategic partner.
Due his success at Roodekranz, David was able to buy the adjacent farm, Kalkkrans, through a Land Bank loan, and now farms on both.
For the past two years, he has planted 90ha dryland maize and 180ha dryland soya beans, harvesting 6t/ha and 1,8t/ha respectively. He also has 30ha lucerne under centre pivot irrigation.
Realising the need for a mentor, he approached his neighbour, Francois Crause.
Francois has been farming on the farm Hebron for the past 30 years. He is now formally employed by VKB to mentor David as part of the RADP programme.
"The success of our mentoring situation lies in the fact that we're committed to each other and there's trust between us," says Francois. "We knew each other long before David started farming."
Their relationship has endured for nine years.
"There should come a time where I'm no longer involved as mentor," says Francois.
This process has already started. David completed his RADP training at the end of 2013 but Francois is staying on as VKB mentor to see the development process through.
* From 'Dedicated mentorship helps achieve maize success' by Susan Botes-Marais (FW, 26 September 2014).