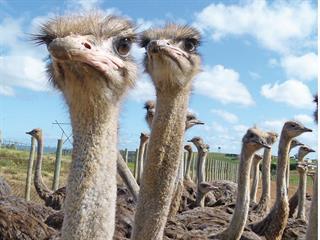 The Peddie small-scale ostrich farming project in the Eastern Cape gives purpose and hope to rural communities between Grahamstown and King William's Town, as was first reported by Farmer's Weekly in the 23 August 2013 issue. Today, the project is driven by the Klein Karoo Group Transformation Trust (KKGTT) and is optimistic about its future, but it has taken dedication to reach this point.
Humble beginnings
Established in 2003, the project in the Eastern Cape was the brainchild of Martin Fick, who moved to South Africa to farm commercially after losing his farm in Zimbabwe. The initiative started off with 12 farmers from Pikoli village near Peddie, each rearing about 100 birds at home. They were responsible for their own businesses and required to take loans from the Eastern Cape Rural Finance Corporation (ECRFC) to cover operating costs. The loans were settled from profits at the end of the production cycle before the farmers were paid out.
The project quickly grew to 88 farmers producing about 10 000 ostriches a year by 2008. However, changes in the ECRFC leadership and other problems caused the project to stall.
In 2011, the Department of Rural Development and Land Reform secured the support of large ostrich meat, leather and feather exporter, Klein Karoo International (KKI) and the project could draw on the experience of a major industry player. The farmer-owned public company based in Oudtshoorn provided interest-free production loans as well as a secure market for the project's ostriches.
Farmers receive 100 chicks to rear and are issued with cardboard containers in which to place chicks during the critical first three months, explains Nobumba facility foreman Thulani Kamhiripiri. These prevent chicks from damaging and scarring their skins.
KKI also offered a wealth of experience in ostrich husbandry and farming as well as business and administration skills. However, the project was again interrupted only a year later when the industry suffered an outbreak of avian influenza. The resulting export ban cost the industry a staggering R1 billion and bio-security modules had to be installed on all registered ostrich farms.
This meant the small-scale farmers in Peddie could no longer farm their ostriches on the open land around their homes. However, efforts were soon undertaken to convert the existing feedlot and quarantine infrastructure to include ostrich-rearing facilities for 20 farmers within which the farmers could continue their operations.
By August 2013, a second such facility had been constructed at Ndlambe village near to Pikoli and the selected farmers were awaiting the arrival of their first chicks. Although biosecurity areas restrict them to no more than 150 birds, it allows the farmers to continue earning a living while learning valuable skills in ostrich husbandry and basic business management.
The facilities at Pikoli and Ndlambe have proved successful and the top-earning farmer from Ndlambe received approximately R70 000 for his ostriches this year.
Able leadership
In the meantime, KKI established KKGTT to drive all its black economic empowerment projects, including the Peddie initiative.
One of KKGTT's three board members, Johannes Jacobs, has been involved with BEE developments since 2009. He believes the formation of the trust is an important step towards transforming the ostrich industry, not least because it allows for the achievement of empowerment goals and improving the contribution of black farmers to the industry.
"If you look at the ostrich industry, it's a white industry and this is a problem," he says.
"We cannot survive without transformation and white commercial farmers have a responsibility to assist emerging farmers.
"With the trust, we can really focus on our developmental goals such as effective skills transfer. Already our black empowerment projects contribute 6% to KKI's total supply."
As a further demonstration of its commitment to the project in Peddie, KKGTT carried the construction costs of the new facility at Nobumba and elected to use manual labour wherever possible to assist in job creation, despite this resulting in a longer construction time and increased costs.
As Nobumba is a little smaller than the other facilities, farmers are each able to raise a maximum of 100 ostriches in any production cycle. For Jacobs, what is really important, however, is that effective skills transfer is taking place, and it is happening both in ostrich husbandry and business management while farmers are still able to earn a living.
"Training for us is critical and since Martin [Fick] resigned as a mentor at the end of 2014, we've replaced him with Brendan Kretzmann as mentor and employed a dedicated trainer," says Jacobs.
"This is to ensure training is ongoing and effective skills transfer occurs while the farmers are supported in their farming efforts."
An important aspect of the project has always been that each farmer is responsible for the quality he or she produces. Production statistics are closely monitored throughout the production cycle. "Because it takes 10 or 11 months to grow the birds, with compensation only occurring two months after that, we calculate the expected profit. Based on that, we give the farmers a prepaid profit each month. We then monitor them and when their mortality or feed conversion ratio gets too far out of line, we tell them we don't anticipate them having a profit and stop their prepaid profit payment," Jacobs explains.
KKGTT board members (from left): Juliette du Preez, Johannes Jacobs and Joyce Mogale. The trust was formed as a separate legal entity to drive the ostrich meat, leather and feathers exporter's black economic empowerment projects. Courtesy of KKGTT
In this way, a sense of ownership and responsibility is instilled in the beneficiary farmers. It also means that there are some farmers who are doing well and others who are not. At Nobumba, after their first production cycle concluded this year, the highest-earning farmer received R29 000 and the lowest R10 000. While these amounts may appear low, they still contribute greatly to the livelihood of these families living in the poor rural area of Peddie, where earning potential is severely limited.
Jacobs understands that the regulatory requirements for biosecurity modules have made it difficult for emerging small-scale farmers to expand their operations. As a result, KKGTT has included a strategy in its future plans to allow farmers to move to larger farming operations.

Expansion and funding
"We have three facilities with a fourth planned at Ntloku. Each handles 3 000 birds for 20 farmers," says Jacobs. Once the Ntloku facility is finished, they want to see each community having a second unit for four or five farmers but handling 2 000 birds. The idea is to enable more successful farmers to improve their earning potential. But for these plans to be realised, further funding will be needed.
Having invested around R6,5 million per farm, KKGTT immediately embarked on the lengthy process of applying for further funding when the Jobs Fund window for small-scale farmer applications opened up. "We went through an incredible amount of red tape and even attended a training course on how to complete the applications," says Jacobs. "But the result is that we were awarded a R25 million grant towards the project."
With KKI's R25 million contribution in interest- free loan funding, KKGTT has a total of R50 million in operating capital, but anticipates needing a further R25 million for developing infrastructure. With this in mind, Jacobs recently met with Mfundo Macanda, director of the Eastern Cape Department of Rural Development and Agrarian Reform's animal improvement research division, who expressed interest in assisting in sourcing funding.
Should this funding be secured, the project is expected to continue providing sustainable opportunities to the rural communities around Peddie well into the future.
Phone Johannes Jacobs on 082 906 5321 or email him at [email protected].