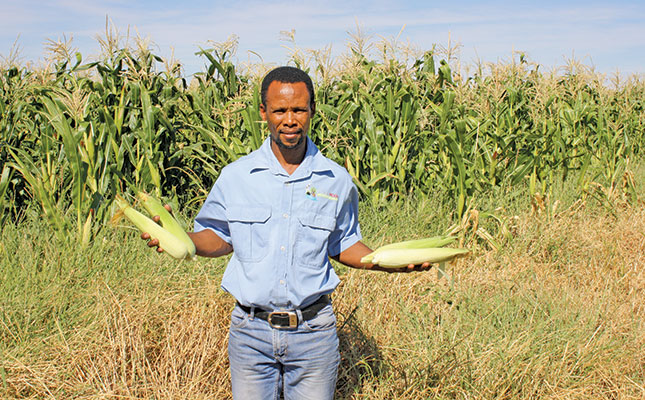 Most established farmers will say it would be near impossible to farm out their land [pay for the farm with revenue from production] under current production and market conditions.
The odds, then, would be even lower for those not born into a farming family and their support network to offer guidance on production.
And yet, there are always outliers, like Dirk Louw, owner of Silver Moon Investments, who prove that anything is possible if you put your mind to it. Louw was born in Opwag and grew up in Topline near Groblershoop in the Northern Cape.
He started out as a general worker at a small shop in Hanover Park in the Western Cape after matriculating in 1995, but left the job after three years to look after his father, who had fallen ill.
Louw struggled to re-enter the job market thereafter, but his fortune changed when he started doing seasonal work for André Smith at Malmaison, a farm near Groblershoop. Smith farms dried grapes for raisins, and also pecan nuts, maize and sheep.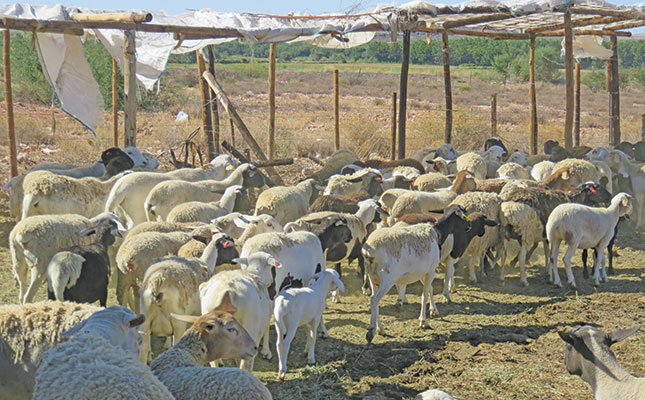 "André called me in after the season and inquired about my plans for the future. He then committed to better equip me for the industry through skills development and training if I stayed on the farm," Louw recalls.
He began attending various table grape production courses and in 2002 acquired a driver's licence, which opened new career opportunities on the farm. He worked hard and proved a fast learner, and within a year was promoted to supervise the people under whom he had started out.
From there, he became more exposed to the management side of the farm, by dealing with staff affairs, and later also production management.
"Staff at Malmaison weren't envious of my success, as they knew I'd worked hard to get where I was. Besides, they liked my management style; I'm fair and transparent, so you know what to expect from me, and I lead by example," Louw says.
In testimony to his devotion and dedication, Louw won the junior management division of the 2007 Farmworker of the Year competition while working for Smith. Five years later, after getting his own farm, he took home the Senior Manager award.
He then went on to win Raisins SA's 2018 Upcoming Farmer of the Year Award.
Tough beginnings
Smith helped Louw look for land of his own, but prices were far too high. Then, in August 2008, after nine years of working for Smith, Louw became a beneficiary in a land redistribution farming project for an agricultural development transaction, and their paths separated.
"André and I parted on bad terms because he felt I couldn't continue working on his land if I had my own farm to take care of," recalls Louw.
"The other catch was that I had to share the 53,7ha farm, which had 20ha of old sultana vineyards that were no longer profitable, and only 1,5ha of productive sultana grapes, with nine other beneficiaries, and each of us had to make a full-time living from the farm, which was near impossible, as nobody drew a salary for quite some time."
The cracks started to show a few months later when some of the beneficiaries no longer showed up for meetings, poles of vineyards were stolen, and there were incidents of sabotage, such as the opening of sluices and arson attempts.
Undeterred, Louw bought 22 in-lamb ewes, which he later exchanged with their 24 lambs for a tractor. He also harvested old lucerne regrowth on 14ha of land on the farm, which he exchanged for a mechanical scythe, rake and baler.
Government helped him plant 10ha of wheat, but this was neglected and ended up becoming bird feed, leaving him with only the hay to sell to livestock farmers.
"Only three of the shareholders were still working, so there weren't enough hands on the farm," explains Louw.
After a year, he was at his wits' end and decided to patch things up with Smith.
"André and I evaluated the situation and came to the conclusion that I should either sell my shares to the others and forget I ever owned a farm, or buy out the others by either selling a part of the farm or getting a loan."
The choice was obvious, as he had always wanted to farm. No bank, however, wanted to lend him money, so he ended up borrowing R90 000 from Smith and buying out the other shareholders. He committed to give them an additional R15 000 each over three years at a rate of R5 000 per year.
"I involved government and did everything as transparently as possible to prevent future backlashes," he says.
His situation improved markedly from this point. He invested R960 000 in the farm in 2010, which he used to establish 10ha of pecan nuts, and in 2012 sold 14,6ha of the land, allowing him to pay all his debt in 2013 and 2014.
"I had to make all kinds of plans to make ends meet. Without any money to buy new Massey Ferguson tyres, I had to adapt the Massey Ferguson to fit it with second-hand Ford tyres. I even had to rebuild the tractor when it broke down. There were many times I felt like giving up, but was carried through by the encouragement and support of my wife, Reny, André, and people from the church," says Louw.
A new season
In 2013 and 2014, government funded the establishment of a 13ha Merbein vineyard on Louw's farm, which he planted on land previously used for lucerne. During this time, he won a tender to supply 27 households in the local community with water, and used the income to add another hectare of vineyards.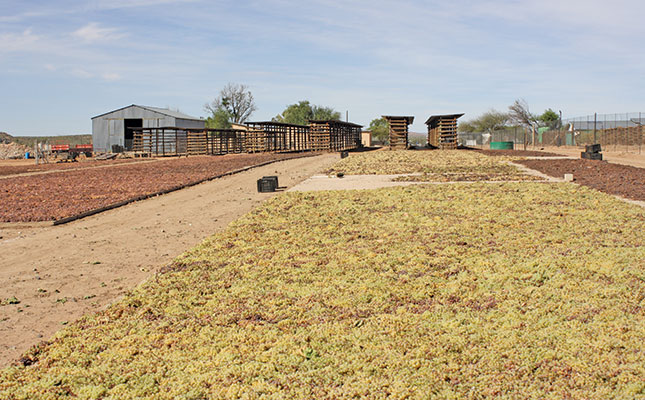 Between 2014 and 2016, he established a further 10ha of vineyards with government aid, and during the 2016/2017 season started renting 21ha of land from government, planting 1ha of pecan nuts and 3,3ha of lucerne. He also planted lucerne between the planting rows.
The following season, he bought an additional 7,9ha of land consisting of 2,2ha of Sugraone grapes and pecan nuts, 4ha of Merbein grapes, and 1,3ha of Colombard grapes and pecans, and used the money he had won in the Raisins SA competition to plant 2,5ha of Selma Pete and 2ha of sultanas.
"It's really difficult to get funding when you start out," says Louw. "But it soon dawned on me that government and private companies were eager to invest in people who had a proven track record and made the best of the opportunities that came their way.
"The funding didn't always cover the full costs, so André and I used our initiative to stretch it as far as possible. For example, he supplied me with poles and trellising material and I usually ended up doing most of the labour myself."
The future
Winning the Agricultural Writers SA New Entrant Award in 2019 took Louw completely by surprise.
"With all these people phoning and congratulating me, I started to think that I had actually made it," he says.
It has also opened new opportunities. Government made funding available for Louw and a couple of other farmers to plant 100ha of maize and lucerne to enhance food security in the region.
They only got to planting 70ha of the 100ha, however, because they ran out of time, missing the optimal window, and the cost per hectare did not justify planting the rest.
Louw has also acquired funding from a commercial bank to buy another 50ha of land, primarily aimed at maize and lucerne production, bringing his total area under production to 110ha.
One of his most ambitious plans is to shift from flood irrigation to drip or micro-irrigation.
"I have access to water, but drip or micro-irrigation would greatly enhance my water-use efficiency and free up enough water to plant another 20ha of vineyards," he says.
"I plant a seed mix between the pecan trees, which are spaced 6m by 12m, and either oats or vetch in the vineyard rows. Vetch is a pod plant, so it helps to add nitrogen to the soil."
His advice to aspiring farmers is to start at the bottom and familiarise themselves with what farming entails before going the full hundred yards. Besides this, they shouldn't try to fly solo, but talk to other farmers and make use of the available support structures.
Louw's five tips for success
Create a strong support network: Dirk Louw identifies André Smith as a major contributor to his success, thanks to his role in mentoring and believing in him.
But Louw has since also found support in various other places, such as the Northern Cape department of agriculture, Raisins SA, Oranjerivier Wynkelders, GWK, SA Droëvrugte, Van Der Watt Incorporated, Eygelaar Serfontein Rekenmeesters, Boegoeberg Water Users' Association, Optimum Insurance, FNB, the Land Bank, Nulandis and Carl Baard.
Innovate: Hitting hard times is inevitable, but a farmer has to think out of the box to identify ways to survive.
Diversify: Louw has diversified his market and climatic risks by planting pecan trees and dried grape vineyards. Maize is cultivated on lands not under permanent crops, in a rotation consisting of one-year of maize followed by three years of lucerne. He had 42ha under maize this season. His cash flow has improved and he has added value to his farming system with 300 head of Dorper ewes. The sheep are sold from the farm gate and to Law Abattoir.
Keep records: Louw learned the importance of record-keeping while working for Smith at Malmaison. He has since also learned the importance of financial record-keeping and management.
"I pay a bookkeeper, financial expert and financial adviser to help me make well-informed financial decisions," he says.
Social entrepreneurship: Louw lives a few hundred metres from an informal settlement. He consciously planted more dried grapes, especially early varieties, to create jobs in the area.
Email Dirk Louw at [email protected].