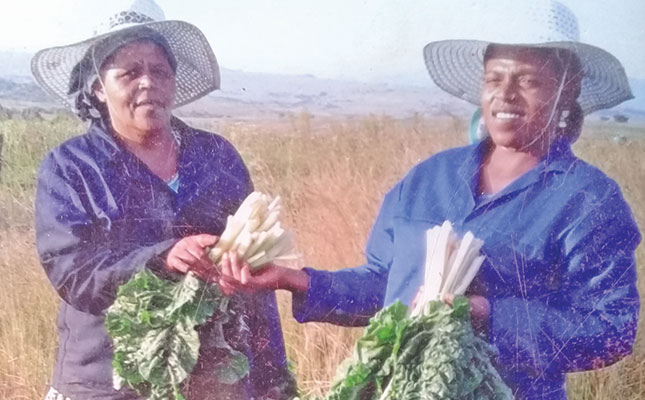 Maria Magagula was one of the early beneficiaries of government's land-reform initiatives. She is the secretary of the Mswati Communal Property Association (CPA), which was registered in 1998 in Mpumalanga.
The CPA consists of 130 families who elected to use the grants they received via the Settlement and Land Acquisition Grant, a land reform programme since abandoned and replaced by a succession of new programmes, to collectively buy a 1 418ha farm about 30km from eManzana (Badplaas).
Most households in the CPA previously took part in small-scale farming within irrigation schemes established under KaNgwane, a former homeland.
Striving for gender balance
Maria, who has served on the leadership of the CPA for 11 years, is the only woman on a nine-member managing committee. She is outspoken about the challenges that women face within land governance structures such as CPAs.
"Our CPA committee initially had four women and four men, but unfortunately three women have since passed away, and the CPA is seeking new members, especially young women, to fill these gaps," she says.
She adds that there is a need for gender balance within the CPAs for women's voices to be heard and their concerns to be amplified.
"It's important that CPAs accelerate the advancement of women and young people. Women bring a different perspective to any role and the impact that they can make in communities is immeasurable. They can make a meaningful contribution to the growth of the agriculture sector."
The youth, too, have an important role to play as the next generation of beneficiaries of land reform, says Maria.
"The older people will eventually be unable to perform some of the roles we're performing now, and we'll need the youth to take charge. Before then, young people need to shadow older people and learn as much as possible about the CPAs."
Maria hopes that if more young women participate in farming, some will get involved with the CPAs. Children of the founding members of CPAs can also play more active roles.
Explaining the way in which the Mswati CPA operates, Maria says that households who are members of the CPA, and that are able to work the land, are allocated land to establish small-scale farms to supply local fruit and vegetable markets, supermarkets and informal vendors in the area.
The Mswati CPA currently produces spinach, beans, cabbage, maize, paprika and tobacco.
Maria raised 10 children (one of whom, Sanet, works with her on the farm) and grandchildren, some of whom are at university, and she says that access to farmland has been critical in supporting her family. But it needs to go beyond this.
"We want to have greater reach and greater impact and play a more significant role in ensuring food security for the country," she says.
Maria says that many CPAs have to learn how to govern shared land resources on the go.
The self-taught CPA secretary says she had to learn everything about her role within the CPA from her own on-the-job experience.
In an effort to fully realise the potential of their land, the Mswati CPA approached the Vumelana Advisory Fund in 2018 to support them in soliciting a commercial private-sector operator to partner with in redeveloping the farm.
The Vumelana Advisory Fund, a non-profit organisation that helps CPAs to make their land more profitable, has since negotiated on behalf of the CPA for a section of the property to be used in a 23-year-lease agreement with a local agriculture company.
The company will invest an estimated R30 million in cultivating crops and the rehabilitation of farm infrastructure. The CPA will receive rental income and the new farming activities will create 75 permanent jobs for the community.
The CPA will also receive 5% of the crops produced on the leased land. The project has, however, not yet got off the ground, because a solar power system installed by the investors was stolen, prompting the need for a better security system to be put in place before further investment is made.
Not enough water
Another challenge is that there is not enough water or irrigation infrastructure on the farm.
"We were promised R10 million by the Inkomati-Usuthu Catchment Management Agency, the water resource management agency in the Inkomati-Usuthu Water Management Area," says Maria.
"They told us there was money available from the Department of Water and Sanitation to fix the water problem on the farm, but this hasn't happened yet."
The company with which the CPA has signed the leasehold agreement has indicated it will make an investment towards improving water infrastructure and availability on the farm.
The farm also has a separate partnership agreement with Lemang Agricultural Services, Afgri's New Era farmer development initiative, to grow tobacco.
The programme helps farmers financially and through theoretical training, mentorship and technical advice over a five-year period to enable them to unlock the full potential of their land.
The project is ongoing and, according to Maria, they were given a production loan last season. From the profits earned from that harvest, Lemang took a percentage towards the repayment of the loan and the CPA received a portion to finance the next year's crop.
Maria explains that before approaching Vumelana, the CPA had experienced a number of struggles relating to the overall upkeep of the farm and ways in which to generate more money from it.
Problems with government
Sanet has expressed an interest in following in her mother's footsteps, but both she and Maria worry that she will have to fight the same battles that her mother has fought if no meaningful support from government materialises.
Sanet says that one of the persistent challenges they have to deal with is getting secure access to profitable markets, as they produce on a small scale.
"We used to supply a local supermarket. Even then, the supermarket wouldn't buy from us directly, but instructed us to supply them via one of their existing suppliers, which would buy produce from many different, smaller producers," she explains.
When the supermarket changed ownership at the beginning of 2020, the agreement between the store and the supplier was terminated, effectively leaving the Mswati CPA farmers without a buyer for their produce.
''We've now had to rely on the informal market, which tends to be less profitable for us," says Sanet.
According to her, they have also had to contend with corruption by government officials who promised to assist them with, for example, writing business plans, but then wanting bribes before they agreed to help.
"When we got the land from government back in 1998, there was nothing here and we had to start everything from scratch. We had no irrigation. We didn't even have fencing around the lands to prevent livestock from grazing on the crops," recalls Maria.
While some of these issues have been resolved through a number of interventions by the private sector and the community, much work remains to be done.
"We still need tractors, for example, as we have to rely on hiring tractors when we need to plough, and that can be very costly," she says.
"We need to extend our irrigation system as well, and these things are necessary to ensure we are more efficient and so that we can grow."
Maria points out that while government spent a lot on buying the land from previous owners, it did not invest in ensuring that the new owners were able to profitably farm the land.
"With the profits we've made, we've tried to work together as farmers. For example, we buy equipment together and we've invested in small water pumps for irrigation, but there's never been enough money for bigger investments," she says.
She adds that with increased support, much more could be done to scale up what the community is doing now.
"We can do as much work as we possibly can on our own, but if government doesn't
support us by providing services and infrastructure such as irrigation canals, then it becomes very difficult to progress beyond a certain point," she says.
"Young people won't be interested in what we do if they don't see us flourishing!"
Phone Maria Magagula on 082 518 4303, or Sanet Magagula on 072 707 9986.