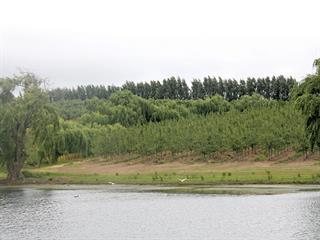 Joseph Hendricks (53) began his career in fruit as a hawker and over the years built up a successful fruit trading company, Hendricks Vrugte. In 2003, the opportunity arose to purchase two deciduous fruit production units, Norham and Dewhurst, near Grabouw. Joseph obtained a loan from the Land Bank, bought the properties and registered a company, Kaapschön Boerdery
(Pty) Ltd to manage them. Today, he runs the two farms as a consolidated apple and pear farming operation on a total of 150ha of land, of which 96,65ha are arable.
Joseph's experience of fruit trading made him well aware of the farms' potential. The following infrastructure was included, and is still used:
Five conventional cold rooms which collectively can hold 13 500 bins of fruit;
Four controlled- atmosphere cold rooms that can collectively hold 4 500 bins of fruit;
A sorting and packing facility;
A crèche for up to 30 children;
Houses for the 40 permanent workers;
Equipment and vehicles for harvesting.
Three of Joseph's four brothers work at Kaapschön, and he hopes that his son Wesley (24) will one day succeed him.
Separate companies
Kaapschön and Hendricks Vrugte, the farming operation's mother company, operate as separate entities. Kaapschön rents its cold rooms and sorting and packing facilities to Hendrick's Vrugte. They also target different markets: Kaapschön produces apples and pears for export, while Hendrick's Vrugte specialises in trading fruit locally. After harvesting, the fruit is transported immediately to packing facility Kromco, which handles its exports.
Currently, 80ha of Kaapschön's 96,65ha planted to apple and pear orchards are in production; the rest are newly established orchards.
Replanting
After acquiring the farms, Joseph soon realised that farming was a formidable business, made even more so by the state of the orchards. Norham farm's oldest orchard blocks, comprising 12ha, dated back to 1942, and several other orchards, although not as old, were unproductive and unprofitable.
"The only viable option was to embark on a gradual replanting process," Joseph recalls. "But replanting is extremely expensive and we experienced difficult times. Funding for replanting has been one of our biggest obstacles to grow our farming enterprise. Overcoming this obstacle is an ongoing process, as the replanting is not complete yet." The costs to establish new orchards amount to R250 000/ha, which includes soil preparation, labour, irrigation infrastructure, plant material and trellising.
Joseph Hendricks (left) outside Kaapschön's packing facility, where the trucks are loaded.
With him are two employees, Macel Jantjies (middle) and Quintin Visser (right),
who work for Kaapschön's mother company, Hendricks Vrugte.
Soil and irrigation
Dewhurst farm consists of loamy clay soil, while the soil on Norham is loamy. Long-term average rainfall on both Dewhurst and Norham is fairly high, and last year exceeded 1 200mm. Despite good rains, the farms make use of hydro probes
to schedule micro-irrigation. Kaapschön has sufficient dams and water rights to irrigate orchards on 80ha throughout the year.
The farming operation strives to use the best planting material of sought-after varieties. According to JC van der Merwe, Kaapschön's production manager, plant material is ordered two years in advance from Joubertina Nursery, Stargrow in Stellenbosch and Caledon Valley Nursery in Bloemfontein.
Trees are two years old when delivered to the farms; the apple trees are 1,8m tall, while the pear trees are 1,6m tall. They start bearing fruit three years after planting. According to Joseph, his biggest challenge is to replant the last 15ha of old, unproductive and unprofitable orchards as soon as possible, as he would like to produce competitive volumes of fruit on 100ha.
"With the different varieties, the average yield/ ha isn't constant, while seasonal fluctuations also play a role," he says. "However, our yield should eventually be at more or less 6 000t/year." Joseph explains that a detailed, accurate business plan, with long-term financial projections, is needed as a guide to the replanting process. "The sooner we can operate at top commercial level, the better," he says.
Joseph has learned to utilise industry expertise for almost every facet of fruit production, and says that he has mentors in various fields, such as Dawie Scholtz, a well-known consultant in the fruit industry.
The environment
Joseph regards it as extremely important that, in order to enhance performance, Kaapschön's orchards are established and managed according to the latest technology. This entails adhering to environmentally sound production practices. He believes that farmers must farm responsibly and in a sustainable manner.
"All our actions should be carefully considered to ensure the environment or any of our natural resources are not harmed – within the limits of practicalities and funding restrictions," he says. When the Western Cape Department of Agriculture conducted a performance evaluation on agricultural land reform projects, Kaapschön came out as one of the top five in its province. Economic, socioeconomic and environmental considerations were taken into account, illustrating that Kaapschön fares well not only on an economic and social level, but pays great attention in seeking to minimise the environmental impact of its fruit production.
Employee Cheryl-Lee Boonzaaier sorts and packs fruit.
Investing in a new generation
Kaapschön employs 40 permanent workers, of whom five are in the management team, and 200 seasonal workers. Permanent employees have registered provident fund and life cover, as well as disability and funeral cover. "I have an ongoing relationship with one of the best labour consultants in the area. He visits Kaapschön once a week as a permanent arrangement," says Joseph.
He stresses that the operation strives to create an economic and social environment that will enable its employees to grow together as a consortium, work together as a team and flourish as a community. Its vision is to raise new generations of previously disadvantaged people and equip them with the education and skills necessary to ensure they participate in the growth of the agricultural sector at all levels.

Phone Joseph Hendricks on 082 854 2817 or email him at [email protected].