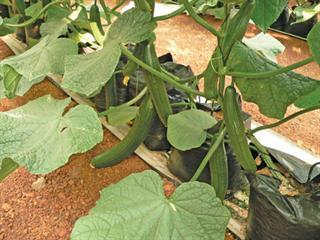 "You need to be focused if you want to farm successfully," says Kobela Mokgohlwa. "One of the big mistakes I made was trying to do everything all at once." Kobela, 24, started farming in 2010 after attending a hydroponic farming course. He planted his first tomatoes and green peppers in three tunnels on Korema Farms, a 4,2ha plot in Winterveld 30km north of Pretoria.
The tunnels had been erected by the department of agriculture two years before for his father, who had given up farming shortly afterwards. Kobela also ran a small feedlot. Experience soon showed, however, that he was trying to do too much. So he closed his cattle operation to focus on hydroponics.
"I've studied a lot of farms and have seen that you should first focus on one thing before jumping to another," he says. "When A is running smoothly, then move to B." Turning to his vegetables, he realised that here too he had to make changes. It didn't make business sense to produce tomatoes and green peppers under only three tunnels.
He had to compete with farmers producing on a large scale in open fields, and when the market was flooded, he took a knock. The solution, he saw, was to switch entirely to cucumbers, and become the cucumber specialist in the area.
Expanding and specialising
Kobela acquired four more tunnels last year as well as a 4ha plot alongside his, and today is the only cucumber farmer in Winterveld and the surrounding area. Demand is high, he adds. What's more, he plans to expand further. "When growing cucumbers, you need at least eight tunnels to make a reasonable living," he says.
Kobela believes that in order to expand his farm successfully, he needs to spend time thinking and planning. "When I first started, I wanted to do everything myself," he recalls. "But now I delegate more. This allows me to concentrate on my strategy – which is to lower production costs, use as much technology on the farm as possible, and carefully measure productivity." Kobela monitors productivity monthly to make sure he's still on track and making a profit.
He believes that many new farmers are not responsible with money, and confesses that he too has made mistakes in this respect. "In farming, you can make a lot of sales and end up with a heap of cash in your account," he says. "But the fact is, profit makes up only a small portion of that money. Most of it has to go back to producing your next crop."
Better management, better yields
Last year, Kobela's yield was about 17 fruit per plant. This has since increased to 20 per plant, which he attributes to better management. He began by focusing on the tunnels. After noticing that the old tunnels had poor ventilation, he made sure that the new ones were properly ventilated. So instead of only one door at either end of each tunnel, Kobela requested two. He also increased the roof height from 3,2m to 4,2m.
"Poor ventilation increases the heat in the tunnel and the fruit loses its original shape. Crop yields also drop. The ventilation in the new tunnels is much better," he says. Kobela tries to keep the temperature inside at about 25°C. In summer, he opens the tunnel flaps and doors at 6am and closes them at 6pm; in winter, he opens them later and closes them earlier.
Irrigation and nutrients demand constant attention. Kobela gives his cucumber plants up to 3l of water each daily in summer. He uses sawdust as a growing medium, and fertilises with calcium, potassium sulphate and a hydroponic mix containing zinc, copper, boron, magnesium, nitrogen and phosphorus. For the best results, he buys seed from reputable companies.
Each tunnel has about 600 plants and under ideal conditions should yield about 12 000 cucumbers in a five-month cycle. This is 20 cucumbers per plant, harvested over three months. "My goal is to produce at least 25 cucumbers per plant, because it is possible," says Kobela.
Keeping up with the trends
Kobela explains that to stay in business, he has to find better ways to keep costs low and quality high. And the best way to do this is to keep up with trends and improve his farming methods by visiting as many farmers as possible, and by reading. "My motto is to learn at least one new thing a day. No matter how little it is, it makes a difference," he says.
He's currently looking at grafting cucumber plants onto butternut roots as these roots are stronger and feed the plant better. "It's a bit expensive, but I get more fruit this way," he says. Kobela has also changed his planting method to save time and money. Instead of buying seedlings every season, he now uses seedlings in winter only. In summer, he sows seeds because germination takes place more quickly than in winter, and it's easier and more economical than planting seedlings.
Youth and agriculture
Kobela believes that black youngsters are not attracted to agriculture because there have not been enough farming success stories. "This is because past generations didn't treat it as a business, but as a means of survival," he explains. "Nonetheless, a few young people are getting into farming here and there. If they are successful, they will help to inspire others."
Contact Kobela Mokgohlwa on 072 822 8993.