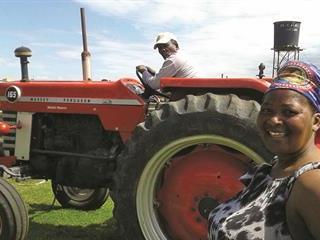 Plot 104 in Welgevonden Road, Rietfontein, near Vereeniging, is abuzz with activity when Farmer's Weekly arrives. Co-owner Mamotsotuwa Motaung-Matla inherited the property four years ago when her husband, Lazarus, who worked as a security guard, was killed while on duty.
In 2013, after nearly two decades of teaching at Qalabotjha Secondary School in Vlakfontein on Gauteng's East Rand, Tuwa, as Mamotsotuwa is known by friends and family, decided to focus her time and attention on the budding agricultural enterprise.
Lazarus had instilled a passion for farming in her, she says, but she soon saw that change was needed. "He'd been farming chickens, but this was not generating any profit so I decided to farm pigs and cattle, and do crop production on the side." This has proved more successful and Matla-Gamede Farming has been supplying spinach and cabbage to Spar and Pick n Pay in Orange Farm and Evaton for the past two years. The operation also markets maize and sells cattle and pigs on auction.
Supported by her business partner, Jabu Gamede, who grew up in a subsistence farming family in Vrede in the Free State, Tuwa was off to a good start. She invested the R1,3 million she received as part of her pension payout in the 32ha farm, buying a Massey Ferguson 165 tractor and other farming implements. However, as input and production costs proved to be all but ruinous, the money soon ran out. This was despite Matla-Gamede Farming having regular buyers.
In 2014, Tuwa was forced to return to teaching to supplement the farm's income. This does not mean she is about to give up, however. Far from it. "We are still emerging," she says, adding that they intend becoming "fully-fledged commercial farmers".
Spinach, cabbage
The farm workers prepare the lands and the spinach seedlings to be planted in September and harvested from November until March. Cabbage is planted throughout the year and harvested when ready. "I plant hybrid cultivars – Fordhook Giant for spinach and Copenhagen Market for cabbage – as they don't give me any problems. We harvest and pack them manually," says Jabu.
He explains how Matla-Gamede Farming clinched the deal to supply fresh produce to Spar and Pick n Pay. "We approached them through the agricultural extension officers in Rietfontein," he says. "They [requested] some samples, which we provided. They were very pleased and asked us to supply them." The farm supplies 400 cabbages and 900 bunches of spinach, each weighing about 1kg, to these outlets every week.
Expanding piggery
In 2013, the Gauteng department of agriculture built a piggery for the farm. The operation started with six sows and one boar donated by the department. The number has grown to about 57, which includes two boars, 30 breeding sows and piglets. The piglets are weaned at four weeks and thereafter placed on a diet of Epol Pig Grower for two weeks.
After this, they eat a mixture of bread rejected for sale from Johannesburg's Blue Ribbon factory and pig rations, which Jabu buys in and mixes on the farm.
The R150 000 piggery is overcrowded as it was initially built to accommodate 12 pigs. "We can't afford to expand the structure," says Jabu. The pigs are marketed at four months. "If they weigh less than 50kg, we feed them for longer," says Jabu. "We sell them for around R1 500 each at an auction in Randfontein as we currently have a problem accessing other markets."
The piggery uses a standard nipple drinker system, aimed at conserving water and preventing wastage and fouling food with water. Nothing goes to waste on the farm. The piggery waste is used to fertilise the spinach and cabbage lands. Sub-standard spinach and cabbage are fed to the farm's goats, ducks and pigs, and some of it is mixed with kraal manure to fertilise the crops.
The piggery has had no significant health problems, except for one occasion when some pigs had, in Jabu's words, 'fits'. They called a vet, who never arrived, and several of the sows died. "To prevent that from happening again, I administer Noromectin by injection once a month. They've been fine ever since," says Jabu.
Cross-breeding project
With proceeds from the sale of pigs – more than 300 have been sold to date – Jabu has acquired a mixed herd of 45 Bonsmara, Brahman and Nguni- type crossbred cattle. Currently, he's using Brahman bulls on Bonsmara and Nguni cows in a cross-breeding project because the "progeny are very good and we get good money at auctions," he explains. As a short-term goal, Jabu says he wants to attend an artificial insemination course.
Adjacent to the farm is a 41ha piece of open land owned by the Gauteng government, which Jabu uses for cattle grazing. The cattle also receive a mixture of coarse salt, molasses and crushed maize, which he says "keeps them healthy". Calves are born in summer. "In winter there is no good grass for grazing and as a result calves go hungry.
At present, we have seven calves, weighing about 170kg each, which we will wean in three months before reintroducing them to the herd." When asked about predation and stock theft, Jabu says the farm's pack of 10 dogs is their first and last line of defence. "Thieves have tried to steal our livestock before but our dogs are always on the alert."
More land, please
Maize is planted from October to December and harvested in June and July. "I use Pannar and DuPont Pioneer cultivars," says Jabu. He gets about 30t annually from the 20ha maize land. "We harvest the maize with our Slattery Combine Harvester to supply clients such as Senwes at around R3 000/t."
But he laments that they will not enjoy a good harvest this year because of the drought. "Besides the drought, the only other real challenge facing us is the issue of land. We'd like the government to give us more land because there's really nothing we can do on 32ha.
"We as black farmers really want to farm, but we can't unleash our full potential on such small pieces of land reform farms. "I'd be happy if government officials came to me and said: 'Here is more land, Jabu, use it. And pay for it over a period of time.'"
Extra income is generated by supplying ducks to Chinese clients. In addition to 69 ducks and 74 ducklings, the farm also has 40 Boer goats, and several Damara and Dorper sheep. "We need to be versatile as farmers," says Jabu. "For example, as I said, we're not going to get a good maize yield his year because of the drought. If we had relied only on maize, we would have been hard-hit, but we have our pigs and cattle as another form of financial security."
Phone Jabu Gamede on 073 158 8459 or Tuwa Motaung-Matla on 078 005 3951.