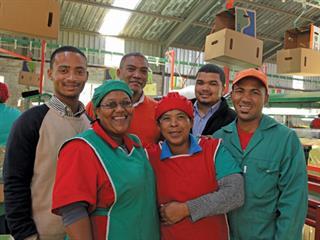 The first impression that strikes the visitor on walking into D&M Fresh Products' packhouse, outside Vyeboom in the Western Cape, is the bright, cheerful colours. The entire packing line is painted bright red and green – the latter aptly symbolising growth.
Had he been told as a child that he would one day be involved in agriculture, he probably would have cried his eyes out, Derich says. "Back then, farming was stigmatised, and I would have done anything not to get involved in it!"
After completing his schooling, Derich helped his father, Dirk, in a car parts business for a few years. He reached a crossroads, however, on being offered two jobs simultaneously: an IT position at Denel and a position as assistant packhouse manager on Mizpah farm near Grabouw.
Although Derich, a devout Christian, had a natural inclination towards IT, he decided to choose the agricultural option after praying with his wife, Marlaine.
Derich worked at Mizpah for five years and then landed a job at Melsetter, one of the largest fruit farms in the country. Here he worked as logistics manager for eight years and packhouse manager for a further six years.
Going solo
Despite this progress, Derich had long been keen to start his own business, and during his final years at Melsetter this desire became almost an obsession.
"It wasn't that I was unhappy in my job. I just wanted to do my own thing," he says. So, while still working at Melsetter, Derich and Marlaine bought vegetables, sliced and diced them to add value, and sold them.
"We used to work until three o'clock in the morning and then sell the sliced veggies to restaurants," he recalls. In October 2001, he resigned from his job and went solo – buying fruit from farms, packing, distributing and selling the value-added products.
"I began to realise how silly it was to buy and sell potatoes and carrots, when I had years of experience and strong connections in the fruit industry," he says. "Why learn something from scratch, when you can simply build on a lifetime of knowledge?"

Small beginnings
The first step was to obtain a packhouse facility. This was not difficult, however, as Derich is a member of the Klipfontein Farming Trust that acquired farmland in 2002 with a Land Redistribution Agricultural Development (LRAD) grant.
The farm was lying fallow, so Derich asked trust members whether he could rent the shed so that he could start his own business. They agreed readily as it would generate some income and the farm would no longer be deserted.
Derich started buying apples and pears from farmers in the region and also bought two trucks to collect the fruit from the farms. "When you negotiate with farmers or future clients you need to know what is happening in the marketplace," he says.
"You need to buy and sell produce in such a manner that both you and the client feel as if you've won something out of the deal. A relationship in which there's only one winner is not conducive to business and won't last long."
At first, Derich used a second-hand mechanical packing line. "It was a very primitive model. We had to unpack from the containers and roll the fruit by hand, but it worked and we got the job done."
Increased efficiency
Last year, Derich received R2,4 million in funding from Hortgro to upgrade his pack line. He knew exactly what he wanted – a smaller version of the pack lines used in large European export packhouses.
"This will now make it easier for me to get HACCP certification, as I've always only exported fruit to small vendors and retailers in Africa. With HACCP certification I'll gain access to larger retailers and also to Europe," he says.
The new pack line can be used for wet and dry packing. "Apples are usually transported along the pack line in water, while stone fruit and pears are packed dry," he explains.
The pack line is also fully automated. Fruit are scanned and automatically sorted into buckets according to weight. Fruit of the same size is then sent along the conveyer belt to the appropriate packing stations, where it is packed into cartons by hand.
The entire system is powered by electricity, and all the packhouse's electric motors are isolated, so that they can be taken out and fixed without disrupting production. Sensors indicate when specific motors are taking strain and need attention.
Increased capacity
As a result of the new pack line, the business's packing capacity has grown from about 7 000 crates of 365kg each/ year, to about 35 000 crates/year. This is due to the significantly increased packing speed as a result of an improved layout and because the conveyer belt takes the empty cardboard boxes directly to work stations, instead of packers fetching them.
Branding
Derich carries out contract packing for other farmers, and also sells fruit under his own D&M Fresh Products brand.
"You need to have your own brand, otherwise the market will think you're not proud enough of your product to put your name on it. It also helps prevent your produce from getting lost in the mass of other fruit that is sold generically."
Derich had a clear idea of what he wanted by the time he employed a graphic designer to create the logo. The brand name incorporates his and his wife's initials. He was also inspired by bold, simple branding such as that used by Coca-Cola and McDonald's.
The letter 't' in 'products' has been turned into a cross as a sign of Derich's Christian faith. He admits that this logo puts pressure on them all to ensure that their fruit is a 'blessing' for the consumer. The slogan 'The Chosen One' is also used for religious reasons, but at the same time has an obvious marketing message.
Marekting
A lot of the fruit is sold to market agents and small retailers in Mozambique, Zimbabwe, Zambia, and Namibia. Doing business in Africa is risky, Derich explains, so he insists on cash upfront before the fruit leaves the country. He is currently negotiating an important deal with a client in Ghana.
"If everything works out, we'll form a partnership and put up a distribution and storage facility in Ghana," he says.
Fruit is also sent to municipal markets, but Derich does not like these, as he does not have much control over the price at which the fruit is sold.
"If you want to make it at municipal markets, you need a good relationship with your market agent. Otherwise, your fruit might get sold at a loss or it might be left in a corner where no-one will see it," he explains.
Derich managed to secure these markets by carefully building his client base over many years. "I used to do market research for Melsetter on lower grade fruit in South Africa. In the process I gained a lot of knowledge and it opened doors for me," he says.
Hard times
Derich admits that running the business has not always been plain sailing. "About four months after I started, I was completely out of pocket and unable to pay farmers for the fruit that I bought from them. In tough times like this, you need to be certain that you're in the right place," he says.
He finds that certainty in his faith. "We as a family pray and pray until we get an answer." During this difficult time, a client whom Derich had been trying to secure for a long time, phoned, looking for Granny Smith apples.
"I managed to sell the Granny Smiths for double the price I bought them and was out of trouble within three weeks," he recalls. Derich is writing a book about his experiences to encourage other people. He is reluctant to share much about it at this stage, but says that the content will be similar to that of Angus Buchan's book, Faith Like Potatoes.
Phone Derich Priga on 021 300 1643 or email [email protected].