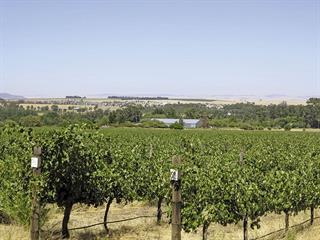 When Fan Olivier bought his farm Houdconstant in Porterville valley in 2000, he decided to restructure it and make it more efficient. Today, he runs 15 separate farming and related activities on 180ha of the 570ha farm. Much of the farm consists of a mountain which is not arable, but the land in use is made up of various soil types and has a good water supply.
"When we bought the farm, it produced wine grapes, citrus and vegetables," Fan recalls.
One of his main objectives when he started out was to move away from the traditional approach of using chemical fertilisers and pesticides to more organic methods. "I wanted to balance the soil and build it up with manure and composting to get the life back into it, so we could farm without chemicals."
Choosing crops
A major consideration for Fan when deciding on the produce to farm was that he is situated one hour's drive away from Cape Town, the major market for the area. He also wanted to balance supply between the local and export markets to capitalise on the foreign currency earning potential. He set out to grow high-value produce in an effort to optimise earnings, while still being able to efficiently transport crops to market using a smaller truck.
In 2008, he built a packing shed to enable him to add value to his farming operation.
"It was important to me to take produce to the next stage of the value chain," he explains.
Fan runs a small herd of Red Angus cattle and a small flock of Merino sheep, which utilise the undeveloped sections of the farm. He also grows and exports a wide range of fruit: Satsuma tangerines to the UK; Clementine oranges to the US; lemons to the EU and Middle East; and seedless Delta Valencia oranges to the US and the Middle East.
Pomegranates are processed and packed on-farm and the arils are sold on the local market. Fan's lemongrass also does well locally. Beans and butternut are grown as cash crops, and Fan is currently producing plant material to start artichoke production.
Cabernet Sauvignon grapes are grown on 8ha for one of Perdeberg Winery's wine labels and teff and lucerne are planted for Fan's horses.
A small area of the packing shed is rented out to a diesel mechanic, and there is a fig drying operation in another corner of the packing shed.
"This has always been a diverse farm and for 15 years I've struggled to trim the list," says Fan. "But there are various soil types here at the foot of the Olifants River mountains, so we try to farm what is appropriate to these soil types.
One product line supplies cash flow for the next, so it's not easy to drop lines as it will create a domino effect," he explains.
The farm was once a large wine grape producer, but Fan wanted to "make good wine at a good price and sell to responsible customers, so we've removed the vines that supplied the lower end of the market."
As the farm borders the town of Porterville, Fan has been forced to move away from vegetable production due to substantial theft. He has, however, finally made the decision to reduce the number of production lines on the farm, admitting that "you can't be an expert at everything."
Various products are processed and packed year- round, and activity in the packing shed only quietens down from mid-September to mid-October. This is when staff go on leave and training is undertaken. Summer is the busiest period for the packing shed, and in winter orchards and vineyards are pruned.
Survival strategy
Fan emphasises the need to produce adequate volumes reliably to survive in the competitive environment.
"You can't simply put anything into the soil without there being a ready market for it. You can't plant on risk, it's too expensive," he stresses.
While many farmers aim to produce only for international markets in a bid to earn foreign currency, Fan sees great potential in the local market.
"Farmers tend to underestimate local market potential, but you need to have the right relationships with buyers.
Local demand has grown a lot and consumers are now, more than ever, willing to pay for good quality products, therefore the quality of local produce is getting better and better."

Prices and profits
According to Fan, no single product line is the most profitable, but the combined citrus production is probably the highest earner, while adding value to the pomegranates also pays off for the farm.
"[All product lines] have to carry their weight and there's no cross-subsidisation of lines. The big guys have more leverage to get better prices, and they can convince buyers to carry shelf space for longer periods because they can supply [large volumes]. So the larger farmers get bigger and buy up more farms, and the smaller guys either have to diversify or add value in terms of packaging or offering something different."
This means that constant reinvention is essential to stay in business, he adds.
Personal attention and quality
"The small farmer is more in touch with what's happening on his farm," says Fan.
"This, coupled with the whole environmental sustainability issue, is something consumers are now more aware of. "Consumers want to know where their food comes from and they want clean, healthy food."
Added to this shift in consumer awareness are the Global Gap certificate requirements, which apply to all produce that is exported.
"We have to look carefully at how we grow our fruit and vegetables because of these prerequisites, and it also forces one into making changes," he says.
According to Fan, the big lesson he has learnt is that it is important to supply the market according to the specifications set, at the price consumers are willing to pay, "because you won't be paid for superior quality – so sell the product at the right price".
Employing good staff
Fan's wife, Philippa, is responsible for the farm's day-to-day administration .
"She often resigns on a Friday and I have to convince her to come back to work on a Monday, because I couldn't farm without her," he jokes.
Fan says he also has a very good packing shed manager in Liezel Snyman, and employs 18 permanent staff members, but up to 50 seasonal workers work on the farm during busy periods. Packing shed staff also assist with pruning in the orchards during winter, while during the peak packing season in summer, most staff work in the packing shed.

The future of small-scale farming
Fan believes the future of small-scale farming is bright, but growers have to make themselves indispensable so that consumers become reliant on them for good quality produce.
"To achieve this, we need to do something more than other farmers. We need to align ourselves with other small-scale farmers [and cultivate] direct relationships with our consumers."
Fan, who has a BCom and a BSc (Hons) in Computer Science, uses WhatsApp groups to keep up to date with information on the diverse disciplines of his farming operation.
"I think technology will play an important role in the future of farming, because as producers we need to get good quality produce through a shorter chain to people, and social media and the Internet can help us to do this. Smaller farmers need to be creative and need to investigate tools that can save us time and energy."
Knowledge-sharing: SA vs Europe
Fan says that having a sounding board for farming decisions is particularly important, yet is underestimated. "In Europe, farmers never retire, they just scale down their involvement, but add value at a different level, such as knowledge-sharing.
A lot of knowledge goes to waste in South Africa because older farmers feel inadequate about sharing their knowledge, as farming practices have changed so much, but their knowledge far surpasses all the technology we have now.
"Personally, I'd love to see father-son relationships being much stronger so that they can learn from each other.
A blend of [old] knowledge and new [academic learning] is important. I've seen this from the sidelines as I didn't inherit a farm, but still have a father who fully supports me," he says.

For more information, contact Fan Olivier on email at [email protected], or at [email protected].