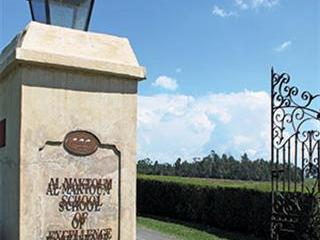 Thundering hooves in a blur of speed kick up clods of sand, soil and grass. Sweat-lathered flanks, flaring nostrils sucking in oxygen, reaching necks, encouraging yells from jockeys clad in silks in distinctive colours and patterns. The finish line is in sight and in anticipation of the outcome, the race commentator's already frantic voice rises in pitch. The excited roar of the mass of spectators thronging the track's guard rails reaches deafening levels as the leading horses and riders give all they have to win.
The cheering bursts in a bubble of noise as the fastest equine and human pair crosses the finish line first. A flurry of exuberant congratulatory hugging and back-slapping erupts among the owners, breeders, trainers, supporters and punters of the winning horse, mixed with groans and sighs of disappointment from the supporters of horses and jockeys coming in behind. This is the daily drama playing out around the world when the sport of kings, better known as flat racing, is on the go.

Experts in various fields give students detailed training. Dr Allen Béchard prepares to demonstrate the gelding procedure on an anaesthetised horse.
A horse race is the culmination of a long and highly specialised process. The magnificent and amazingly fleet-footed Thoroughbred horses that the public sees at the race track all originate from a racing stud farm somewhere in the world.
South Africa has its own vibrant flat racing industry, with many farms and training yards employing thousands of staff with a vital role of keeping this multi-million rand industry thriving. The South African industry requires equally specialised training and skills.
Until recently, it had no formal Thoroughbred stud management training institution, with interested students having to travel overseas for training. However, the two-year-old Al Maktoum School of Management Excellence (AMSME) now makes training locally available, particularly for students from previously disadvantaged backgrounds, as part of the industry's transformation goals.
"Our school is a Section 21 non-profit entity," says AMSME's managing principal, Heather Morkel. "The idea was to provide education for much needed specialist skills currently in short supply in the breeding industry. The school is not yet government-accredited but we are in the process of applying for accreditation. Nevertheless, our Stud Management certificate is still a valuable asset to students who want to work in the Thoroughbred breeding and flat racing industry."
AMSME held its first intensive five-month mixed theoretical and practical course, followed by a two-month practical stud management course, in 2011. The school is located at and owned by the world-renowned Summerhill Stud of Mooi River in KwaZulu-Natal. Summerhill's extensive facilities and paddocks are home to around 900 valuable, top-class Thoroughbred stallions, breeding mares and their foals, that belong to Arabian Sheikhs, international royalty, presidents of countries and successful businesspeople.
AMSME is the brainchild of Mick Goss, Summerhill's owner, who has long been a supporter of transformation and development in the SA Thoroughbred breeding and flat racing industry. AMSME is dedicated to the late ruler of Dubai, Sheikh Maktoum bin Rashid Al Maktoum, in honour of the 20- year relationship that Summerhill, under the ownership of the Goss family, has had with the ruling family of Dubai.
Even before AMSME opened its doors, Mick was sending employees overseas for training. He eventually realised that transformation and development would be better served with a training facility in South Africa. Heather explains: "Our goal is to draw people from previously disadvantaged communities all over SA – employed or involved with the equine industry – and upskill them. We also include students who can pay for the course."
Students can apply for scholarships offered by corporate companies, the Western Cape Breeders' Association or various individual Thoroughbred studs including Summerhill, that pay for their employees to be trained. To offer the best quality education and training, AMSME's yearly student intake is less than 20. Only the most deserving and dedicated are selected.
"The course aims to be broad and deep in its scope," says Heather.
"For example, while the curriculum includes topics such as horse handling, saddlery fitting and stable management within the practical horsemanship module, it also includes detailed equine anatomy and physiology, conformation evaluation, nutrition, stallion care, and mares and foals within the stud management module. "The curriculum also includes sales preparation, racehorse training, public speaking and many other subjects.
"Summerhill has almost all the facilities needed to provide the practical training aspects of the course. Where it doesn't have facilities like racehorse training, students are taken to a training yard." AMSME has no full-time teachers and trainers but contracts experts in various fields. The students benefit directly from the expertise of Dr Allen Béchard, well-known KZN Midlands vet, and farriers Peter Strong and Steve Cochrane. The winter school specialist lecture programme exposes them to experts such as champion trainer Mike De Kock.
Others include international specialist vet, Dr John McVeigh, Prof Alan Guthrie and Prof Martin Schulman of Onderstepoort, international bloodstock agent Jehan Malherbe, Gold Circle racing director Graeme Hawkins, head of the Gordon Institute of Business Science Prof Nick Binedell and financial journalist Alec Hogg.
More opportunities available for graduates
According to Heather, students who obtain their training certificates can continue their training at other institutions.
For example, the United Kingdom-based Childwick Trust, established in 1985 by the late Jim Joel, a highly successful Thoroughbred bloodstock breeder in that country, sponsors one top student from AMSME every year to undergo further training at The National Stud in the UK.
"Summerhill Stud has also sponsored some of its own employees to work at the Al Maktoum family's racing studs in the US and Ireland," says Heather. All Summerhill employees who have graduated from AMSME are now in assistant managerial positions at the stud. "We believe that all communities benefit from education. The upliftment that follows produces community leaders. In turn, this creates scope for other leaders," concludes Heather.

For more information contact Heather Morkel on 033 263 1081, email [email protected] or visit www.summerhill.co.za