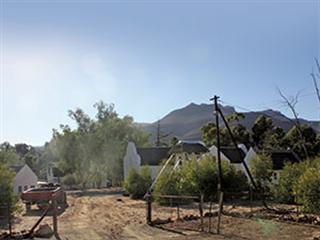 Wupperthal is a long way from anywhere. To reach it, you drive 70km on a rough gravel road from Clanwilliam through the Pakhuis Pass. It is a bumpy, tedious trip, and when you finally arrive, you may be forgiven for thinking you have not only driven over a mountain, but journeyed back in time. Life evolves slowly in Wupperthal. Because the village is so isolated, modern influences are hard to find. At the shoe factory, leather is carefully and slowly crafted by hand, from the soles to the shoelaces.
And at the general dealer, the only shop in town, you can buy anything from a second-hand bicycle to underwear, Vaseline, frozen fish or even instant noodles. But understandably, nothing fresh. The town was founded in 1830 by two German missionaries, Theobald von Wurmb and Johann Gottlieb Leipoldt, of the Rhenish Missionary Society.
In 1965, after the Rhenish Mission had gradually scaled down its activities in Southern Africa, Wupperthal became part of the Moravian Church and has remained a Moravian mission station to this day. Most families in Wupperthal depend on small-scale farming to make a living, and the most important crop grown in the area is rooibos.
Rooibos farming in Wupperthal
"You can see for yourself that this place is very remote," says Barend Salomo, managing director of the Wupperthal Original Rooibos Co-operative. "Rooibos farming is really our only economic option. Without it, this town and the community would not survive." He adds that while the German missionaries had founded Wupperthal, it was rooibos farming that had breathed life into the place.

Barend Salomo, MD of the Wupperthal Original Rooibos Co-operative.
Wupperthal is situated in the Cederberg, the only place in South Africa – and the world – where rooibos grows wild. And because of the area's poor soils and extreme weather, this is one of the few crops that can be cultivated successfully here.
According to Barend, people in Wupperthal started farming with rooibos in the early 1800s, but this activity was based on picking leaves from plants growing in the wild.
This tradition, which paid very poorly indeed, continued for nearly two centuries. Then, in the 1990s, in an attempt to improve their lot, farmers in the area began to cultivate rooibos and market their produce collectively. Teamwork proved elusive, however, and it was only in 2009, with the formation of the Wupperthal Original Rooibos Co-operative, that some success has finally been achieved.
"The Moravian church owns approximately 36 000ha of land around Wupperthal and the local rooibos farmers, scattered throughout the area, lease land from the church," says Barend. "But only about 7% is suitable for farming and at the moment, only about 4% is being used for rooibos. Many of the farmers at the outstations can't access their farms by road; they have to walk 8km or more to get there."
Barend, a Wupperthal local, cultivates about 5ha of rooibos and says most people produce on less than 2ha. The co-operative started out with 53 members, but now has 93 of which 74 are active producers. A turning point for the co-op came when it attained Fairtrade certification early in 2010.
"Fairtrade guarantees us a minimum price that's much higher than the general market price for our rooibos," Barend explains. "This means we've got more money to take home. So we can spend more time and effort on improving our crops instead of having to supplement our income with extra seasonal work." The rooibos produced by the co-op does not currently carry UTZ certification, but Barend says their relationship with the UTZ has taught the farmers better production methods.
"We hope to become UTZ-certified soon, but we have to start producing more tea," he emphasises. "We're earning about double the current market price for our Fairtrade- certified tea and sell most of our annual production of around 30t under the Fairtrade label. Most of the buyers are in Europe." Barend admits that they cannot keep up with demand. In 2011 the co-op produced 39t of tea, but last year output decreased to 29t because of a severe drought. Currently, they are expecting an even smaller crop (21t) for 2013. This is nowhere near the demand for their tea, which Barend estimates at around 60t per annum.

After being harvested, the rooibos cuttings are bound into bundles and transported to the processing facility, where they are fed into special machines and cut to uniform length. The rooibos is then bruised between rollers to trigger the important chemical process of fermentation.
Climate change
It is ironic that in a place such as Wupperthal, which has been largely untouched by modern development, one of the main challenges faced by the community is a decidedly contemporary one. "We thought that climate change was only happening far away from us," admits Barend. "But we were wrong. It's affecting us and threatening our future as rooibos farmers."
The area normally endures extreme weather conditions, with the temperature dropping below freezing in winter and reaching 48°C in summer. But according to Barend, the past few years have seen particularly high temperatures as well as changing rainfall patterns, with summers being hotter and winters drier. At Wupperthal, this has resulted two serious recent events: a very severe drought and a large veld fire that destroyed many rooibos plots.
New ways of farming
To mitigate the effects of the changing climate, farmers have had to adapt their methods. "Because of climate change, we've seen an increase in the pests affecting our rooibos plantings," says Barend. "It has been difficult to control them, as we farm organically. We can't just go in and spray anything we want to. So we control most of them by hand, which is very time-consuming.
"If a plant is infected, our only solution is to remove it to prevent the disease from spreading to the rest of the crop." In a bid to retain moisture and protect the soil from the harsh sun, the farmers have started planting cover crops. They are also implementing a crop rotation cycle to improve soil quality and help control pests and diseases.
Crop rotation
"With the six-year crop rotation cycle that many of the farmers have now implemented, rooibos is planted in the first year," explains Barend. "For the next four years it remains on the land and we harvest the plants annually [rooibos is a perennial plant]), so the total rooibos part of the cycle lasts five years."
"After the fifth year, we carefully plough the land to remove the rooibos plants and plant oats in the sixth year. This is followed again by new rooibos plantings, the start of a new rotation cycle." The oats are not harvested but grazed by sheep and goats. The oat stubble is retained and the new rooibos plants are established in it.
Despite efforts to combat climate change, Barend realises that there is only so much that the farmers in the area can do. Ultimately, they have to rely on research and hope that improved plant material or new farming techniques will offer a practical solution at some stage in the future.
Contact Barend Salomo on 027 492 3019 or email [email protected]