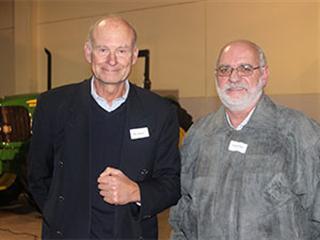 The new Malmesbury store will replace the former, much smaller branch and according to Agrico management, it will better serve farmers in the region with expanded workshop capacity as well as a brand new self-serve section. Speaking at the recent launch of the new store, Walter Andrag, chief financial officer of Agrico, said the new store would provide better service to customers in the Swartland and surrounding areas.
"The business was started in 1904 by Paul Andrag when he opened his own business in Cape Town. Today Agrico has three factories for the manufacturing of agricultural machinery in South Africa and 27 branches across the country and we are opening more branches," Alfred Andrag, Agrico marketing and operational director said about the homegrown, family enterprise.
The company employs over 900 people, and has annual sales exceeding R1 billion. Irrigation equipment accounts for 55% of their total income, machinery sales accounts for 43% of their business and the other 2% is income from motor sales. Agrico is the main distributor of John Deere tractors in South Africa and the company's tractor sales added up to a 40% share of the local tractor market.
Jannie Visser, the branch manager for the new Agrico store in Malmesbury, said they believed their new location would attract more business and they were excited about the improved service that the new facility will enable them to provide.