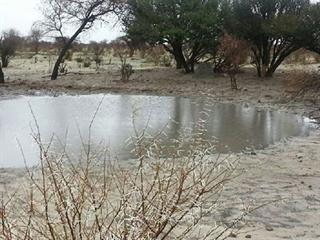 Downpours of 400mm and more have occurred over Tlakgaming, Vorstershoop, Bonabona, Leniesdeel, Morokweng and other areas. Good rains have also been reported in the western parts of Botswana.
Three people who were stranded on the roofs of their cars in Morokweng were rescued by Dr Ruth Segomotsi Mompati District Fire and Rescue Services on Thursday, 6 February. North West premier Thandi Modise said heavy rains in the area caused widespread flooding across Morokweng and neighbouring villages.
Modise said all the RDP houses in the Skierlik Township near Delareyville and in Sonderwater neat Ottosdal were flooded. Approximately 150 families from Colridge in Vryburg had to be temporarily accommodated at the Colridge community hall.
Some 100 houses were also flooded in the Kagisano-Molopo Local Municipality and about 40 others in Wolmaranstad.
RPO North West chairperson Flip le Roux said the rains gave the farmers in the drought-stricken areas renewed hope. "We are ever so thankful for the rains and rejoice in the blessing bestowed upon us," he said.
View the North West flood damage gallery.