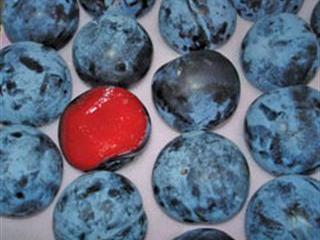 For the past few years, varietal development has been at the forefront of innovation in the fruit industry, with local breeders responding rapidly to changing producer and consumer demands. The latest breeder to release new varieties to South African growers is ARC Infruitec-Nietvoorbij in Stellenbosch, together with its commercial partner Culdevco. Their newest offering consists of 14 stone fruit cultivars – three apricots, five nectarines, three peaches and three plums – for the dessert, canning and dry fruit industries, and four table grape varieties.
First red flesh plum
At the launch of the stone fruit cultivars, ARC research institute manager Dr Johan van Zyl highlighted Infruitec-Nietvoorbij's commitment to stone fruit breeding. He said that 63 stone fruit cultivars had been released through the ARC breeding programme during the past 15 years, 59% of these in the past five years. "This year, we are also launching the first red flesh plum, Ruby Crunch. Red flesh plums are rapidly becoming highly sought after in the fruit industry as the red flesh is associated with high anti-oxidants," he explained.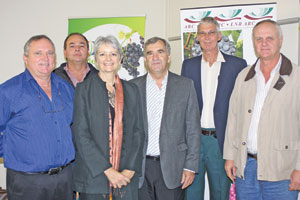 Dr Leon von Mollendorff, general manager of Culdevco; Jan Avenant, researcher at ARC Infruitec-Nietvoorbij; Phyllis Burger, table grape breeder and geneticist at the ARC; Dr Johan van Zyl, research institute manager of the ARC Infruitec-Nietvoorbij; Gawie van der Merwe, independent technical advisor on grape production; and Kobus Louw, technical manager at Sapex.
Chris Smith, chief research technician at the ARC Infruitec-Nietvoorbij stone fruit cultivar division, told farmers and industry representatives at the launch that the decision to release new varieties had been based on market demands and the need to fill harvesting gaps. He discussed the new cultivars, in particular emphasising Ruby Crunch's good production and cold storage characteristics.
"It has medium chilling requirements (400 to 600 units) and normal disease susceptibility. In test plantings it achieved a very good fruit set. To ensure larger fruit, we recommend fruit thinning," he said. Other plum cultivars launched were the Satin Gold dessert plum, an attractive yellow-skin plum with yellow flesh and excellent storage ability, and the Ruby Sun dessert plum, a red-skin plum with yellow flesh and a high production potential.
Apricots and nectarines
Of the three apricot cultivars released, Solitaire and Rustic are fresh blush-skin varieties. The third, Ambiance, is a yellow- skin variety that can be planted as a fresh or canning apricot. Five new nectarine cultivars for the fresh fruit market were released: Primrose, Donna Rosa, Tango, Ruby Rose and Bella Donna. All have an attractive red skin and will be generous sized if correct production practices are followed. Their harvest dates range from early to mid-season.
Peach cultivars
Three new peach cultivars were announced: two for drying and one for the fresh fruit market. The Afrisun and Desert Sun averaged an excellent 70% to 80% for drying during the past six years of testing. The Earliblush peach, a fresh fruit variety, has an 80% red-blush skin and firm, yellow flesh. In tests it achieved very good fruit set and lasted well in storage.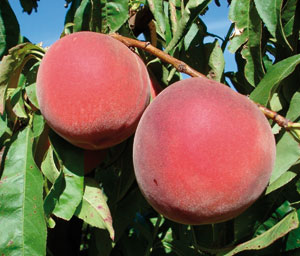 The Earliblush peach is a fresh fruit variety with an 80% red- blush skin and firm yellow flesh.
Better tasting table grapes
Four new table grape cultivars were released at the ARC Infruitec-Nietvoorbij/Culdevco table grape cultivar launch. A presentation compiled by Sarah Blandford of UK-based supermarket chain Sainbury's (the UK is a major grape export market for South Africa) and presented by Dr Leon von Mollendorff, showed that sales of red grapes were growing rapidly and supermarkets were now selling more red than white grapes.
According to studies, growers demanded that new cultivars deliver high production rates and low input and labour costs. Retailers and consumers, on the other hand, expect them to taste better than current cultivars. "In table grapes, customers prefer a crispy texture. If this is not the case, the grape must have exceptional taste," said Dr von Mollendorff. The four cultivars launched – Rosidawn, Black Velvet, Sundela and Scarlet Dew – are all distinctly different, most notably in the colour.
Rosidawn is a pink, early ripening, seedless variety with a good berry size. The berries have a firm texture and neutral taste with medium to semi-tough skin, very good eating quality, high fertility and good colour. Black Velvet is a black, early to mid-season seedless variety with good berry size. The berries have a chewy skin and good eating quality. The bunches are easy to prepare. Sundela is a white, early to mid-season seedless variety with firm, crunchy berries. It has high fertility and the grapes store well. The last of the four, Scarlet Dew, is a red, early ripening, seedless grape. The berries are firm with a slightly muscat flavour.
Locally bred Dr van Zyl emphasised that ARC cultivars were bred under local conditions, and tested in a variety of climates. Contact Derusha Rangasamy on 021 809 3018.