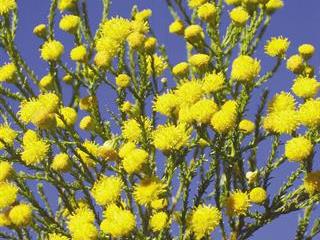 Infestations of Bitter bush (Chrysocoma ciliata) on farms can be controlled, and farmers should eradicate it before it reduces a camp's carrying capacity. Too much of it in a diet leads to alopecia in lambs and kids, causing them to lose their coats, and diarrhoea in older animals.Ockert Einkamerer and Prof Hennie Snyman, of the Animal, Wildlife and Grassland Sciences Department at Free State University, and Dr Mias van der Westhuizen from Free State's agriculture department, recently released guidelines for fighting bitter bush.
Bitter bush was first noted in overgrazed parts of the Maluti Mountains in the 1920s. A 1938 survey showed that after only 18 years it reduced the grazing by an equivalent of 140 000ha of good veld. It has since spread throughout southern Africa and plays a big role in veld degradation in at least 10 different veld types in the semi-arid central and southern Free State.
The research team says that bitter bush isn't an aggressive invader. It can be controlled by reducing its allelopathic properties that inhibit the growth of nearby plants such as good grasses. However, kweek (Cynodon dactylon) does flourish with bitter bush on these degraded patches. The problem lies in the toxin build-up in the leaves in winter, which is washed off into the soil with the first spring rain. The only way to get rid of these growth-inhibiting substances, so that perennial grasses can return, is to get rid of the bush itself.
Getting rid of the invader
"Veld in good condition can resist bitter bush invasion, but if it's an escalating problem on the farm, you should consider mechanical control," says Prof Snyman. "Chop out single plants or minor infestations by hand, and use a bushwacker on denser stands. Cutting the bush level with the soil surface usually kills it, so using expensive herbicides is unnecessary."Then ensure that grasses return to the treated (bare) patches as soon as possible.
For that, the veld needs rest, which means total stock withdrawal in the growing season. "Grazing them in winter will help revive the ecosystem as the soil gets trampled and the dead plant material and dung is worked in. Spring grazing should be avoided as the grasses are most sensitive then," he advises.
Teddy Einkamerer of Happy Valley, Kuruman, has had success with this control method. Tassel three awn (Aristida congesta) soon grew well where the bitter bush had been and Lehmann's lovegrass (Eragrostis lehmanniana) followed.
However, Hansie Swanepoel of Koppiesfontein, Smithfield, only managed to reduce the infestation on bushwacked veld. He also tried burning, without success. Prof Snyman says that rainfall and the season of cutting played a role. "The effect of burning was possibly softened as bitter bush veld is usually sparse and doesn't produce a hot enough fire to kill the invader.Burning isn't recommended as fire has too much of a negative effect on both soil and vegetation in semi-arid regions." E-mail Prof Hennie Snyman at [email protected] |fw