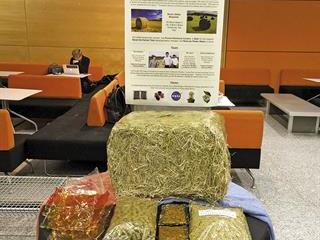 Spurred by reports of millions of livestock feed bales being wrapped in environmentally hazardous plastic sheets and netting, three chemistry students in the UK have come up with an alternative. After many hours of experimentation, the students, all aged 23 and studying towards their doctorates in chemistry at Imperial College London, have designed edible bale wrapping.
"BioNet is an edible biopolymer made from natural resources," explains product inventor, Nicholas Aristidou. "This allows it to not only be edible, but biodegradable too."
Aristidou and his fellow inventors, Will Joyce and Stelios Chatzimichail, told Farmer's Weekly that they were prompted to develop the product because discarded plastic bale wrapping and netting generate large quantities of non-biodegradable and unsightly waste worldwide.
"Not only is this waste illegally disposed of by burning, it is harmful to animals if ingested," Aristidou said. Cattle on the farm where Joyce lives have become ill, with some dying, after ingesting plastic used to wrap bales.The students have taken their invention a step further by enhancing it with nutritional supplements for livestock.
"One of our key ideas is to dope BioNet with probiotics. This will lead to reduced methane emissions from cattle because these animals will be able to digest their feed more efficiently.
"We can also customise BioNet to be doped with vitamins and supplements to meet specific requirements for different animals," Aristidou said. The three inventors have had to fund BioNet's development largely on their own, and have not yet been able to begin manufacturing it on a commercial scale.
However, with the £10 000 (about R200 000) prize money that they recently won in the Imperial Innovations Competition, and the resultant publicity for BioNet, the team hope to generate sufficient backing to launch their product across the globe as quickly as possible over the coming years.
"In terms of cost, at the moment it's hard for us to give exact figures because the product is in its early stages of development. However, we believe that in time and with the ability to buy in the raw materials with greater purchasing power, and with large-scale production, we can have a product that's priced competitively with current bale wrapping and netting products," Aristidou said.
For more information, email Nicholas Aristidou at [email protected].