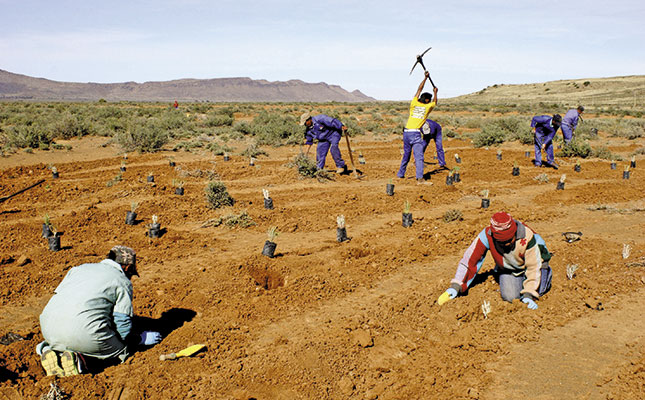 Landowners in the Great Karoo are embracing conservation as a long-term project in an attempt to conserve natural habitat and species biodiversity. Four conservancies totalling 350 000ha have been set up, primarily to protect the critically endangered riverine rabbit and its habitat.
Through their involvement with the protection of this single species, landowners are enjoying the benefits of shared knowledge and partnership, and will form part of the core of biodiversity conservation in the Nama Karoo.
Pooling resources
The Endangered Wildlife Trust's Drylands Conservation Programme (EWT-DCP) is the force behind a partnership formed in 2007 with the Department of Agriculture, Forestry and Fisheries (DAFF), the Northern Cape Department of Environment and Nature Conservation, LandCare, CapeNature and landowners in the area. By combining resources, the partnership aims to achieve sustainable land management.
Participation
There are few incentives for biodiversity stewardship in arid commercial farming areas. Farmers usually participate because they are passionate about conservation, and feel compelled to look more closely at their farming practices and use of land.
During recent workshops held at the conservancies, fine-scale mapping was carried out to assess land use and degradation.
"It's always an uncomfortable situation for a farmer when he's forced to look critically at his farm, and in particular at land degradation," says Lehman Lindeque, resource monitoring specialist at DAFF. "However, the objective of this process is to identify solutions and conservation practices that work, and then share the knowledge."
Mapping for the future
Fine-scale mapping is part of the long-term plan for sustainable land management at the conservancies. The process forms part of a broader strategy that looks at sustainable land management and biodiversity conservation in the working agricultural landscape.
"It's easy to shut out land degradation issues affecting your farm," says Johan Moolman, chairperson of the Sak River Conservancy. "It's only now, with outside assistance, that we realise the problems and can address them through a co-ordinated approach."
DAFF produced satellite images and facilitated workshops hosted by the EWT-DCP. At these sessions, landowners were requested to write down their current land use and assess the type, extent and level of land degradation, using the World Overview of Conservation Approaches and Technologies' mapping questionnaire approach.
"These form part of a set of standardised tools used internationally to map degradation with a view to identifying solutions and developing best-practice guidelines," says Bonnie Schumann, senior field officer for the EWT-DCP. Particular focus was placed on the river catchments, which are traditionally intensively utilised. One farmer described these areas as 'the pantry of the Karoo', referring to the high value of catchment zones in arid areas.
Merging conservation & agriculture
Much of South Africa's biodiversity is located on farmland, says Schumann. It is thus critical that farmers receive support from NGOs and government departments to assist in working towards the common goal of sustainable land management.
The EWT-DCP works with farmers in the region to implement ecosystem restoration in the riverine areas, but with a focus on enhancing agriculture and ecological production, thus incentivising conservation on farmland to secure biodiversity.
"Conservation and agriculture are integrally linked in the extensive livestock commercial farming set-up," Schumann says.