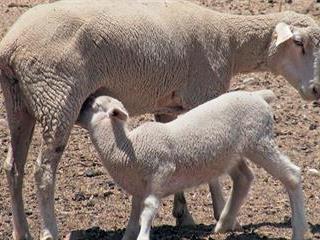 Sexually transmitted diseases (STDs) can wipe out an entire herd or flock and cause severe financial losses, according to RPO NC manager, Dirk Krapohl.
"Brucellosis, for instance, is out of control in the Northern Cape. That's why early detection of these diseases is such a crucial factor in livestock production, as fertility is the conerstone of productivity," he explains.
The main obejectives of the project are to test for brucellosis and pizzle rot (Enzootic balanoposthitis) in rams, and trichomoniasis and vibriosis in bulls.
Brucellosis is caused by Brucella ovis bacteria, which can result in infertility in sheep, lesions on the reproductive organs of rams, and inflammation in the placentas of in-lamb ewes. Infected ewes often abort due to microscopic and macroscopic changes in the placenta and foetus.
The pathogenic bacterium, Corynebacterium renale, or other bacteria from the Corynebacteriaceae family, can also affect rams' ability to mate.

Extended calving intervals
Krapohl explains that trichomoniasis (caused by a protozoa organism, Tritrichomonas foetus) is a venereal disease in cattle characterised primarily by early foetal death and infertility, resulting in extended calving intervals. The disease is found in the genital tracts of cattle. Between 30% and 90% of cows mated by an infected bull can become infected.
Vibriosis (Campylobacter foetus) is another infectious venereal bacterial disease in the genital tract of cattle that causes infertility and occasional abortions. It is spread by infected bulls when they mate with susceptible females.
"Prospective buyers should buy only bulls that are certified free of these diseases. The national weaning rate in South Africa is estimated to be about 60%, which is too low. Improved biosecurity measures such as eradicating trichomoniasis and vibriosis will markedly increase the province's weaning rate," he says.
Brucellosis: bad for cattle, worse for people
Venereal diseases can result in prolonged calving periods, with most calves born to infected cows being dropped late in the calving season. Not only are gestation periods compromised, but due to late calvings, infected cows often fail to give birth the following breeding season.
Brucellosis is a major concern in South Africa, according to Krapohl. It causes spontaneous abortions, reduced milk production and extended inter-calving periods. It is also a zoonosis that is spread by consuming contaminated food, including raw meat and unpasteurised milk.
Farmers, farmworkers, vets and abattoir workers are particularly at risk. People infected with brucellosis initially present with flu-like symptoms. It can cause sterility, endocarditis, which can damage or destroy heart valves, and meningitis, among other complications. For this reason, it is a notifiable and controlled disease in South Africa.
Brucellosis occurs in a wide variety of ruminants including sheep, goats and cattle. It also occurs in game species, with buffalo being particularly susceptible.
"A herd is regarded as infected with brucellosis when tests find B. ovis organisms in lochia specimens, placenta tissue, foetuses and lymph nodes," Krapohl explains. "The whole herd is then placed under quarantine in terms of the Animal Diseases Act, 1984 (No. 35 of 1984).
It's obvious that all these diseases could potentially have a severe impact on the profitability and sustainability of a livestock production operation. Poor fertility not only has a negative effect on individual producers but on consumers as well. In addition, low weaning percentages could eventually have an impact on food security and economic growth.
"I cannot stress enough how important it is for producers to not allow any animals on their farms without full inoculation records."

Ram and bull testing programme
The RPO Northern Cape ram and bull testing programme started in 2008. The objective is to detect infected animals and remove them from flocks and herds. By law, infected bulls are required to be slaughtered, but not infected rams.
"However, we advise producers to slaughter infected rams as well to prevent even the slightest chance of the disease spreading," Krapohl says.
Nearly 300 RPO NC members have signed up for the programme so far, and a total of 29 255 commercial rams, and 1 312 stud and commercial bulls have been tested. RPO NC members receive a R50 subsidy/ ram tested and R500 subsidy/ bull.
However, stud bulls and rams put up for sale or auctioned do not qualify for the subsidies. Krapohl says that tests for these animals are regarded as part of a stud breeders' operational costs.
Commitment to sustainability
"This [testing programme] underscores our members' commitment to long-term sustainable and profitable livestock production to ensure food security in South Africa. We've also started with a campaign to market bull and ram testing among emerging farmers. They play a significant role in livestock production in the Northern Cape," says Krapohl.
The RPO NC executive has approved a total subsidy of R150 000 for rams and R100 000 for bulls to be tested in the 2016/2017 financial year.
"This project has achieved its objective of improving production, in that more and more producers are having their animals tested. We measure the progress made by the increasing number of subsidy claims received from members.
"There are nevertheless still producers who don't participate in the programme and we implore them to join as a matter of urgency.
"The economic realities of livestock production in our province are such that no producer can afford mediocre production rates."
Phone Dirk Krapohl on 053 832 9595, or email him at [email protected]